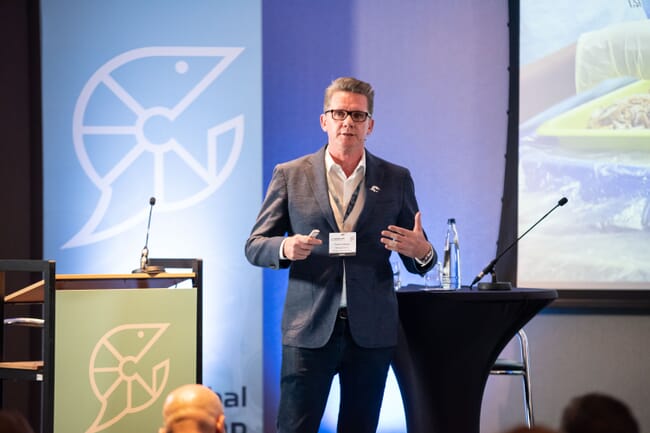 "There's an old saying that the pioneer gets the arrow in the back – we got the arrow in the chest," Taprobane Seafood Group owner Tim O'Reilly told delegates at the inaugural Global Shrimp Forum in Utrecht last week. During a session devoted to emerging players and countries in the shrimp industry, O'Reilly told delegates about his first forays into Sri Lanka's shrimp sector and spearheading the country's switch from producing Penaeus monodon to Pacific whiteleg shrimp (L. vannamei).
For O'Reilly, who has more than 25 years' experience in the global shrimp sector, Sri Lanka represents the next frontier in sustainable shrimp production. The island has multiple monodon farm sites and hatchery resources – but the country's development stalled for 30 years due to a protracted civil war. He set out to create a new business that provided meaningful local employment opportunities and long-term business enterprises. "We believed that the private sector had an important role to play in post-conflict recovery," he said. Upon moving to Sri Lanka in 2010, O'Reilly set about creating the country's largest, most sustainable and most fully integrated shrimp company – but there were significant hurdles to overcome.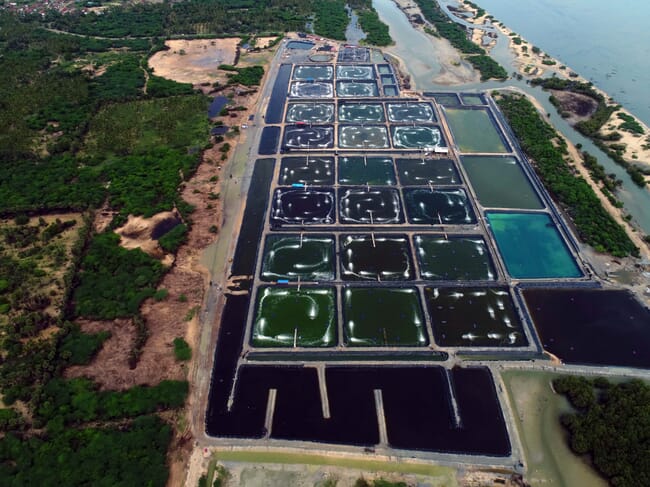 From stagnating to sustainable
O'Reilly and his team at Taprobane had previously worked with NGOs that combined sustainable aquaculture production and development initiatives. For O'Reilly, creating local job opportunities and building community partnerships is paramount for establishing sustained aquaculture ventures and development initiatives.
Taprobane's involvement in the Blue Swimming Crab Fishery Improvement Project saw the company oversee the initiative's commercial strategy. In 2019, the fishery was able to meet the standards for eco-certification – allowing the crab meat to be sold under the Whole Foods private label. O'Reilly explained that in the last year, the US imported 75 million pounds of blue swimming crab meat and only 600,000 of those were eco-certified – Taprobane produced all of it.
In the past 12 years, Taprobane has grown to over 2,000 employees and has built an extensive farmer network. As they've expanded into the shrimp industry, the company is building its own feed mill, a distribution network, aquaculture equipment business and four hatcheries. O'Reilly said that the firm hasn't lost sight of the need to create meaningful local employment – a sizable portion of his workforce are war widows or come from internally displaced communities. "Our commitment isn't just about doing business in Sri Lanka," he said. "[It was about] bringing employment and income, especially to the country's North after a bloody 30-year civil conflict."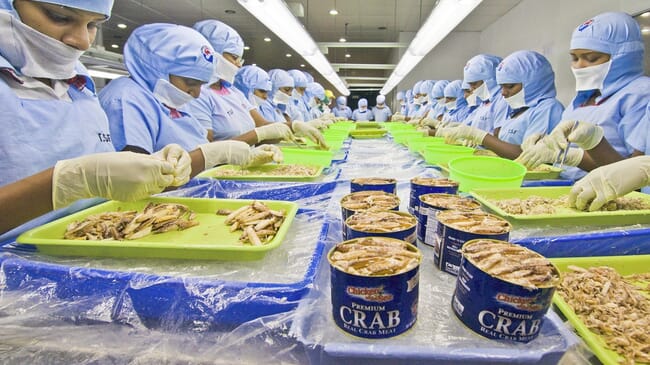 From protests to community alliances
O'Reilly's first attempts to introduce vannamei to Sri Lanka were met with fierce resistance from local monodon producers. At first, he was surprised – Sri Lanka has high domestic seafood consumption and had numerous abandoned farm sites that could be easily redeveloped for intensive production. Monodon producers could also see the well-documented success of India's switch to L. vannamei.
But he soon learned that buyers couldn't import frozen shrimp into Sri Lanka – local farmers felt they had a monopoly. They could still sell their shrimp even if they had a failed harvest. Introducing a new shrimp species could undercut their bottom line.

"It took four years to get approval and we faced a concerted effort from prawn farmers to block us at every turn," O'Reilly said. After going through the regulatory process, Taprobane was able to import SPF vannamei broodstock from Kona Bay, Hawaii. "The local farmers promised that they would protest in the street and burn tyres – and destroy the consignment."
"We had 38 police cars to protect our consignment from the airport to our hatchery. We had three identical trucks [going in different directions] – it's straight out of a Hollywood setup," O'Reilly said. "Once they realised our determination, they backed down."
It wasn't long before many of the protestors started reaping the benefits of vannamei production and advocating for the sector's expansion. O'Reilly explained that the emerging industry is allowing Sri Lanka to address the economic damage of the monodon sector. Many prawn farmers had been left destitute after experiencing production failures or disease outbreaks, with many leveraging – and losing – their properties to feed distributors. Jumpstarting the vannamei sector is yielding economic opportunities and allowing a broad cohort of Sri Lankas to benefit from production.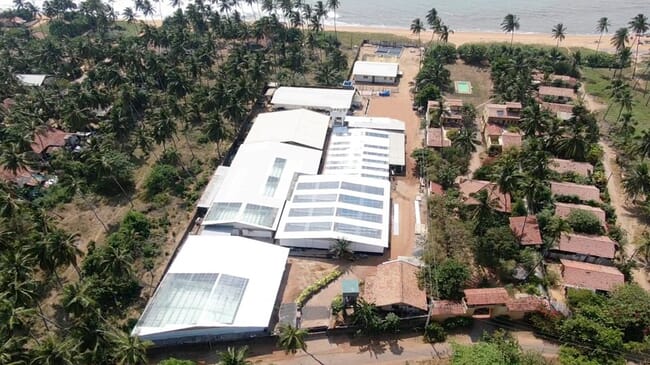 Seeing beyond the immediate challenges
Sri Lanka has earned notable media attention in the last three years – but the coverage never seems to be positive. The 2019 Easter Bombing in Colombo was followed by the pandemic and a well-publicised currency and political collapse earlier this year. As an uncertain global economic outlook and pressures from climate change come to bear, it's tempting to be pessimistic about Sri Lanka's nascent vannamei sector – but O'Reilly told delegates that Taprobane and the wider sector are on the rise.
Given that Taprobane introduced whiteleg shrimp in late 2020, achieving 19,000 tonnes of eco-certified vannamei is a huge achievement. O'Reilly believes that the company can reach 100,000 tonnes of harvested shrimp by 2027. The firm is reactivating abandoned monodon farms and gearing them up for intensive production. Though this represents five-fold growth, O'Reilly acknowledges that 100,000 tonnes represents less than 1 percent of the global shrimp supply. Taprobane will need to differentiate its shrimp in a competitive global market.
Embracing eco-certification
The farming community's initial resistance to vannamei has yielded unexpected benefits, especially when it comes to sustainability certification. Sri Lanka set a high bar for the industry from the get-go. There are stringent – and enforced – regulations on importing broodstock, hatchery specifications, stocking densities and transportation of shrimp from hatcheries to farm sites. Because Taprobane had to tick all of these boxes as they built their business, they can demonstrate their sustainable bona fides to other auditors and eco-certification schemes.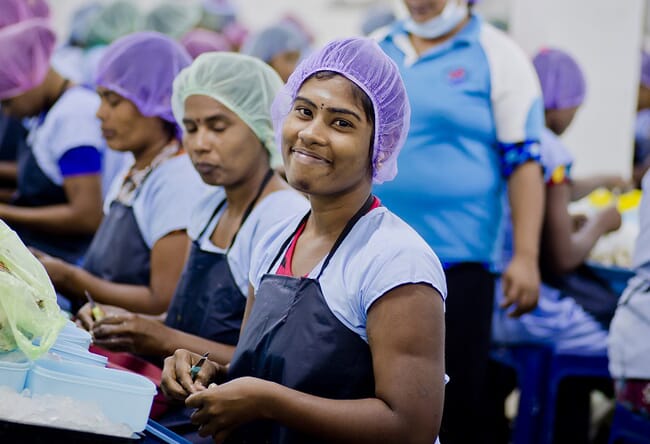 As of publication, Taprobane is leaning into the sustainability strategy. The firm signed on to the UN Global Compact, a major corporate sustainability initiative, and was recently awarded a grant from USAID to build a floating solar farm at their largest farm site. O'Reilly told delegates that Taprobane is also working to restore mangroves and create blue carbon credits.
According to O'Reilly, these initiatives and certifications will strengthen Taprobane's product offerings when they reach retail locations in the West. The relationship between eco-certification and consumer impact purchasing will differentiate Sri Lanka's shrimp from other options in the grocery case. In his view, Taprobane is both a business opportunity and a mission – he provides tangible benefits for the communities where he operates. In sharing Taprobane's story, he hopes to create a sustainable and eco-friendly shrimp industry in Sri Lanka that can meet growing global demand.
The Global Shrimp Forum was held in Utrecht from 6 to 8 September 2022.