A quick introduction to indoor shrimp farming
Though many are still at the pilot stage and haven't been proven at an industrial scale, analysis from Spheric Research suggests that indoor shrimp farming has huge potential to transform the wider industry.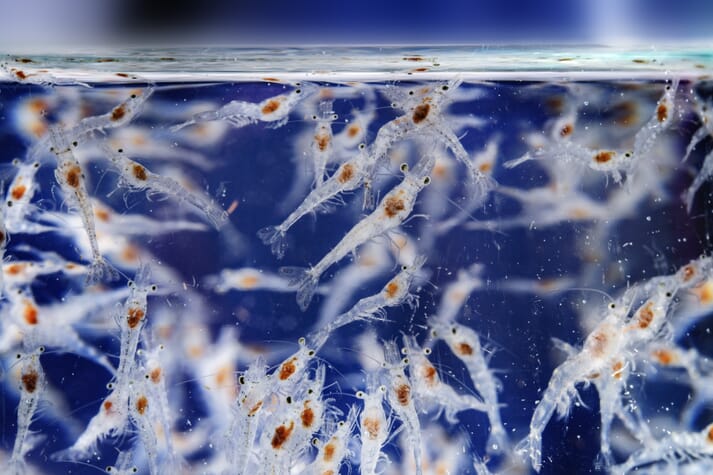 At the inaugural Global Shrimp Forum in Utrecht, Netherlands, the Aquaculture Stewardship Council's (ASC) Barbara Janker borrowed a quote from Robins McIntosh, senior VP of CP Foods. "No one has really mastered the art of RAS shrimp farming yet," – for conference attendees, "yet" was the key word.
As she presented insights from global consulting firm Spheric Research on indoor shrimp farming, Janker hinted that the nascent industry could revolutionise the wider shrimp sector. The new focus on controlling all aspects of production and adopting new technologies could address the shrimp sector's recurring pain points like disease outbreaks, antibiotic residues and weak transport links. She repeatedly referred to indoor, land-based shrimp farms as "next-generation" tech; highlighting its potential to interrupt the sector's status quo.
Setting land-based shrimp apart
Commercial shrimp farming got its start in the 1970s across rural parts of Central America, Ecuador and South Asia. These farms tended to follow a boom-and-bust cycle and were dogged by mortality rates that could exceed 40 percent. The ponds used electric paddle wheels to oxygenate the water and provide rudimentary circulation. Farmers also had to rely on a convoluted network of traders to get shrimp from their ponds to consumers across the globe. Though many operations remained profitable, the farms didn't have a lot of control over the farm cycle. The sites relied on shared waterways and it was difficult to maintain biosecurity protocols – making disease a perennial issue in the industry.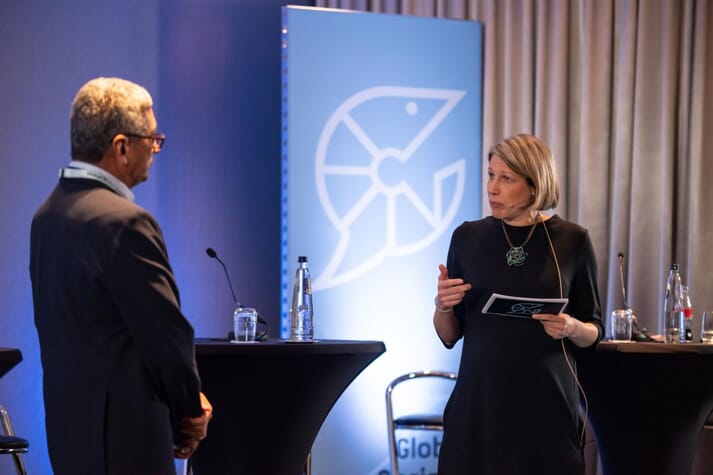 Janker explained that next-generation shrimp farms are innovating on these pain points. Modern recirculation systems are moving production to indoor, temperature-controlled environments that are located near major consumer markets. Operators of these indoor shrimp facilities can exert greater biological control over the production cycle. Facilities are biosecure and completely contained, minimising the potential for disease outbreaks and other challenges stemming from fluctuations in water quality. Though most indoor shrimp facilities are in their pilot stage, industry watchers are keen to see if the pioneers can reach industrial scales.
How are we producing indoor shrimp?
The next-gen pioneers are using two main types of RAS to produce shrimp: clear water and hybrid biofloc. Clear water systems use biofilters to extract nutrients like ammonia and other solids from the culture water. NaturalShrimp and SwissShrimp are two prominent examples. These set-ups require more filtration equipment and usually come with higher capital and operational costs.
Hybrid biofloc systems allow shrimp producers to piggyback off the nitrogen cycle and let beneficial bacterial colonies proliferate in the water. Shrimp farmers must maintain a higher carbon to nitrogen ratio in the water as the shrimp grow. These systems retain more nutrients in the water and usually require less equipment and fewer capital costs than clear water systems. Janker identified Noray Seafood and Sun Shrimp produce shrimp with the system.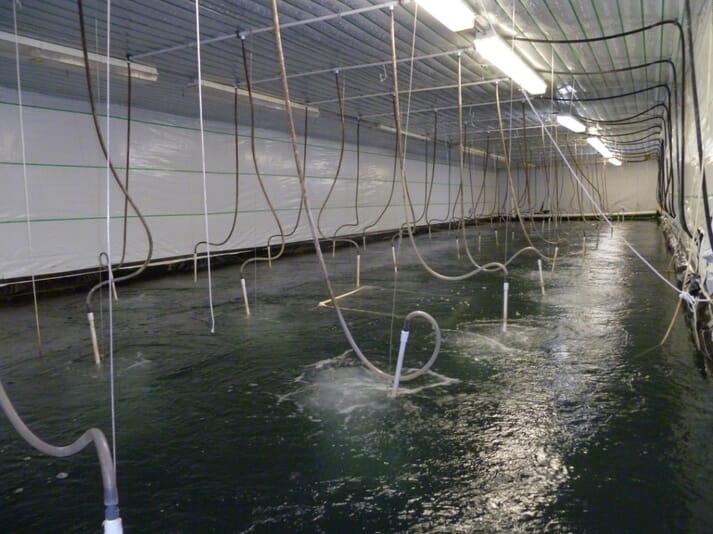 Who's in the market?
Spheric Research compiled its market intelligence to create the first-ever database on indoor shrimp farming. The firm's analysis identified 33 indoor, closed containment farms that use recirculation tech. According to Janker, production statistics are difficult to come by and few facilities have moved beyond the pilot stage.
Of those 33 farms, nine are located in the United States – the leading global consumer of farmed shrimp. Five are in Germany and four are in Singapore. As of 2021, 21 projects are in the pilot stage. Four farms are under construction and five are in the conceptual stage. Only three indoor shrimp farms are operating at a larger scale.
Janker highlighted firms like Sun Shrimp in Florida that is producing between 230 and 300 tonnes per year, as well as CP Foods' Homegrown Shrimp that has a production capacity of 190 tonnes. She also pointed to newcomers like NaturalShirmp – a publicly traded firm that's operating at 70 tonnes per year.

When looking at the European market, Spheric Research identified 13 land-based shrimp projects, with Spain's Noray Seafood leading the cohort. Noray is a well-established producer that has just secured additional private equity investment. Despite Noray's dominance in Spain, Janker noted that Germany has the most land-based production facilities. Janker reasoned that Central European countries like Germany, Austria and Switzerland have an informed customer base and shoppers that are willing to pay a premium for sustainable goods. This suggests that there's a ready market and that the industry could take off when projects leave the pilot stage.
Janker noted that Singapore is leading the Asian market. The government's ambitious 30X30 plan hopes to sustainably build the country's food production capacity and is spurring huge investments in the sector. Spheric Research identified nine land-based shrimp projects across Asia – but the industry may be facing significant economic headwinds into 2023.
Janker highlighted China's Guolian Aquatic, a firm that projected huge production volumes, but has since changed course. "In 2021, they wanted to have a capacity of 20,000 metric tonnes. China doesn't do anything on a small-scale… they were putting big figures out there," Janker explained. Earlier in 2022, the company announced that they were divesting from land-based shrimp farming altogether – highlighting that the segment isn't a guaranteed success story.


An industry snapshot
Though the sector is generating its fair share of buzz, production volumes from modern recirculation facilities represent a very small share of the world's total shrimp output. Spheric's analysis puts the output at pilot facilities at around 20 tonnes of shrimp per year and scale-ups come in at 75 tonnes per annum. The maximum planned capacity for these facilities is 1,750 tonnes. This output is dwarfed when compared to intensive conventional shrimp producers like Minh Phu Seafood that post 6.2 million tonnes each year. Janker told delegates that output from all of the indoor farms across the world would likely fall under 1,000 tonnes for 2023.
What's on the horizon for 2023?
The segment still has a lot of question marks – and they'll likely remain for the next year or so. New projects will probably face unfavourable headwinds as they try to court investors. According to Janker, financiers have been spooked by TruShrimp's unsuccessful IPO. China's Guolian is planning to divest from its aquaculture business altogether, leaving the future of shrimp RAS projects in doubt.

But despite these setbacks, Spheric Research says that the sector continues innovating and looking for successes. New actors are entering the space and trying to crack the code on RAS. Janker highlighted a joint venture in Germany between RAS specialist Billund Aquaculture and Aquapurna as one to watch.
Janker believes that like the Atlantic Sapphire in the salmon segment, shrimp RAS will probably rely on leading pioneers to make major inroads as the industry establishes itself. She highlighted Noray Seafood and CP Foods Homegrown Shrimp as prime examples of this trend. Though the industry is still fledgling, notable successes may see it transition from an emerging trend to top-of-the-line tech.
The Global Shrimp Forum was held between 6 and 8 September 2022.