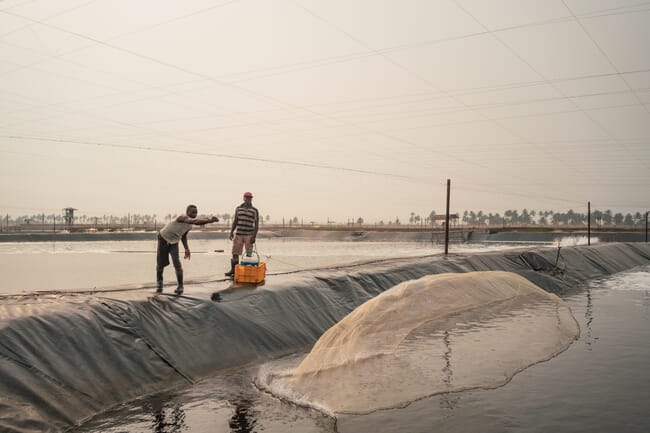 While West African aquaculture might be synonymous with freshwater species such as tilapia and catfish, there are a handful of producers who are breaking the mould. Perhaps one of the most radical is the black tiger prawn (Penaeus monodon) farm in Nigeria run by Atlantic Shrimpers Ltd (ASL).
Originally a trawler company, which was landing over 2,000 tonnes of shrimp a year off the coast of West Africa, after the turn of the century ASL began to see increasing numbers of black tigers in their catches. It was surprising, given that the species wasn't then thought to be endemic to the region – but their customers were impressed. As a result, the company decided to look into the possibility of farming the species (which has since been officially recognised as an established species in the region) too, choosing a location in an undeveloped and sparsely populated section of the Nigerian coast.
So explained Harm Kampen, who is currently farm advisor at ASL, at the recent Global Shrimp Forum. Not only would the new farm help to fulfil the demands of their customers, Kampen noted, but it could also ensure a sustainable future for one of Nigeria's fragile coastal communities.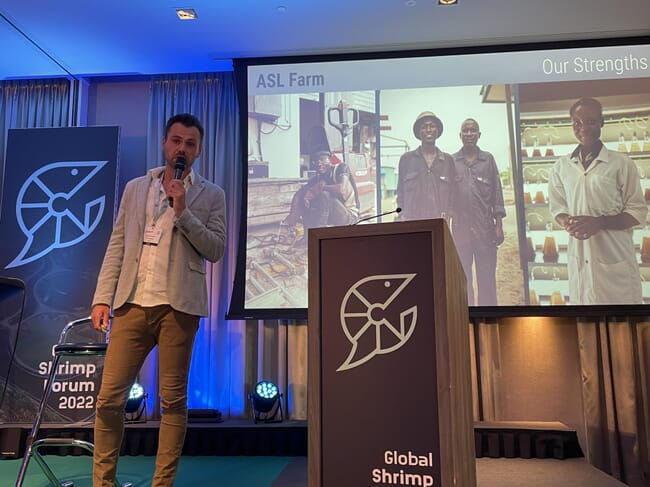 ASL started production in 2016, with the goal of producing 1,500 tonnes of prawns a year, sourcing their juveniles from broodstock caught locally by the company's trawlers, but encountered a number of challenges concerning the initial design and production strategy.
However, following a number of years of varying performances, it became clear that a major upgrade was needed to improve the quality and consistency of production.
"We thought the existing structure and strategy were not suitable for the high quality shrimp that we were aiming for and the conclusion was that we needed to renovate the farm to increase the capacity, quality and durability of the farm," Kampen explained.
The new design for the site is now half way to completion and will consist of ponds of 1.5 ha each, twice the size of the originals.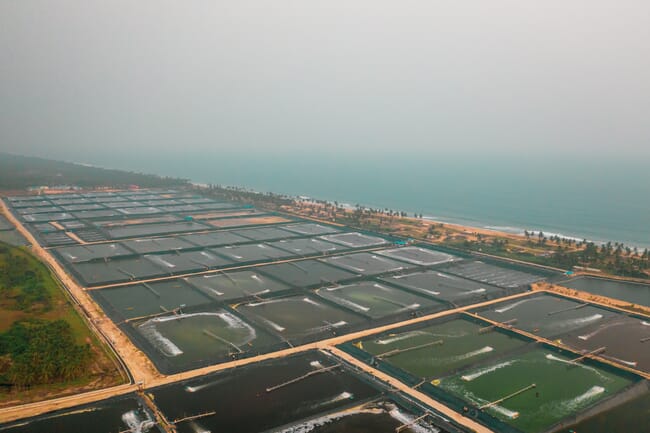 "We also improved the pond designs, and moved from chlorine treatment to mechanical treatment of the water," Kampen reflected.
Maybe most importantly, according to Kampen, was the switch to using specific pathogen-free (SPF) broodstock, rather than face the variability of wild broodstock.
"One pond could have great results, the pond next to it have bad results, and they came from the same broodstock. We tried it for a number of years but in 2019 we said 'OK, this is not going to work' we want SPF broodstock," he said.
According to Kampen, it's been a worthwhile investment and the farm's hatchery can now produce 140 million SPF PLs a year, providing the bedrock for stable production. Moreover, they currently have plans to develop their own broodstock multiplication centre (BMC), to reduce their reliance on imports.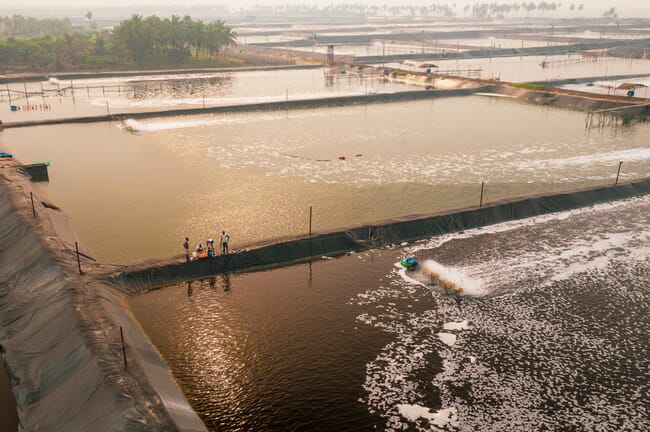 Ongoing challenges facing the farm include the sporadic power supply and logistical difficulties. Everything needs to come in and out by boat, while the lack of local feed mills means that they have to source specialist shrimp feed from Skretting in Vietnam, Nutrima in La Reunion and Aller Aqua in Denmark. The power supply is being tackled with stable production through Caterpillar Gensets and a recently installed solar power field.
Meanwhile the lack of local shrimp sector means that they need to bring in shrimp farming experts from countries such as Madagascar, the Philippines and Indonesia to fill the more technically challenging roles. And ASL also needs to train up the local workforce for a range of positions.
However, Nigeria does have one key advantage over countries such as India, which is forecast to produce over 500,000 tonnes of black tiger a year by 2025.
"The water temperature here is between 27°C and 31°C all year round, while in some regions in the world it's too cold in the winter so you can only produce one cycle," Kampen explained.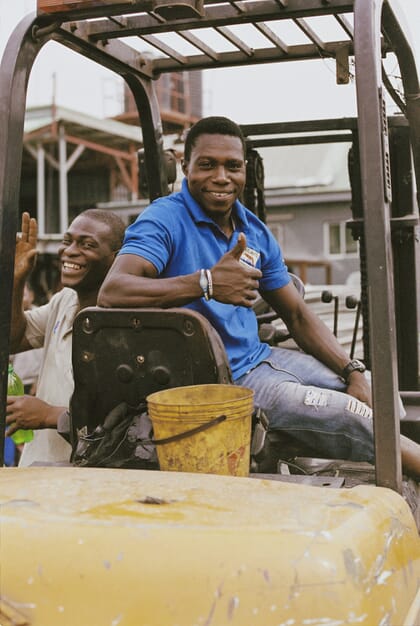 Turning a corner
Despite numerous setbacks and difficulties, ASL has persisted and currently forecasts that they will double their harvest volumes within two years. They now need to develop their markets, to cope with planned production increases, which is why they are one of the handful of farms in Africa to be ASC certified.
Prospects are looking good, following their first sales to Europe at the end of 2021, after clearance from the EU. This has paved the way for them to reach the high end French cooking market, although they are also developing sales channels in Lagos, the US, the UK and Southern Europe.
"Sometimes we get the highest prices for our products in the local market, through our fish shops in the big cities, like Lagos," Kampen noted.
One positive of being so far from other shrimp farms is the reduction in disease risks, especially now that they are using SFP broodstock and mechanical and UV filtration rather than chlorination. And Kampen explained that the lack of disease and availability of sufficient clean water under the current system means that they can produce black tiger at much higher densities than in most other countries.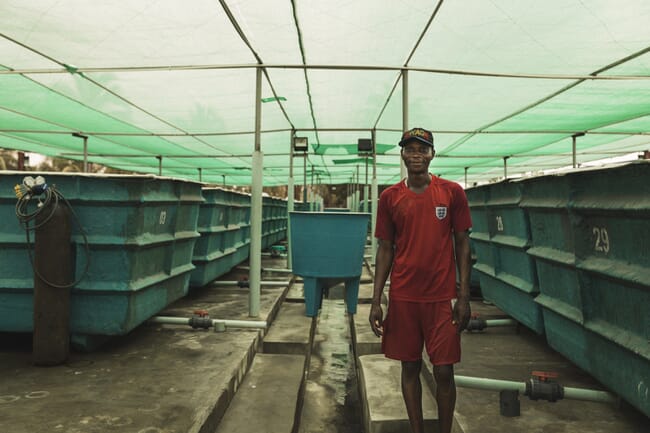 As for their corporate social responsibility programme? As well as currently employing 150 locals – a figure that is set to increase significantly, in line with production – ASL provides services such a school, a clinic, drinking water and solar chargers for the local community.
"The locals don't have the same living standards as we are used to in Europe, they sometimes live in houses made from leaves from trees – that's all they have," Kampen explains.
"They need a lot of training, they are unschooled people, but many are talented and we give them the opportunity to develop their talent – in Nigeria, but occasionally also abroad in one of our processing plants," he adds.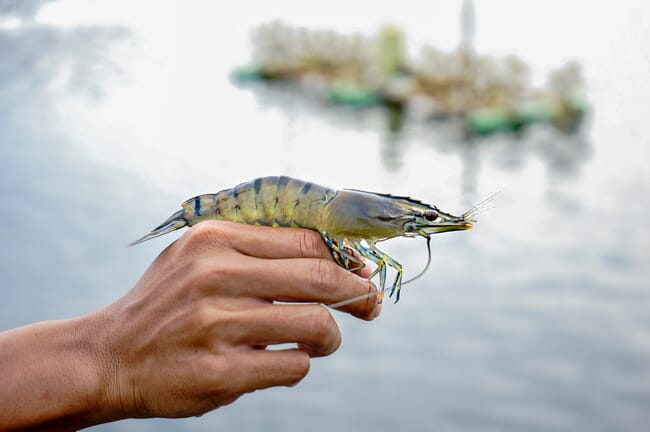 Critical mass?
Whether other companies could emulate the success of ASL remains to be seen, according to Kampen, who is convinced of the value of the company's local knowledge – gained from operating in the region's fisheries sector since 1996 – sets it apart from most potential competitors.
"They know their way in the country, they have their logistics in order, they have the financing structure, they have the knowledge of West Africa – they know how to deal with things that Europeans might find strange – which means we can focus on shrimp farming," he said.
He also warns that the French cookery market, which is their main target, is very competitive, being only 5,000 to 6,000 tonnes a year, much of which is supplied by wild capture fisheries and from producers in places such as Madagascar that have strong historical ties to France. Given that ASL's cost of production is, Kampen estimates, around twice as much as incurred by Indian farmers he is aware that they can't compete on the commodity market.
"When we reach 3,000 tonnes a year of production in the future we will really need to be creative to make sure we can sell them to the right people who are willing to pay the right price for the quality we offer," he reflected.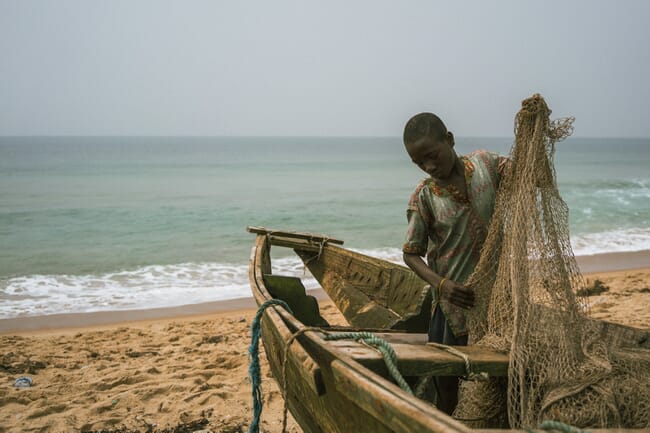 As a result of this, Kampen downplays whether West Africa is likely to become a global force in shrimp farming any time soon.
In the meantime those looking to invest in West African aquaculture might be wise to keep tabs on ASL's performance. The first question is whether their upgraded facilities can produce the consistently high quality black tiger required by high end markets. The second question is how much top class black tiger these markets can absorb.