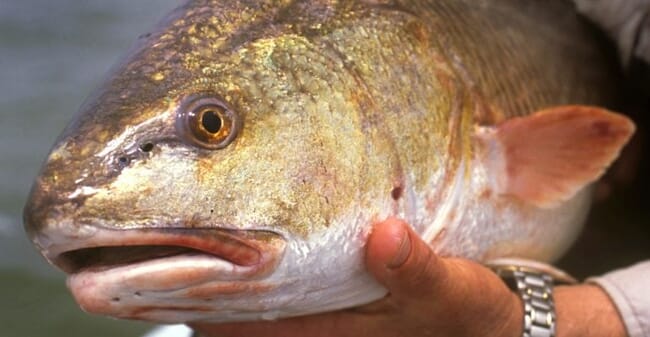 Background
The red drum (Sciaenops ocellatus) is a marine species that spawns in nearshore areas, spends several years in coastal habitats, and then schools in offshore waters. Red drum often live to 30 – 50 years of age and spawn annually after reaching maturity. The species occurs naturally in North America – from Veracruz, Mexico to as far north as Massachusetts. Gamete development and spawning are dependent on cold temperatures followed by gradual warming, but in spite of this the species is particularly vulnerable to sudden drops in temperature. Cold-related die-offs of juveniles in inshore habitats are common occurrences in wild populations, and similar cold-related losses are typical in outdoor culture ponds and tanks in temperate regions.
Consumer interest in the red drum increased greatly in the US in the mid-1980s, largely as a result of the popularity of Cajun cuisine at the time. As a result of overfishing, a subsequent moratorium on commercial harvests from the Gulf of Mexico led researchers and entrepreneurs to invest considerable resources in attempts to develop culture techniques for the species.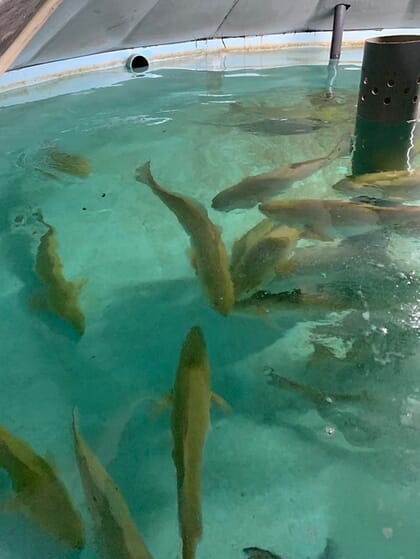 Apart from the prevailing supply and demand relationships at the time, a number of biological characteristics of red drum attracted the interest of researchers and culturists. Exceptionally good growth and survival were sometimes exhibited under culture conditions and the species grew well over a broad range of salinities. Additionally, once the first captive breeding stocks were established in comfortable hatchery settings, production of fertile eggs was fairly straightforward, as long as the fish could be chilled down to simulate winter conditions.
In spite of these attributes, results of red drum grow-out studies in the US were highly variable. Parasitic infections and oxygen depletions often resulted in large losses, but on occasion yields were high (9,000 - 24,000 kg/ha), growth was acceptable (1.0 - 1.3 kg average weight at harvest) and survival was high (88.7 - 94.9 percent). During the late 1980s and early 1990s, catastrophic winter losses attributable to sudden or severe freezing temperatures occurred at several pioneering drum farming operations in the US.
The relative intolerance of red drum to cold temperatures was never solved, and R&D efforts in the US declined steadily through the 1990s as cold temperature intolerance, disease, cannibalism and cash flow risks were increasingly perceived to outweigh the potential for profits. Nonetheless, several academic institutions – including Texas A&M University and Florida Atlantic University – continue to investigate methods to improve the profitability of red drum farming.
In contrast, successful commercial production of red drum has been firmly established in other parts of the world, with promising results to date. Some examples include China, Ecuador, Guadeloupe, Israel, Martinique, Mayotte, Mauritius and Mexico. In tropical locales such as Mauritius, there is little chance of escaped fish becoming established due to the requirement for a period of cold temperatures (< 16o C) to trigger gamete maturation.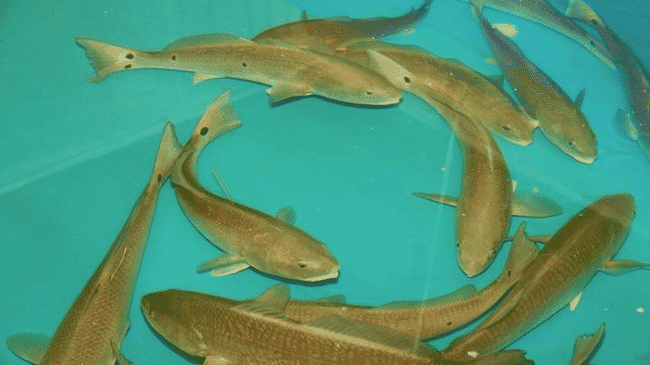 Across the Pacific
In 1994 Dr I-Chiu Liao reported on the first successful spawning of red drum in Taiwan. These fish had been shipped to Taiwan as fry from Texas in 1991. Dr Liao and his colleagues concluded that the species' cold tolerance appeared suitable to allow winter survival under typical local conditions. Technical information on red drum culture was soon available locally, and in mainland China, for those interested in producing this fish.
A representative of the Taiwan Fisheries Consultants group related the local status of red drum to me in several communications during early 1998. At that point in time, he described the local red drum market in Taiwan as "flooded", with whole fresh fish selling at pond side for roughly $3.00 (US) per kg. Additionally, local hatcheries were said to be shipping "millions of fry and fingerlings" to mainland China and other regional countries. This group was attempting to identify potential importers in the continental US who would be interested in regular container-loads of red drum fillets.
In the years that followed, Taiwan reported little red drum production and many websites now indicate that red drum are no longer present in Taiwan. Similarly, although red drum were introduced to Hong Kong in 1988 (probably from Taiwan or the US, since several sources indicate the species did not reach China until 1991), no significant production has been reported there over the past two decades.

In the years since it first crossed the Pacific Ocean, red drum has become a well-established aquaculture species in several Asian nations. China first reported production of aquaculture in FAO statistics in 2003, although farming of the species probably began in the late 1990s. Today, China produces more than 20 times as much red drum as the US, and container-loads of frozen red drum can be imported almost anywhere in the world from several Asian countries.
Substantial volumes of red drum products from Asia, specifically individually quick frozen (IQF) fillets, have been imported into the US over the years to take advantage of market demand in the Gulf coast and Atlantic states. Although the popular scientific web-based clearinghouse Fishbase indicates that red drum were introduced to Vietnam from China in 1999 and various publications confirm its production in that country, no aquaculture production has been reported to the FAO.
Across the Atlantic
The red drum has also crossed the Atlantic, on more than one occasion. As it was being welcomed in Taiwan, red drum also found a niche among Israeli fish farmers. Eggs and fry were imported from the US in the early 1990s and by 1999 several Israeli companies – including ARDAG Red Sea Mariculture, the Israel Salt Company's Atlit Hatchery and the Ma'agan Michael Fish Breeding Center (now known as Dag-on) – were supplying red drum fingerlings. Over the years, red drum have been successfully cultured in a variety of settings in Israel, ranging from marine cages to intensive pond production.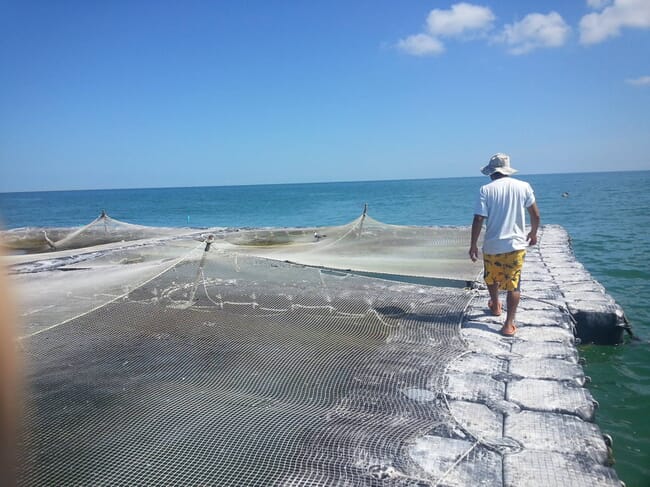 Other attempts to transplant red drum aquaculture have not met with the success seen to date in Asia and Israel. The species has been established in Reunion for many years, but production numbers were only reported once to the FAO during the past two decades. Red drum were also evaluated in Ecuador (Benetti et al, 1994) and Panama (Garces-Boticaio 1992), and while some questionable production numbers were reported from Ecuador from 2000 to 2002 no production has been reported since then. While introductions have been documented in Hong Kong, Italy, Singapore, the Bahamas and the United Arab Emirates, no production data is available for any of these countries.
Commercial success elsewhere in the Americas has been limited or non-existent… with the exception of the islands of Martinique and Guadeloupe. Considerable efforts by the French technology group Ifremer went into establishing a red drum industry in Martinique. The first fish were introduced from the US in 1985. In spite of numerous technical failures early on, the island nation has reported production every year since 2000, with a peak harvest of 87 tonnes in 2004. Data for Guadeloupe are limited, but some production has occurred there as well.
Onward to the Indian Ocean
Red drum success stories can also be found in the Indian Ocean. In Mayotte, red drum culture began in 1999, with sales commencing in 2001. Production peaked in 2003, and gradually declined due to problems with reliable juvenile and feed supplies. In recent years red drum production totals reported to the FAO have been roughly 20 tonnes annually – not a huge amount, but Mayotte is a nation of only some 280,000 people. A collaboration between the Mayotte Marine Nature Park, Ifremer and the Departmental Council of Mayotte has sought to revitalise red drum production in the park.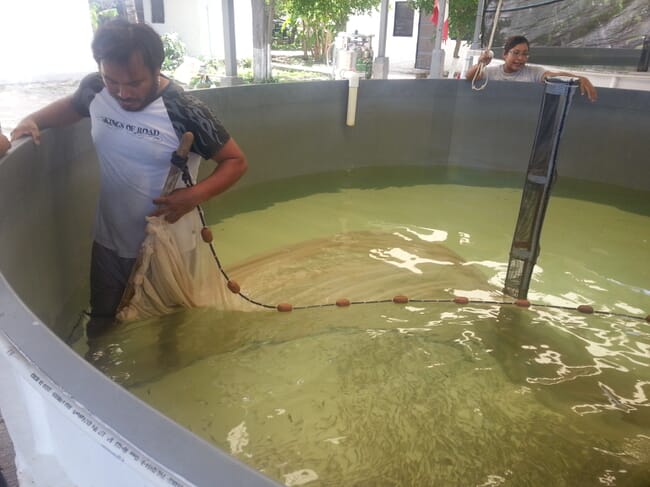 Mauritius is another far-flung destination in the Indian Ocean for this oft-relocated species. Red drum production was initiated in 2002 by Ferme Marine de Mahebourg, which currently operates five cage farming sites off the eastern coast of the island, with over 100 cages in production. The business operates its own hatchery with captive broodstock.
Production strategies
So, how is it that red drum have been cultured in so many nations while never taking off in the US? Basically, because apart from natural cool-temperature spawning requirements, production can be adapted to most tropical or sub-tropical regions throughout the world. Ideally, a red drum facility should have access to both freshwater and saltwater. This typically involves property in coastal zones, and acquiring permits or concessions to develop such property can be problematic in some areas. Unfortunately, the most suitable sites also tend to be highly vulnerable to damage from cyclones and tropical storms in regions where they are common.
Limited commercial sources of fingerlings have motivated or compelled the few remaining red drum farms in the US to incorporate their own spawning and hatching operations to ensure uninterrupted production and sales. In contrast to the situation in the US, red drum eggs, fry and fingerlings are readily available in some parts of the world, especially in Asia and the Mediterranean region.

While occasionally capital intensive, hatchery production of red drum is technically straightforward. Induced spawning has been practiced successfully for over 30 years, based on manipulating temperature and photoperiod. By bringing fish to maturation with an abbreviated annual cycle and subsequently fluctuating temperatures slightly, millions of eggs can be produced for each breeding female. Broodstock can then be subjected to a new maturation cycle, with lifespans in captivity easily reaching ten years or longer.
Within three days after hatching, red drum larvae require live feed. Timing of filling and fertilising fingerling ponds must be based on the anticipated stocking date in order to have suitable microscopic prey available when larvae begin feeding. These critical activities are generally a combination of art and science. If ponds are filled too early, zooplankton will already be too large for the fry to consume when they are stocked, and if ponds are not filled with sufficient lead time insufficient numbers of food organisms will be available.
After two to three weeks, producers begin to feed high protein powdered diets, gradually shifting to a crumbled diet by five weeks post-stocking. Fingerlings are then harvested and graded by size, and subsequently stocked out for the first phase of growth. Grow-out operations generally use a two-stage strategy to raise fingerlings to market size fish. This is in order to grade them at least once to reduce size variability, aggression and cannibalism. At optimum temperatures with good nutrition and water quality, red drum can reach 1 kg in less than a year.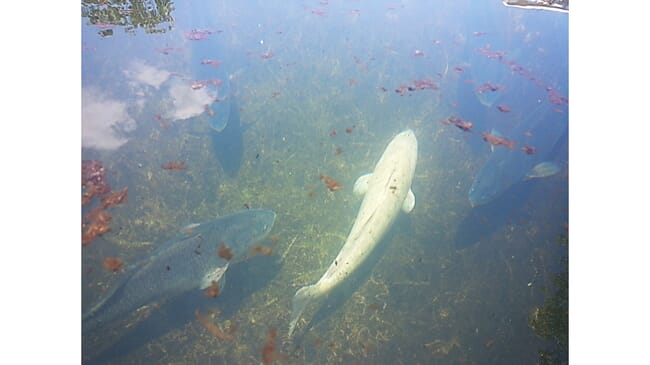 Potential
Clearly, the potential for successful red drum aquaculture is high in many parts of the world. Suitable sites are available, as are commercial feeds and infrastructure required for processing and exporting. Unfortunately, US producers have once again been reminded that they are not well-positioned to farm red drum profitably. The severe freezing weather in Texas in February 2021 drove most of the few remaining producers out of business, due to significant or complete mortality of fish inventories in outdoor ponds.