Salmon

"I think it's been a very positive year overall for the salmon sector, so far, and the demand in the US, Europe, Japan and Southeast Asia is a testament to the strength of the industry," says the banks chief seafood analyst.
"The industry pivoted towards retail in 2020 and while there's now a growing demand from food service, retail demand remains high in all the main markets other than China, where Covid testing is making exports harder, and demand has declined, but that's only 5 percent of the global market," he notes.
H1: salmon review

"It started with a salmon tsunami, as record volumes were being sold in Q1, from both Chile and Norway – partially due to delaying harvests in 2020, to try to avoid the poor prices – but by April and May prices had recovered from their low," Nikolik explains.
"In Europe this was, however, followed by increased volumes and a typical seasonal drop in demand in June, leading to a return to a return to an expected low price period," he adds.
However, prices in Chile, the bulk of whose sales go to the North American market, are showing a very different picture compared to in Norway, according to Nikolik.
"Farmers in Chile overestimated the length and severity of the impact of Covid. Around this time last year they decided to cut production more than was necessary, with harvested volumes down by as much as 15-20 percent during 2021. This decline, concentrated in Q2 and Q3 of this year, is all the more significant, given that Chile's salmon sector actually reported growth in Q1," he notes.
"This sharp drop in supply from Chile – which was largely caused by this reduction in seeding and feeding rates during the pandemic, as well as some issues with algae in early 2021 – combined with strong demand, means that the North American market is reaching near record price levels, and the Chilean farmers are now noticing increased demand from Brazil and Japan too," he adds.
"As a result, salmon producers in Norway and Scotland will be looking to the US to create an opportunity to avoid the low price season in Europe, so there's likely to be a stronger trade from Europe to North America. Logistically it's not hard for Norwegian and Scottish producers to reach the US market, they have strong brand recognition and so there will be opportunities to bring more volume to this market."
However, according to Nikolik, this opportunity for producers from outside Chile to cash in on the North American shortfall could be relatively short-lived.
"By Q4 it's likely that there will be a return to growth in Chile, which will carry on into 2022, with the sector likely to grow by 10-12 percent next year," he predicts.
Meanwhile he sees the much less volatile Norwegian sector as likely to deliver "reasonable low digit growth" of around 2-6 percent over each of 2021 and 2022.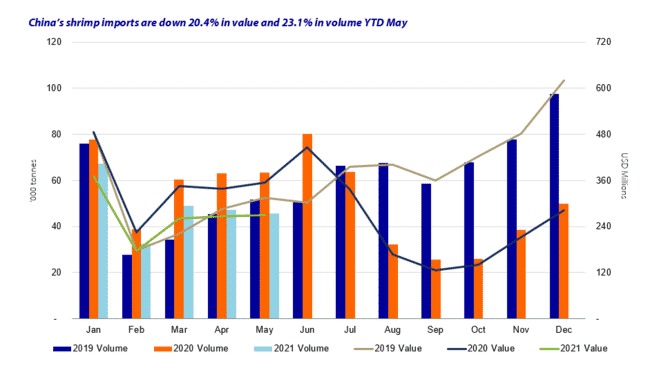 Shrimp
The shrimp sector has much to be optimistic about, according to Nikolik, as prices and demand both continue to surge.
"Much like in the salmon sector, the North American market proved to be the best for shrimp in 2020, with strong growth reported – albeit at a low price point," notes Nikolik. "While growth has continued, despite the higher price point, in 2021."
"While 2020 sales were driven mainly by retail demand for frozen product, the return of the food service sector this year has increased prices," he explains.
"On the down side, the Chinese market, which is much more important for shrimp than salmon, is still struggling and some producers are having every single batch of shrimp tested – particularly those from India (it was Ecuador last year) – it's the same across many segments of the food sector," he notes.
However, according to Nikolik, markets in the key European countries of France, Spain and Italy have recovered, as well as those in South Korea and Japan.
Ecuador emerged as the largest shrimp exporter in 2020, overtaking India, and continues to grow apace, says the analyst.
"They showed an impressive ability to pivot from China towards the markets in North America, Europe and others by increasing their processing capacity and will probably achieve double digit growth in 2021, helped in part by a reduction in supply from India – due to further outbreaks of Covid and the impacts of the typhoon in May," he reflects.
Nikolik adds that predicting when India is likely to bounce back from recent setbacks is debatable.
"Producers might hope to make up lost ground in H2 of this year, but due to all the challenges, it might not return to growth until 2022," he forecasts.
He notes that Indonesia is also performing well and, after growing its exports by 20 percent 2020 – most likely by diverting domestic sales to the US market – appears poised for genuine growth in 2021.
"It's very much guesswork, as you need to interpret the official government figures, but it looks like it will achieve real growth, not just pivot, this year. Quite a lot of new areas are being developed and others that previously produced monodon but had been mothballed are now converting to vannamei production," Nikolik explains.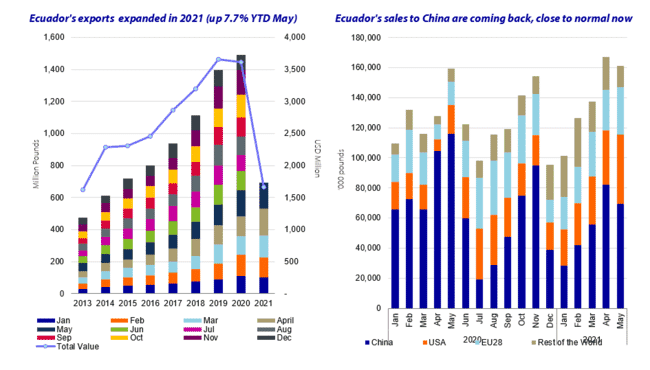 High prices, not necessarily profits
One further point that Nikolik notes as having a considerable impact on shrimp farmers is that their profits are unlikely to match the buoyancy of the markets.
"While prices for shrimp are good across the main markets, profits will be comparatively modest due to increases in feed prices, caused by rising prices for many key commodities, such as soy, cornmeal and even fishmeal (despite the increase in Peruvian fishmeal landings).
"Shrimp feed prices have increased by 5-15 percent since mid-2020 and, as feed accounts for 50 percent of shrimp production costs, profits haven't increased in line with shrimp prices," he explains.
There are, according to Nikolik, a number of reasons behind the commodity price hikes: including some crop farmers reducing their seeding during 2020; weather events such as the drought in North and South America reducing harvests; and an increased demand in China, which is rebuilding its pig herd after the ravages of African swine fever, and is experiencing higher demand for seafood, chicken, pork and beef as its food service outlets reopen.
Moreover, he adds, the global vegetable oil complex is increasing in price thanks to government set requirement for fuel producers to increase the use of renewable oils in fuel. For instance, in Brazil increasing blending ratios of renewable oils in bioethanol and biodiesel is adding to demand and driving prices of agro commodities.
"As a result of these factors, high feed prices are likely to last into 2022," he predicts.