The European Union's new algae strategy pledges to boost research into the production of sustainable ingredients. The plans could accelerate the development of animal-free seafood, helping to provide Europeans with a healthy diet, tackle overfishing and reduce the bloc's reliance on seafood imports.
The strategy aims to support methods of producing algae, which – in some cases – can grow faster, be harvested more regularly and use fewer resources than land-based crops. It can be used to enhance the flavour, texture and nutritional value of plant-based and cell-cultivated seafood – helping deliver some of the 24kg of seafood eaten per EU citizen each year.
In the strategy, the European Commission pledges (p15) to:
"Support, through Horizon Europe and other EU research programmes, the development of new and improved algae processing systems and novel production methods for high-value compounds traditionally sourced from algae (examples include biorefineries, precision fermentation, cell-free systems), processing algae to make circular bio-based products for multiple applications".
"Together with Member States, support, through Horizon Europe and other EU research programmes, the development of better and scalable algae cultivation systems (like integrated multi-tropic aquaculture (IMTA), sea multi-use, offshore cultivation, photobioreactors and algaeponics) or methods (like cellular mariculture and macroalgae in tanks) for dealing with the current technical constraints of macroalgae and microalgae production systems."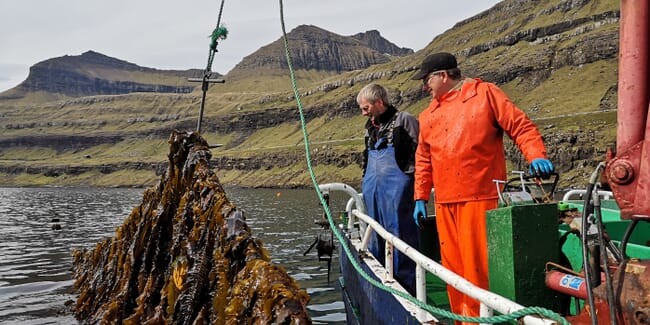 The strategy follows recognition by the European Commission, in its 2020 Blue Bioeconomy Report, of cultivated seafood's potential to meet rising demand for protein while alleviating pressure on fisheries. The same report also recognised that a lack of research funding in this area remains one of the biggest obstacles to its success in Europe.
The Good Food Institute (GFI), an international non-profit working to advance plant-based and cultivated meat and seafood, has welcomed the announcement.
GFI has funded research into the use of algae to cultivate sea bass fillets, and to assess whether it can be used to help reduce the production costs of cultivated seafood.
Precision fermentation is another method of producing sustainable proteins, using cells as miniature factories to produce a wide range of ingredients. This method can be applied to algae in order to produce sustainable omega-3 as an essential ingredient for plant-based and cultivated seafood.

Elena Walden, senior policy manager at the Good Food Institute Europe, said: "It's great to see the European Commission supporting new methods of producing sustainable ingredients. Technological advancement in this area could accelerate the development of plant-based and cultivated seafood, which can provide millions of Europeans with the seafood they love without further harming our oceans.
"We now need to see these encouraging words backed by targeted R&D investment to help develop a thriving European alternative seafood industry – sorely needed as the continent currently imports three times more seafood than it produces, and nearly half of EU marine habitats are assessed as endangered or near threatened."
The GFI's state of the industry report includes more insights into the global alternative seafood sector.