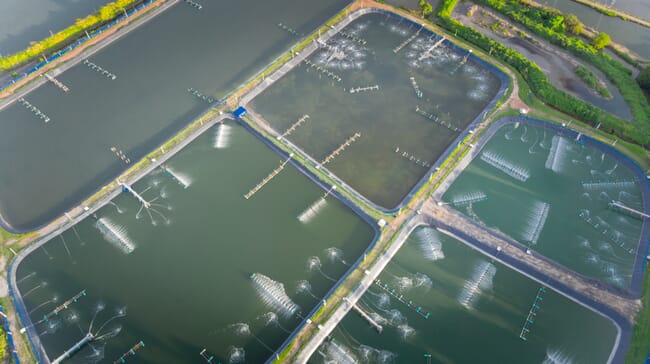 Rabobank's chief seafood analyst explains that the combination of global recession coinciding with a glut of shrimp hitting the market has caused prices to slide in the second half of 2022 – largely in line with forecasts made at the end of H1.
"White Shrimp Index prices in the US were at $4.40 per pound from the start of the year until March, then slid down to $4 in June, to $3.90 per pound now," notes Nikolik. "While this time last year the price was $4.60."
At the same time, he adds, feed prices have risen – and are now around 25 percent higher than in 2019, making it hard on the producers.
The story in Asia
Asian shrimp producers, in particular, are set for a tough year, on the back of a fairly testing 12 months.

"Initially in 2021 everyone was expanding supply – India rose by over 20 percent, a recovery from 2020. But early in 2022 weather issues, diseases and increasing feed costs in China and India look set have negative overall growth in 2022. It's a combination of consistently occurring issues such as EHP and EMS – which means production costs are elevated. When combined with the higher feed price and lower shrimp price it means many farms aren't profitable so the sector is shrinking," he explains.
"Vietnam is flat and although Indonesia has been growing slightly, as it has the most exposure to the strong US market, I expect they will also be on the downturn soon. So, overall, Asia – which accounts for two thirds of world shrimp production – is actually declining, and many individual farmers are either exiting or reducing their seeding rates. It's the first time overall Asian shrimp production has declined since 2013 – shrimp has been a consistently growing sector and they've been averaging 4.7 percent in the last decade or so," he explains.
Nikolik recently presented the results of the Global Seafood Alliance's latest producers' survey at the GOAL conference. However, while he found some of the insights promising he suspects others might be wide of the mark.
"The people who respond to the GOAL survey tend to give a positive outlook for the next year and they think that China will make a big comeback as both a producer and a market in 2023," he reflects.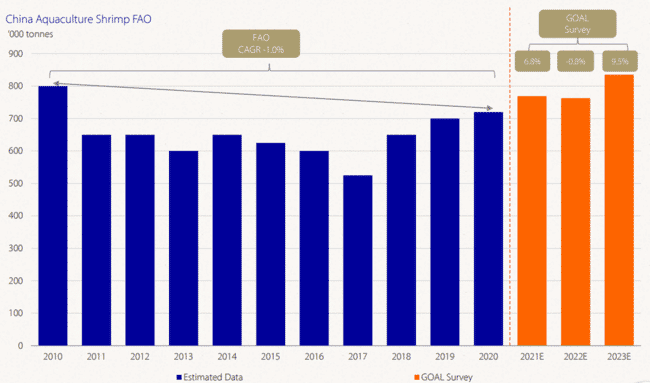 Comments in the survey pointed to the impact that flooding and ongoing restaurant closures due to outbreaks of Covid has on shrimp production and consumption respectively during 2022 but most respondents are assuming this will not repeat in 2023.
"The average respondent to the survey predicted China will grow by 9 percent in 2023, which is a lot – especially alongside the growth of Ecuador. It's possible, if all Chinese food service is fully open in 2023, but they would need to eat a lot more shrimp – Ecuador will sell up to 700,000 tonnes to China next year, while China sells about 8 to 900,000 domestically too," Nikolik explains.
Consequently, Nikolik predicts a difficult 2023 for the Asian market.
"I don't think the Asian economies will be isolated from the recession in the West, but we'll see. It's also very difficult to predict Chinese food service consumption at the moment – it's not a line that depends on micro-economic data, it depends on Covid: it just takes a few cases of Covid in Shanghai and the government will impose strict restrictions," he points out.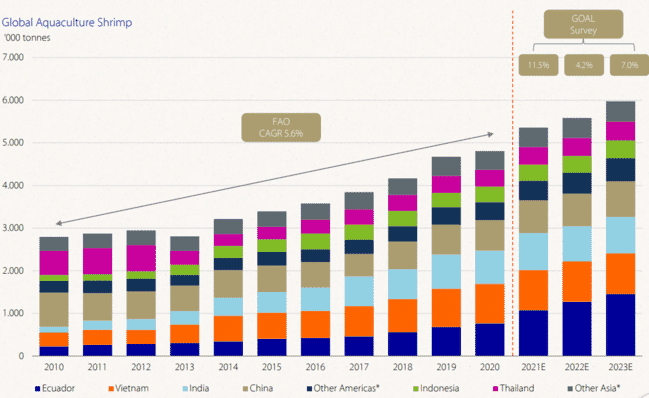 Meanwhile demand for shrimp in Europe and the US has been cooling down in the second half of this year.
"I noticed an inflection point in the US in the summer – growth had been double digit in the first half of the year, but it's now double digit negative: shrimp sales in August were 20 percent lower than in the previous month," he observes.
South America
Despite the slump in the US market Ecuador's sales there have still been creeping up, even in August, when they increased by 1.6 percent.
"Ecuador has an advantage over Asian countries in the US – they already have a low cost shrimp because of their better biosecurity but now also have a significant freight and route to market advantage when exporting to the US. They have already invested in the necessary processing equipment to do all but the most complex processed products," he notes.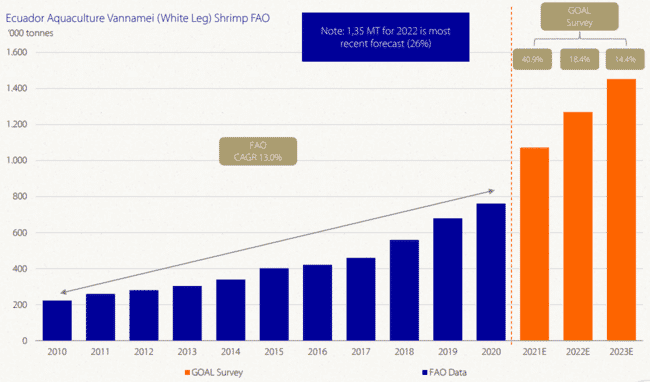 Overall he sees Ecuador's total production as being 30 percent higher than last year – and he expects it to reach 1.3 million tonnes. And he sees scope for the country to continue to grow, albeit not at quite the same rate.
"In 2023 we will probably have relatively weak prices throughout the year. Feed costs will probably be a little better – I think they've peaked already – but not sufficiently better to allow the Asian producers to grow," he says.
In global terms Nikolik expects the shrimp sector to grow by 6 to 7 percent this year but by only 3 percent in 2023.