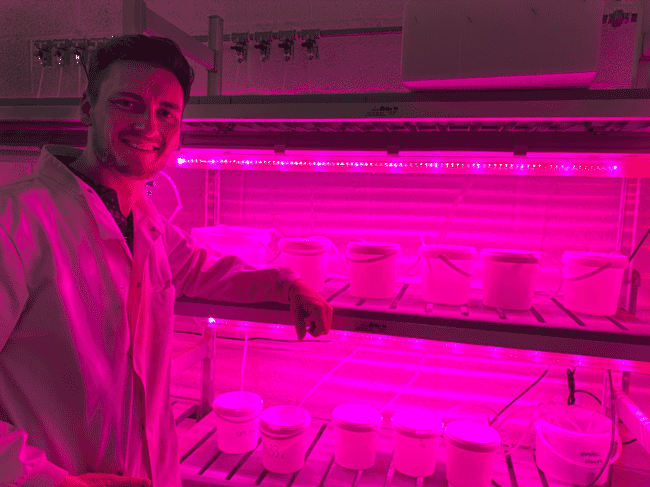 A bout of food poisoning incurred after eating his first-ever oyster might have put many people off a four-year PhD on the production of urban bivalves, but for Broderick House it only strengthened his resolve.
"It shows that while coastal bivalve aquaculture has many positives, there's scope for improving on existing systems," the University of Cambridge doctoral candidate in the department of zoology stoically observes.
Six months in, House is keen to stress that conventional bivalve production is a hugely beneficial form of food production.
"Water and feed are freely provided and the bivalves also act as a valuable carbon sink in the oceans," he notes.
So he's well aware that he has a challenge on his hands to convince people of the merits of his work – a project that seeks to build a pilot indoor bivalve farm in a Cambridge laboratory within three years.

"The challenge of urban bivalve aquaculture is that it appears to be the antithesis of current coastal bivalve farming systems, but we're not looking to replace conventional bivalve farms. However, we could help to supplement them – producing fresh bivalves in land-locked locations, for example – areas where transporting bivalves can have a large carbon footprint, and in which genuinely fresh bivalves are otherwise hard to source," he explains.
"Having freshly-grown and locally-produced bivalves could help to differentiate indoor-reared clams from those conventionally produced and shipped in from the coast," he argues.
House also notes that there are some areas that are perceived to be unable to support unconventional forms of agriculture and aquaculture. However, he explains that he was recently in touch with farmers in the West Bank, where the water is so scarce and the soil so polluted, but indeed an aquaculture system, which combined tilapia and greens, was as viable as traditional agriculture and aquaculture methods elsewhere.
It's another experience that both convinces House of the merits of his project and also reinforces his view – in part inspired by his studies at the Judge Business School – to come up with a practical system which has commercial potential in the long-term.

He is adamant that the project steers clear of "greenwashing or healthwashing", but has a practical application in the quest to improve global food security at a time of huge global population growth, in parallel with a rise of issues such as ocean acidification and pollution, which mean that the conventional production of bivalves shouldn't be taken for granted.
"We're aiming to produce a proactive, not reactive solution. We might not need it now, but the signals – such as ocean acidification, the increasing presence of biotoxins and volumes of heavy metals – are already there to see. In 15-20 years conventional bivalve aquaculture might be under critical pressure, so why wait?" he asks.
Producing any aquatic species in recirculating aquaculture systems (RAS) is both expensive and technically challenging, but House is keen to get ahead of the curve and establish a system that produces quality bivalves as cheaply and sustainably as possible.
Yet he is also aware of the challenges that lie in creating a fully functioning – and, ideally, commercially viable – system within the allotted three-years of his PhD project.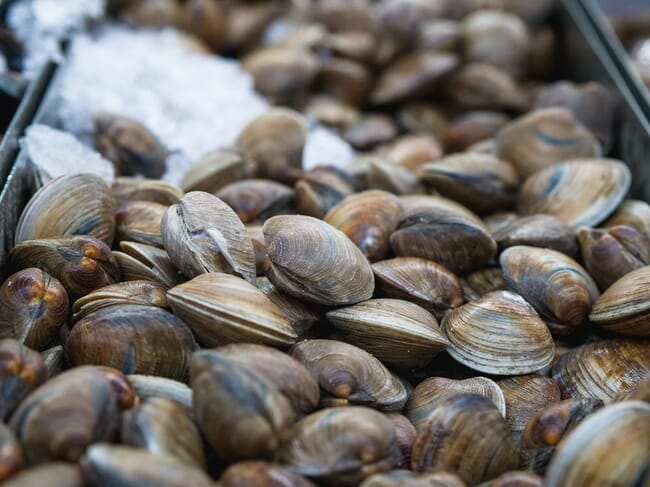 "I intend to design and build a pilot system and test individual components. It's not likely to be fully functioning by the end of my doctoral studies, but I see myself making a career in this field," he reflects.
Critical challenges that House is looking to overcome include producing feed with as low a carbon footprint as possible.
"We're looking at different algal formulations with another research group here at Cambridge, and would like to find an option that doesn't require too much processing," he explains.
Another is trying to speed up the growing cycle – which is all the more pressing given the comparatively high operational costs of running a RAS facility.
"Depending on the bivalve, it can typically take 1-3 years to grow to market size, but we've found a research project that has managed to grow oysters in only five months in tropical estuaries, and we'd like to try to replicate – or even build on – this in our system," he notes.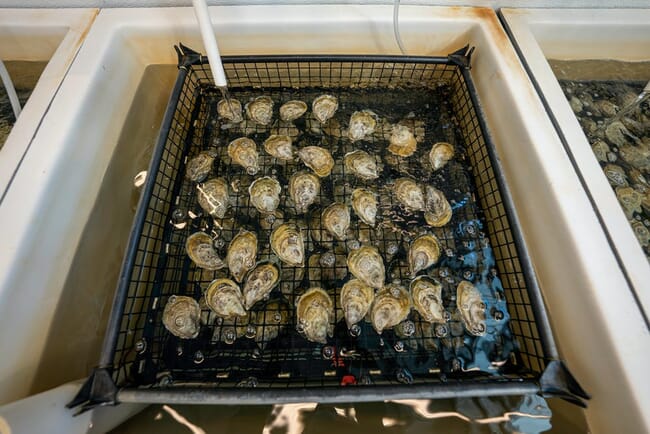 While it's still very early days, six months into the project, House is beginning to appreciate that one of the biggest challenges of all, is how to work with established players in the RAS sector.
"I'm keen to collaborate with – and learn from – as many operators as possible, and many have been very helpful initially. However, conversations are usually cut short as they are unable to help due to information falling under trade secrets and or being classified as sensitive information," he notes.
"But the project is definitely of interest to many entities and we'd welcome hearing from organisations or individuals – including farmers, RAS suppliers and NGOs – who are interested in collaborating," House concludes.
To learn more about the project contact Broderick House at bjh63@cam.ac.uk.