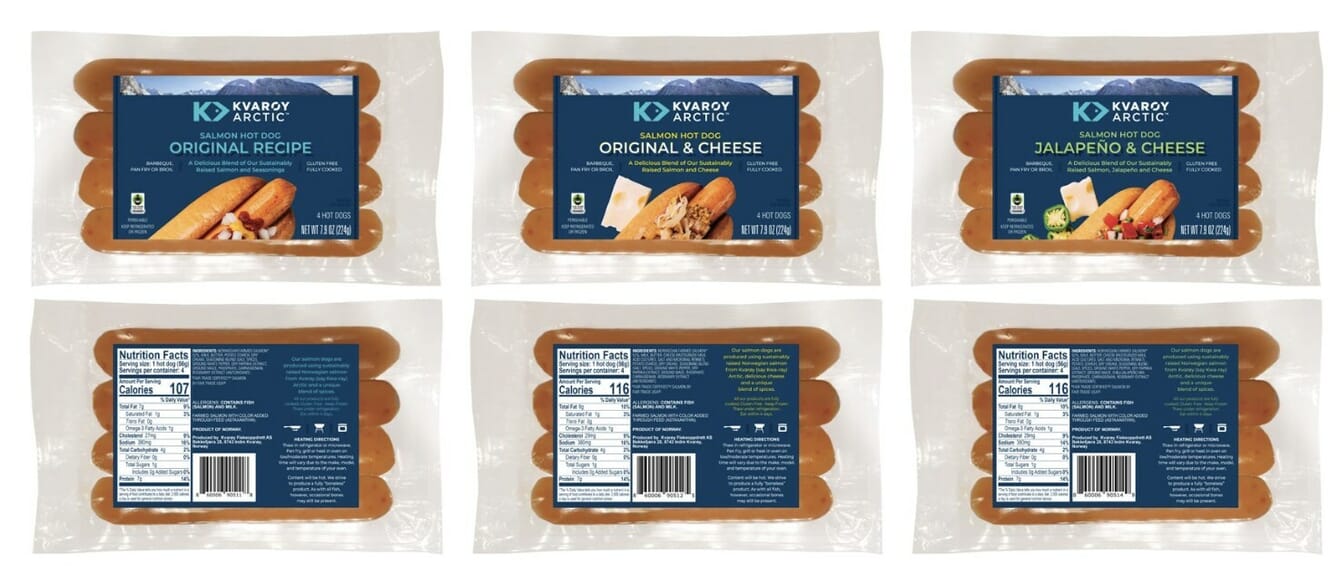 Kvarøy Arctic, a third-generation family business that farms Atlantic salmon along Norway's Arctic Circle, is celebrating the rollout of its premium salmon hotdogs at Whole Foods Market across the US.
Kvarøy's salmon hot dogs are sold in packs of four and retail for $5.99. The product can be found in three different flavours – original, original and cheese, and jalapeno and cheese – in the fish and seafood section at Whole Foods Market. As a proud supporter of Whole Kids Foundation, Kvarøy Arctic always strives towards offering wholesome salmon products that can be served for both adults and children.
"An important part of Whole Kids Foundation's mission is encouraging families to make the most of every meal by offering a variety of nutritious foods," said Chanta Williams, interim executive director of Whole Kids Foundation said in a press release. "We are grateful to have a growing partnership with Kvarøy Arctic, which shares our belief that when kids are given healthy options, they make good choices."

Made with the American Heart Association-certified sustainable Kvarøy Arctic salmon, the hot dogs have a velvety, fatty texture that makes it easy to prepare the same way traditional hot dogs are cooked. The company says that the hot dogs make an easy one-to-one substitute for beef or pork offerings. They're also non-GMO, gluten free and can be stored in the freezer for up to one year. They also have a full weekly recommended allowance of Omega-3s in one serving, making them a nutritious meal choice as well.

Supporting families with healthy and climate-friendly food, while also giving back to Whole Kids Foundation's school programmes has been Kvarøy Arctic's mission and focus. "Our goal is to create products that are delicious, nutritious and sustainable. We believe our salmon hot dogs not only achieve that but can also become an all-time favourite for the whole family," said Kvarøy Arctic CEO Alf-Gøran Knutsen.
Kvarøy's salmon dogs are more than just delicious and nutritious, though—the company created them with sustainability in mind. A core part of Kvarøy Arctic's sustainability goal is to lower food waste and the company is doing this by utilising the trimmings and off-cuts from its fish to create its hot dogs. Kvarøy's salmon dogs provide just one solution for preventing food waste while also offering a new way to enjoy salmon at home.