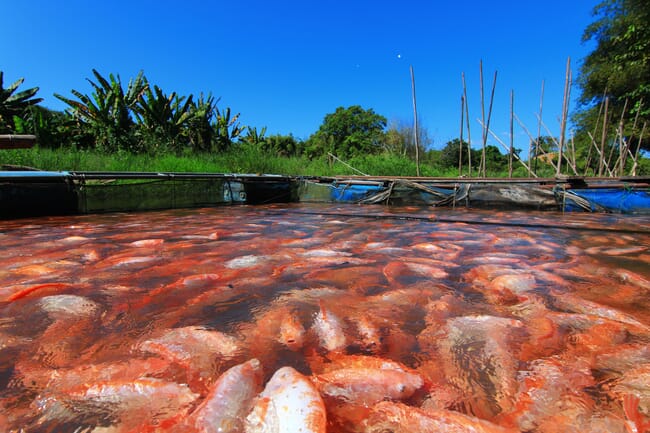 "Yes, [RAS] has a great sustainability picture, but in terms of profitability, it is not performing well for many businesses," Dr Ganesh Kumar told delegates at the Future of fish farming – tilapia series, which was presented by the Association of International Seafood Professionals. "The relative profitability of RAS depends on its ability to consistently produce sufficient volumes that cover all of their costs," he continued.
Dr Kumar, who works as a production economist at Mississippi State University, explained that the general trend for global tilapia industry is towards intensification – culturing more fish with fewer feed and land inputs. To achieve this, producers increase the carrying capacity of their farms by adopting resource-saving technologies or identifying ways to increase yields.
Dr Kumar noted that a number of tilapia farms in the US generate a profit using RAS by providing premium live fish for restaurants and niche markets. However, he added that these well managed operations have been in the business for several years and are some exceptions to the general rule. Indeed, after factoring and comparing the economic costs of production, he found that it was generally more profitable for tilapia producers to intensify pond aquaculture systems instead of adopting systems that incur very high upfront costs.

Pond aquaculture allows tilapia producers to produce more fish per acre of land. Dr Kumar also noticed this trend in other finfish species – including salmon, catfish and largemouth bass. His analysis found that RAS wasn't generally as competitive for most businesses – the high upfront investment and hidden production costs didn't generate sufficient returns for many ventures.
"That is the fundamental economic reason behind the adoption of pond aquaculture in general," Dr Kumar said. "I think that trend is going to remain in the sector for some time."
He did, however, add that some exceptional RAS operators were turning a profit.
"Some tilapia RAS businesses can remain profitable by managing their production systems and marketing their products well. These businesses generate sufficient and consistent volumes of fish covering all costs. The ability to produce consistent volumes of fish covering all costs is fundamental for economic feasibility in the long run," he added.
The economics of intensification
"Intensification" covers a broad scope of on-farm decisions. But these decisions boil down to a single goal: producing the most output while minimising costs and using minimal base resources. This means that farmers have to reduce their fixed and variable production costs and resource inputs while increasing the volume of fish they produce (per unit of fish by volume). To jumpstart the process, farmers must improve the carrying capacity – the maximum number of fish that can be safely grown – of their operations.
Farmers can boost their carrying capacity by adopting strategies and equipment that conserve resources, lowering their expenditures per kilogram of fish they produce. This translates into using better-quality aquafeed, decreasing feed conversion ratios (FCRs) or opting for improved fish genetics in the farm cycle. These steps help farmers reduce their variable costs and gain better control over the production processes.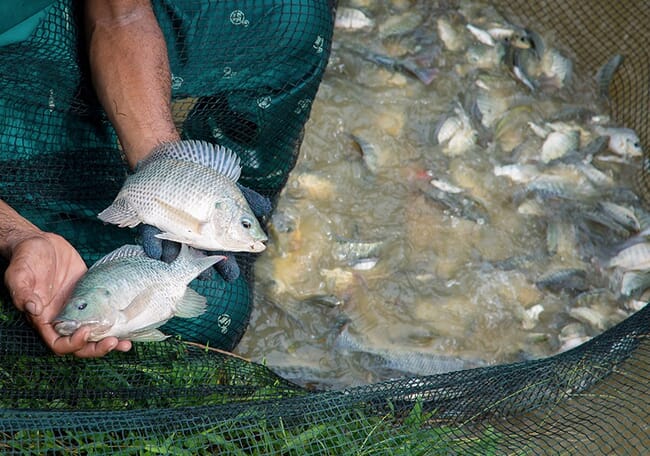 Farmers can also improve their carrying capacity by investing in yield increasing technologies. Using tractors, aerators, larger tanks or larger ponds lets farmers increase the volume of fish they produce per unit of area. This decreases their annual fixed costs.
The hidden costs of intensification
Though the research community and regulators are showing an interest in high-tech systems like RAS and aquaponics, Dr Kumar believes that their benefits might be more complex than they initially appear. Dr Kumar's analysis shows that the fixed costs for RAS can be high. The systems often require big up-front investments in filters, tanks and water pumps before the farm cycle begins. Additional production expenses from electricity and labour makes the total operating expense higher. This means that farmers need to produce more fish in the tanks to break even. Though some businesses in the US have historically achieved this through prudent management, taking this approach isn't always feasible for other tilapia ventures. Those profitable RAS businesses have had to account for all their costs and cover them consistently for many years.

Dr Kumar also noted that intensification comes with a number of "ghost" costs – or equipment and expenses that farmers forget to factor into the balance sheets. Backup generators and maintenance costs can be overlooked and undervalued, leading farmers to overestimate their profits.
Dr Kumar's analysis also found that in general, pond aquaculture ventures gave producers more control of their variable costs without the high up-front expenses. This control came with multiple downstream benefits. If farmers encountered a water quality problem or disease outbreak in a pond system, they had more time to correct the issue. The management window is relatively small with RAS. "You only have 20 to 30 minutes of controlled time or room of management… so you have to have backup generators and filters for any risky events," he said.

"Successful RAS businesses are those who understood and accommodated this management need early in their business life cycle," Kumar continued.
Because of these factors, Dr Kumar thinks that it's difficult for many small RAS or aquaponics to pass the profitability test. "In my limited knowledge, there are only a few aquaponics or recirculatory systems that are actually, truly profitable," he explained. These truly profitable businesses are in existence for many years and managing their business efficiently. It's a completely different picture from what we see from other researchers who are favouring raceways or recirculating aquaculture."

How tilapia operations can stay profitable
"[Farmers] aren't there to maximise revenue, they're actually there to maximise their profits," Dr Kumar said. He told delegates that tilapia producers had to tailor their farming strategies for the conditions they operate in. In most circumstances, farmers don't have much control over what happens in the market cycle – they tend to be price takers. To keep ahead of these dynamics and remain profitable, Kumar recommended monitoring farm inputs and tilapia prices.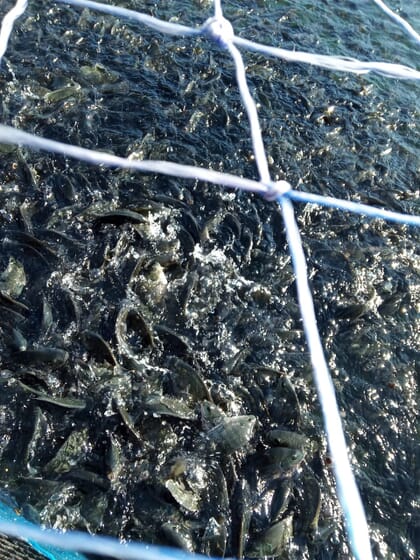 If the price of tilapia feed increases, producers should consider lowering their stocking densities. This ensures that farms can balance capital, outputs and profit levels. Conversely, if finished tilapia prices remain steady or increase, farmers should increase stocking densities. This will allow farmers to maximise profits as output rises while containing the costs.
"Profit maximisation is always depending on the ratio of feed prices to tilapia prices," Dr Kumar explained. Farmers need to economise the costliest farm input – mostly feed, then fingerlings, energy or labour – to stay profitable.
Because of these dynamics, pond aquaculture will likely lead the tilapia sector for the foreseeable future. Dr Kumar believes that it makes more economic sense for farmers to become efficient with feed inputs and improve FCRs as they intensify. "If your farm FCR is 1.5, the amount of money you can save by bringing down the FCR to 1.4 is higher than any other management changes you can achieve on the farm," he said.

The Future of fish farming – tilapia series was held from 12 January to 26 January.
This article has been edited after initial publication at the presenter's request.