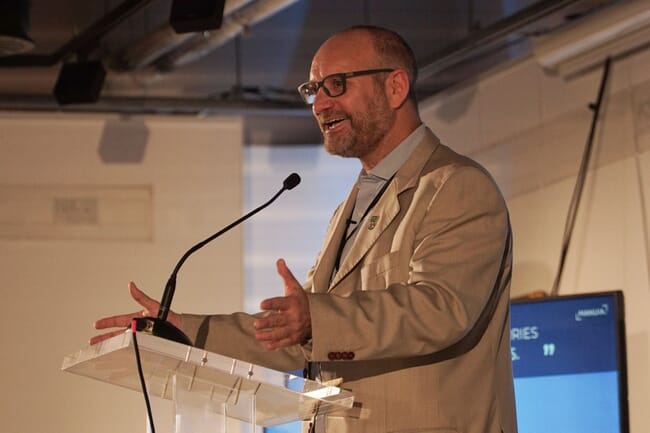 Earlier this month, GSI chief executives, alongside food system thought leaders, industry experts and stakeholders came together to mark the 10th Anniversary of the GSI, and look to the future to see how together they can shape the next decade of sustainable salmon farming in light of global climate, and food system risks.
In its 10th year, GSI's model has shown it can effectively unite a global sector with the aim of catalysing measurable, industry wide advancements in sustainability performance. However, there remains a need for continued collaboration and adaptation over the next 10 years in light of the continuing risks the industry faces.
Looking to the next decade, GSI is building on its momentum to accelerate advancements in three key areas - climate action, respect for nature, and contributions to sustainable food systems - while implementing new approaches which seek to improve sustainability and ensure GSI members' salmon is raised to be better for people and the planet.
As part of the anniversary celebration, various guest speakers took to the stage to discuss the importance of the sustainable development of the industry.
Gonzalo Munoz, recently appointed UN Food and Water Strategy lead for COP28, shared how the private sector is a valuable changemaker in advancing sustainable food systems, and the opportunities for the salmon sector in driving continued innovation.
Other speakers at the event, such as Emily Moberg of the World Wide Fund for Nature, noted the importance of collaboration in reducing greenhouse gas emissions, adapting to climate risks, and implementing ecosystem-based management approaches.
"There is still a lot more to be done to ensure the future sustainability and resiliency of the sector. And while today is about looking back on the successes we have seen in GSI over the last decade, more importantly it is about looking to the future," said Aino Olaisen, co-Chair for GSI, and chair of the board for Nova Sea.
"Collaboration is essential for sustainable climate action. By working with GSI I get to see the realities about salmon farms rather than just my computer trying to work it out for myself, and we can learn from each other to adapt much quicker," added Lynne Falconer, an aquaculture researcher from the University of Stirling.