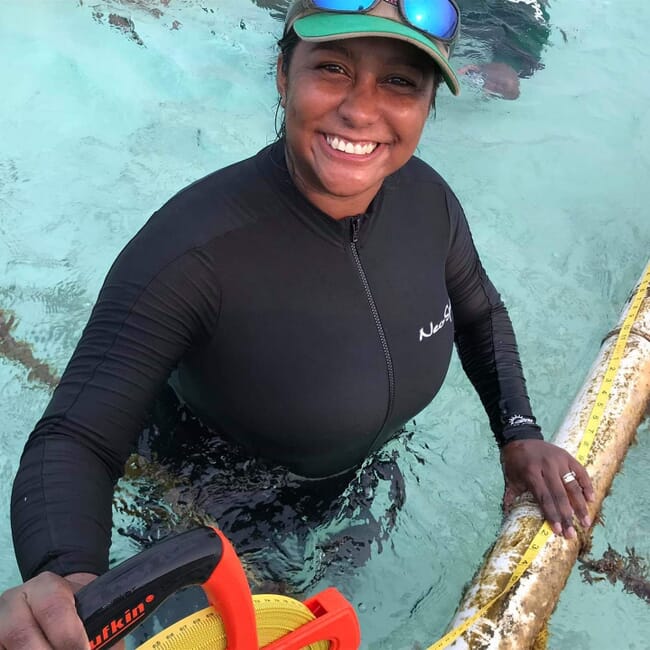 Her interdisciplinary background and work experience over the past ten years are in aquaculture and natural and marine resource management. She co-founded a non-governmental organisation named Building Belizean Livelihoods and Environment (B-BLUE) in 2019 and a youth organisation named Independence Youth Action Movement (I-YAM) in 2015.

Briefly describe your aquaculture career
In 2021, I completed a two-year MSc in aquaculture, environment and society at the Scottish Association for Marine Science. In collaboration with three EU universities, I focused on the research and development of hatchery-produced juveniles for the restocking into the wild of critically endangered Atlantic goliath grouper (Epinephelus itajara). Wild-caught juveniles were obtained from mangrove nursery sites which were consequently transferred into aquarium tanks for feeding trials. I also developed with the collaboration of a local fishing cooperative and women's group, an assessment study to determine the feasibility of establishing a seaweed mariculture nursery on Buttonwood Caye island. For this study, we conducted surveys of appropriate sites for seaweed farming and the potential merging of Atlantic goliath grouper culture with seaweed farms to form an integrated multi-trophic aquaculture enterprise.
What inspired you to start in aquaculture?
I decided to start my career in aquaculture when I was a marine biologist with the Southern Environmental Association (SEA), a marine conservation NGO in southern Belize. I conducted marine assessments of coral and benthic habitats, along with commercial species surveys for spiny lobster and Caribbean conch in two marine protected areas (MPAs) - Gladden Spit and Silk Cayes Marine Reserve (GSSCMR) and Laughing Bird Caye National Park (LBCNP).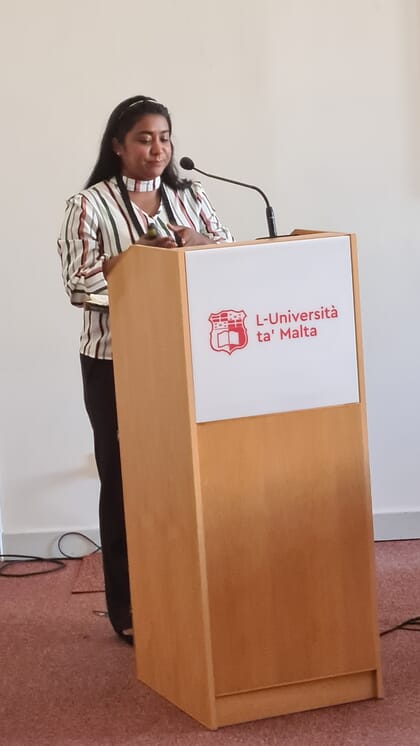 Having grown up along the coast, I was inspired to venture into aquaculture after witnessing the positive collaboration between the SEA and a local fishing cooperative who were working on seaweed farms at GSSCMR. I also grew up surrounded by shrimp and seaweed farms, in Independence Village in Stann Creek District, recognised as the aquaculture capital of Belize. With my background, it was easy to transition from marine conservation to aquaculture and follow my passion of assisting in the development of seaweed farms to address food security and climate change.

Can you summarise your current work?
For my PhD I will conduct studies to establish the requirements for the growth of seaweed aquaculture in the Caribbean region. A vital component of my research is to identify the industry's climate change adaptation strategies to address key critical points of development that may affect its sustainability. Data on the socio-economic status of the seaweed farmers will be collected and used towards building a central database for the Caribbean. I will also explore the social and governance aspects of the seaweed aquaculture industry as it prepares itself for playing a significant role in the blue economy. As an output of the research, case studies will be developed on the status of seaweed mariculture in Belize and St Lucia to highlight its institutional dimensions, influence and impact of the current aquaculture policies governing the sustainable development of the seaweed industry.
What is the most inspiring experience you have had working in aquaculture to date?
I enjoyed witnessing the rapport between NGOs and fishermen when they implemented their marine projects in Belize. The collaboration between The Nature Conservancy (TNC) with private and public sectors in Belize is an inspiring example. These organisations worked together to empower women groups in coastal communities to form seaweed cooperatives.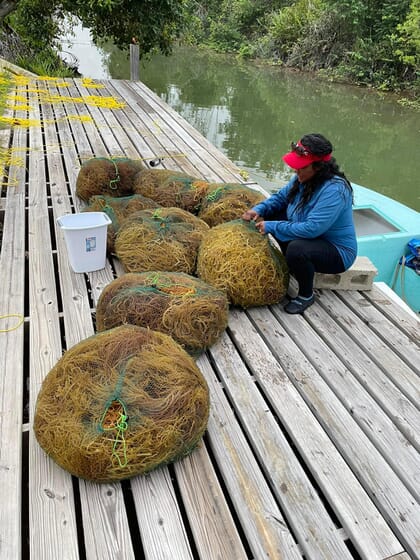 I was thrilled to see how the TNC developed several partnerships in the sector, gaining the trust of the coastal communities in Belize. I feel if this model can be replicated by the locals, there can be so much success in livelihood projects like the ones I have focused on. It was really inspiring and gives me much hope that this positive work relationship can be replicated in future aquaculture projects, as there is an enormous need for a livelihood diversification strategy for fishers.
Another motivating experience was during my masters research, when planning and conducting experimental trials with the Atlantic goliath grouper. I saw where I could assist communities that are currently adapting to a changing climate and consequent lifestyles.
What has been your greatest achievement in aquaculture?
Building awareness of Atlantic goliath grouper restoration.
What do you enjoy most about your work?
I am a people person and it is a great pleasure to interact, connect and collaborate with the various stakeholders in the aquaculture sector. I also enjoy applied research.
What is the hardest part of your role?

I wear a lot of hats and as I want to achieve so many objectives, I have to be more conscious of time management.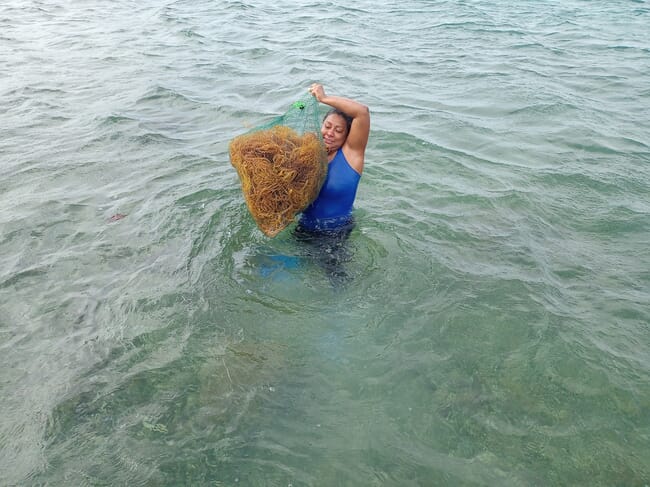 Have you faced any particular challenges as a woman in aquaculture?
Aquaculture is a new livelihood venture for Belize and the employment opportunities for women in this field are very limited. Currently most job opportunities in aquaculture are directed towards men, as they are perceived to be more capable to field work compared to women.
There is a need to create and integrate women-led roles into the seaweed aquaculture sector, but I am hopeful that opportunities for women professionals like myself will increase in the future. Women in Belize and small island states need to be given the opportunity to demonstrate leadership in the aquaculture field.

What advice would you give to women looking to start a career in the sector.
Let no one tell you that you can't do it because you are woman. It is because you are a woman you are able to fulfil a desperately needed role in the aquaculture sector while addressing the wellbeing of people and the marine environment at large. Aquaculture is not about muscles and hardship, it's about the passion for tackling ocean food security with the best possible resources and science.

What would be your dream role in aquaculture and do you think it is realistic to achieve.

I would love to work with communities in establishing seaweed farms and other mariculture livelihoods in the Caribbean through sustainable financing opportunities and to provide alternatives to working in the fisheries and tourism sectors. Later on in my career, I would like to become an adviser in a diplomatic setting in steering committees to deliver effective aquaculture policies that can benefit sea farmers for the long-term sustainability of the industry.