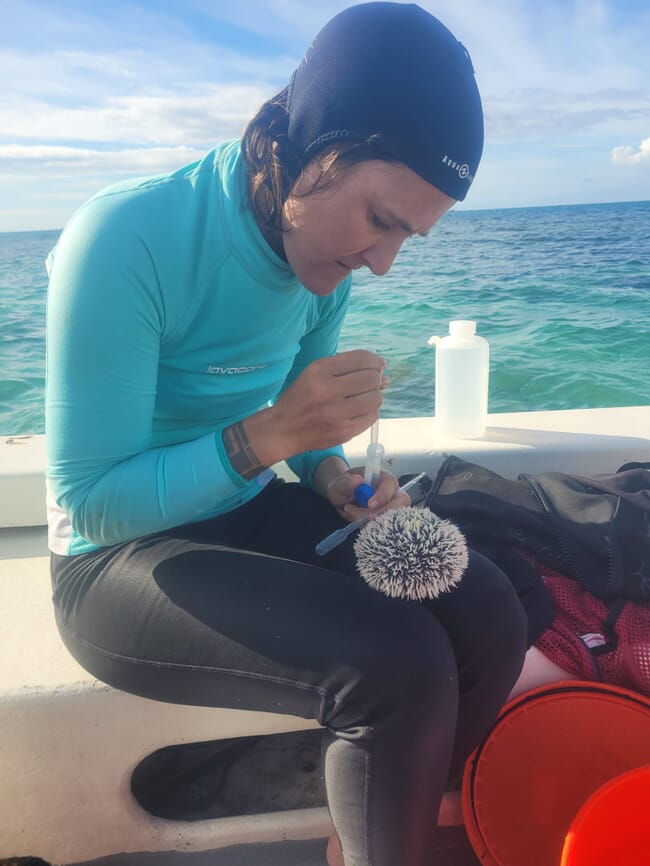 What inspired you to start a career in aquaculture?
My career in aquaculture started with my dissertation research. I studied the larval dispersal and settlement of one of the most important urchins in the Caribbean – the long-spined sea urchin (Diadema antillarum). There was a massive die-off of this species throughout the Caribbean in the 1980s – and, at the moment, we are currently witnessing another die-off, caused by a ciliate. For my dissertation research, I wanted to look at why it was taking such a long time for this sea urchin to recover. Through my research I was lucky enough to collect early and late-stage larvae, as well as post-larval settlers, and concluded that one of the bottlenecks to this sea urchin's recovery was most likely post-larval settlement and recruitment mortality.
I submitted a proposal during the last year of my dissertation to collect these post-larval settlers, bring them back into the lab and grow them to larger sizes. That way they will have a better survivorship when placed back on the reef. Originally that project was denied funding. However, when I returned from my post-doctoral work, I submitted another project. I was awarded seed money to start a small pilot project. That's how I got started.
Can you summarise your current work?
I am a co-founder and lead scientist of a small non-profit organisation in Puerto Rico called Institute for Socio-Ecological Research (ISER Caribe). At ISER we developed El Centro de Investigación y Restauración de Organismos Marinos (CIROM). There are two CIROM facilities; one in Ceiba and the other in La Parguera. At each facility we have land-based nurseries and a hatchery for sea urchins, and very soon herbivorous crabs. At these centres we are rearing stony corals and different species of sea urchins for restoration purposes.
My current work focuses on the restoration of coral reefs. At CIROM, we are taking a holistic and ecosystem-based approach to coral restoration. We not only restore corals, but we also restore other ecologically important organisms, such as sea urchins, and soon we will begin restoring herbivorous crabs.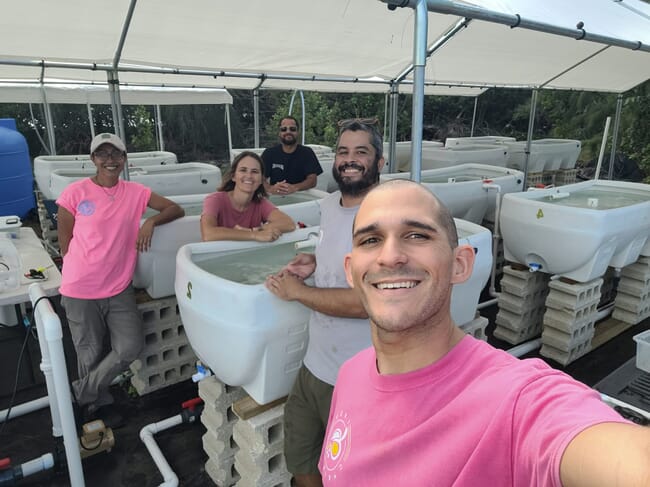 How will your work contribute to the development of aquaculture in your country and the Caribbean region?
Coral reefs are both culturally and economically important in the region. An estimated 100 million people benefit from them, including 41 million people who are highly dependent on reefs for their food or livelihood. It has become evident that Diadema antillarum is one of the most ecologically important shallow-water sea urchins needed to maintain coral reefs in the Caribbean, as they are responsible for grazing algae on coral reefs. Without these urchins, macroalgae would grow unchecked, suffocating new polyp formation, which limits the growth and survivorship of corals. As the coral structure of the reef community degrades, fish that rely on the coral for nutrients are affected. In addition, coral have reduced oxygen and sunlight to grow as a result of the overgrowth of algal biomass.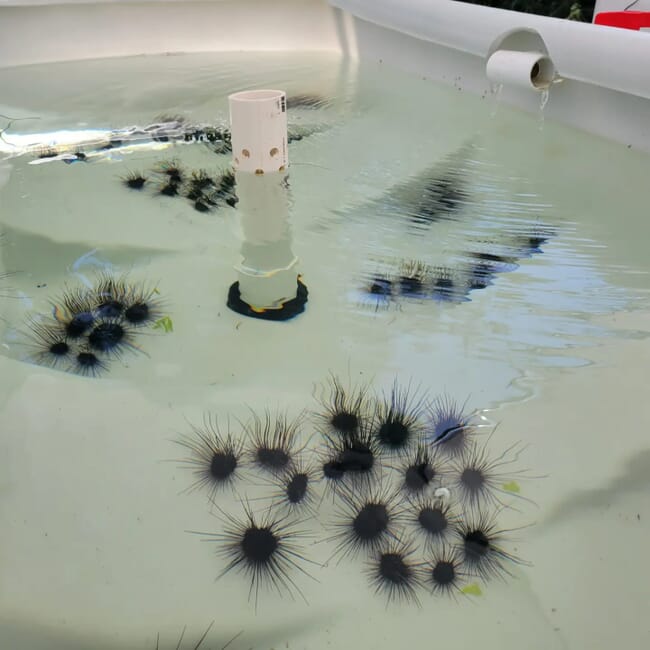 My work will contribute to the restoration of coral reefs in Puerto Rico through aquaculture of corals, sea urchins and herbivorous crabs. At my hatchery the urchins will be grown and transplanted as young adults to the reefs. The urchins' efficient grazing will help reduce the macroalgae on the coral reefs and help restore the reefs to a healthy state.
We are currently funded by the National Oceanographic and Atmospheric Administration (NOAA), through the Transformational Habitat Restoration and Coastal Resilience Grant, to conduct large scale ecosystem-based coral restoration at six reefs in Puerto Rico. With this project, we will be hiring many full-time staffers and also hiring and training graduate and undergraduate students and residents in our land-based nurseries. We will also be providing workshops for stakeholders – like fishers, government officials and NGOs – to give a view on the setup and husbandry of our land-based nurseries.
What do you enjoy most about your work?
Working with the students and staffers at CIROM. Also, seeing the impact we are making when we restore corals and sea urchins to the coral reefs.
What has been the most difficult part?

Keeping these organisms alive in a controlled environment is quite difficult and this can be demotivating. We have had a lot of challenges, but we have also seen a lot of progress.
What has been your greatest achievement working in aquaculture to date?
My biggest achievement is the grant that we received from NOAA. We received $10.6 million to do what we love, restoring the coral reefs of Puerto Rico.
What advice would you give to women looking to start a career in the sector?

Not to give up. I've been told so many times that my ideas are not going to work, but I went with my gut and followed my heart. I've failed a lot of times but with failure I've grown and learned. Those failures have moulded me to become the scientist I am today. So, use those failures to your benefit.
What would like to see achieved for the future of aquaculture in your country?
I would like to see us collaborating with more Caribbean islands and growing the aquaculture industry. Right now there is not much happening in Puerto Rico, but there's tonnes of opportunities to do mariculture and aquaculture on the island

What would be your dream role in aquaculture?
I'm living my dream role already.