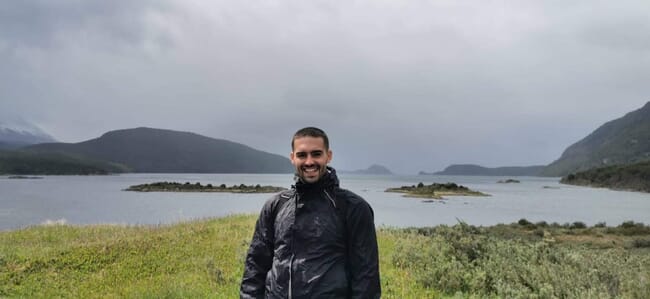 "When I was 15-16 I came across articles about surfboards and snowboards that were made from microalgae – that was my introduction to producing commercial bioproducts and biomaterials from organic matter, which seemed pretty cool," Green explains, when asked why he has algae on his mind.
Studying at Imperial College, he then came across the potential of algae for bioremediation, biofuels and high-value hydrocarbons – with the latter forming the focus of his final thesis. After graduating, he ended up in Australia where he was fortunate to connect with and work for some seaweed-focused startups, including feed, food and bioplastics companies. It was during this period, as Covid-19 limited options to travel back to Europe, that he began to write about the space – hoping to help others stay on top of emerging algae updates. Paxtier's website and newsletter were then launched in a bid to support the sector.

"Bit by bit we connected with a whole bunch of entrepreneurs, investors and academics. And, over time, it has materialised into a content site demystifying the algae space: who's doing what, how they're working and what sort of use cases can be seen," Green explains.
"Ultimately, we see ourselves as a business, career and sector development tool – offering people a chance to connect with likeminded individuals, stay on top of the market, and find new opportunities. We are also intent on raising awareness around algae and ocean teams," he adds.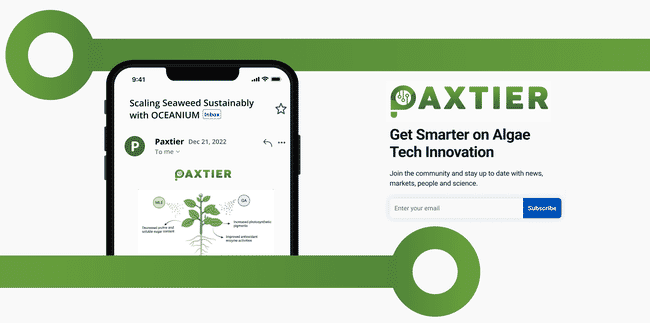 Trends in the sector
Three years of studying the markets later, Green is able to offer some valuable insights into the trends – and teams – that are on the up.
"While both macroalgae and microalgae show a lot of potential, macroalgae is seeing a lot more media buzz at the moment. In the emerging technology world, we're seeing a lot of interest in methane-reducing feed supplements, and for good reason. The price points are favourable compared to some other commodity level products, there is lot of demand, there are additional feed conversion ratio benefits, seaweed products have improved methane reduction capabilities over competitors, and the impact is potentially massive – seaweed supplements can capture a significant portion of a market worth billions by 2030," Green reflects.
When it comes to algal bioremediation, some startups that Green is particularly excited about include Aqua Cura in New Zealand, Pacific Bio (aquaculture wastewater treatment) in Australia, and I-Phyc in the UK.
Additional exciting early-stage microalgae teams include Phycobloom (biofuels), Brilliant Planet (carbon sequestration in non-productive desert systems), and Spira Inc (pigments and dyes from microalgae).
"Teams like Spira stand out because of their passion and dedication to the subject. Spira's founder, Elliot Roth grew his own microalgae in an aquarium in his house to feed himself for a year or so. That level of dedication resonates," he observes.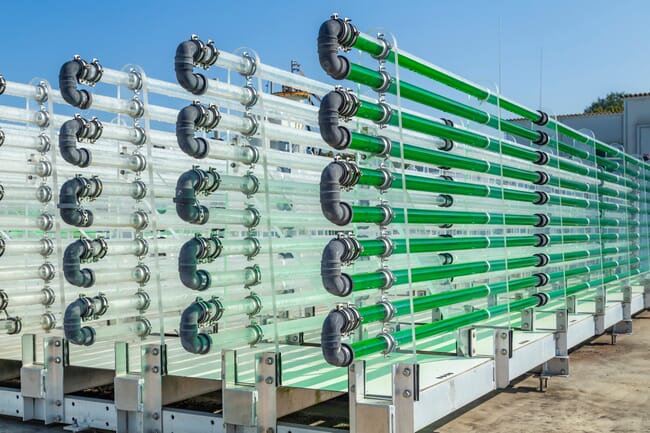 Other spheres of Green's interest include algae genetics, companies looking to clear and upcycle the invasive Sargassum that is doing great damage to Caribbean ecosystems, and also those – like Running Tide, Naturemetrics and Cascadia Seaweed – which are developing toolkits to measure the ecosystem service (eg biodiversity) benefits of seaweed farming.
And in terms of seaweed biorefineries, Green has been particularly impressed by the teams like Oceanium, Macro Oceans and Blue Evolution.
"I've missed out a whole bunch of others, both early-stage startups and later stage companies alike, that I'm really excited to get behind. If I had $100 million, I'd readily deploy capital into a suite of these innovative startups, research institutes and companies working in the space," he adds.
Setting the stage for growth
Green believes that the West's emerging seaweed sector is poised to grow substantially, not least because of regulatory changes and increased political backing. He points to the EU's ambitions to ramp up supply and meet demand for 8 million tonnes of macroalgae by 2030. "It's a long way off where we are now, but it's important we keep it in the public conversation," he reflects.
"In general, there's still a lot more research to do to unlock the full value of algal biomass. For example, [after working with Hatch on their seaweed report] I was reminded that there are over 50,000 species of algae that have been documented to date, of which very few have been studied in depth. There's so much opportunity in unlocking the genomes of these species. We've seen a couple of teams recently raise a lot of money for the capability to sample the DNA of new species – it's about identifying the species that can produce more of what we want to produce," he explains.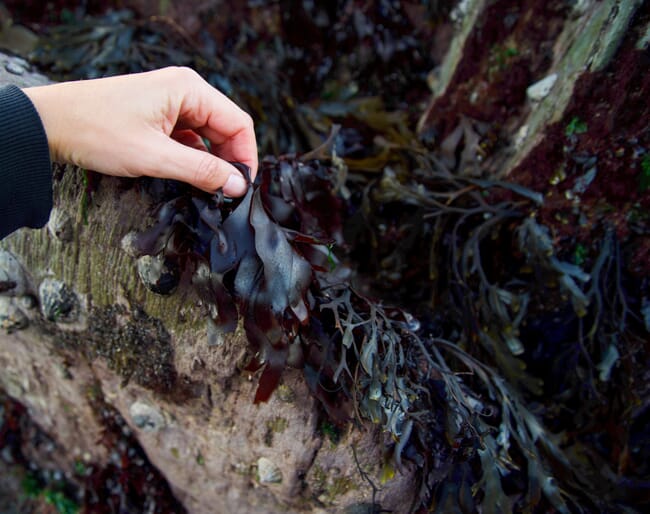 The carbon question
One trend he has noticed is that many of the more positive claims by the sector – notably those relating to blue carbon – have been subject to heavy criticism.
"The scientific community has been very wary of hype," Green points out.
He thinks this has probably led to a shift in how some of the fledgling companies and concepts are positioning themselves – from focusing purely on carbon sequestration to diversifying their offering- for example, by concentrating on developing tools to establish the levels of sequestration that algae can provide, developing seaweed bioproducts, or focusing on more natural carbon export pathways
"Over the years, the social pushback from the ocean stakeholder ecosystem has been severe, not just for seaweed sinking, but ocean-based bioengineering in general, for example algal blooming [ie generating algal blooms by sowing the oceans with tiny iron particles]. While teams in this category are still doing great work on developing open ocean infrastructure or tools for analysing impact, progress can be slower than expected without alignment between stakeholders around the effects of sinking," he reflects.
In the near term, he does have more hope for the capitalisation of kelp forest restoration and seaweed farming, through the use of blue carbon credits for sediments and natural export as promoted by organisations such as The Kelp Forest Alliance and Oceans2050.
"They are tackling carbon through natural sequestration – through sediments, or through the natural removal of carbon to the deep ocean – and the general additionality. Restoring kelp forests is fantastic, especially in places like Australia where we've seen huge breakdowns in natural kelp forests," he explains.

"Furthermore, we're seeing multiple stakeholders advocate for a wider ecosystem services credit capitalisation approach – for example, accounting for biodiversity and bioremediation – and we'll probably see the stacking of credits in the future. Overall, it's a multifaceted topic and myopia on carbon is gradually shifting. Clearly, there is a lot of potential in mitigating carbon emissions by using algae bioproducts as alternatives to fossil fuel-based products, but to fully unlock this space, the sector would benefit enormously from seeing more publicly available life cycle assessments for these products," he adds.
However, like many of the questions regarding seaweed aquaculture, there is still so much groundwork that needs to be done – which is, no doubt, why so many investors and politicians are still waiting in the wings before committing wholeheartedly to it.
"Biodiversity is of great benefit, and I'm confident that these credits will start rolling out eventually, but the trouble is measurement and verification – and coming up with standardised methodologies – which might be a challenge given the variability across locations and species," Green observes.
The investment landscape
Such uncertainties explain why funding for biodiversity and open-ocean nutrient cycling schemes from VC and private investors has so far been limited. But, the rest of the sector is attracting significant sums of capital.
"Over the last few years, we've continually seen many governments, including the Japanese and US, backing research into microalgae-based biofuels, while other areas attracting significant financial support from private investors include methane-reduction projects, biomaterials like pigments and bioplastics, alternative proteins and animal feeds. For example, Checkerspot recently closed a $55 million series C round to meet demand for high-performance, biobased materials and ingredients," Green points out.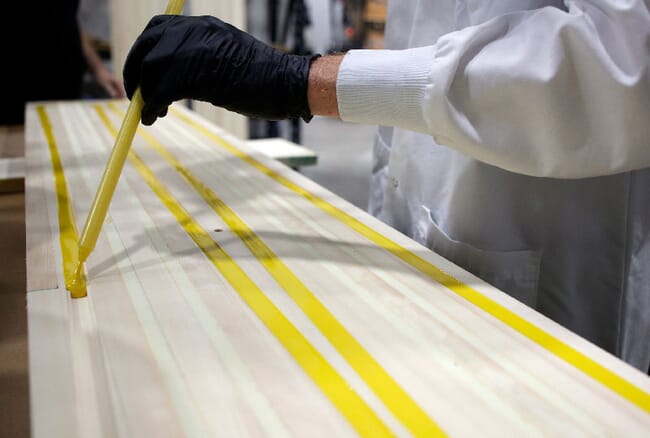 "Overall, a lot of investors have been wary of low value commodity products since the biofuel boom and bust – instead closely monitoring more valuable products which have higher margins. But we've been at an important inflection point recently, seeing commodity products raise decent investment rounds. There is a real appetite amongst investors for these cleaner bio-based commodity alternatives," he adds.
On a personal level Green sees the agricultural sector as a particularly appealing one in the near-term.
"We're seeing some really positive results in animal feeds and biostimulants, and I'm a fan of this category. Many of the teams are proving their business models early: going for sales first, generating income, going after higher value products, and raising money later," he explains.
The evolution of the sector
Looking ahead, Green himself hopes to play a key role in bringing success to several startups in the coming years.
"If Paxtier can support the success of companies that are doing good by people and planet in this space, that would be very important to me," he reflects.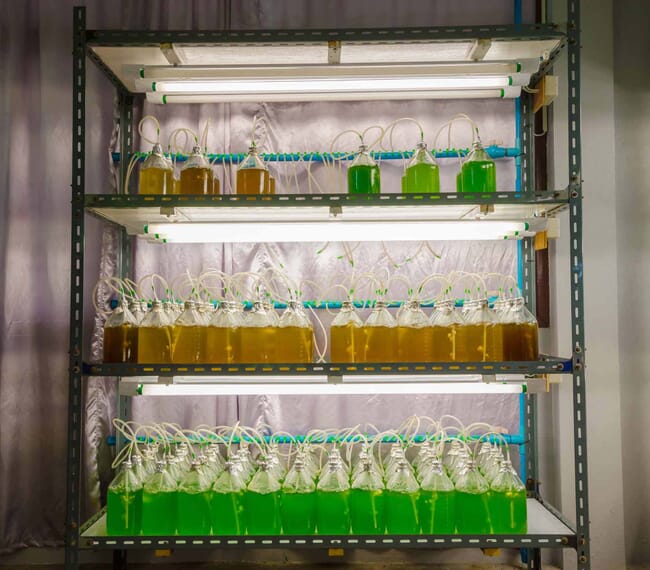 As for medium-term trends?
"We're going to see a few bigger winners. We're going to see a scale-up of seaweed, I'm confident of that. And I think we'll see more of a biodiversity theme emerging in the next few years, as an ecosystem service. In Europe we'll need to focus on the use of a wider range of species and toolkits for engineering algae species in general. In Asia there needs to be more of a focus on tech and on stopping ambitious young people from moving away – there are not enough people going into the sector," Green points out.
"In general there needs to be a more collaborative environment and, beyond that… there need to be more algae surfboards and snowboards!" he concludes.