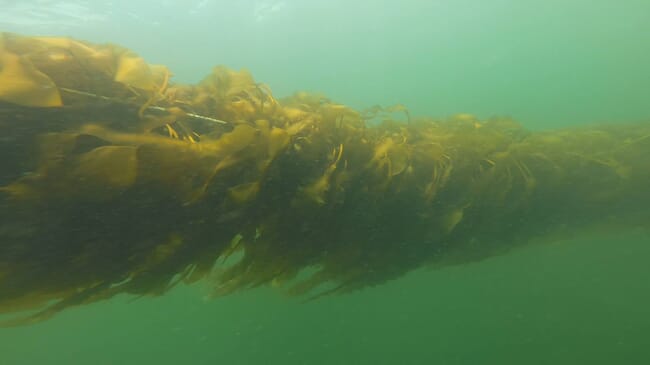 For example, seaweed farming can sequester three times more carbon per hectare than a tropical forest, and around 50 percent of the photosynthesis on Earth occurs in microscopic algae and seaweeds in the oceans, which uptake carbon dioxide and release oxygen.
However, the hype needs to be considered in light of an industry that has flourished in Asia for centuries, and where seaweeds are commonplace ingredients in food and medicine. Why is it that the West is only just catching up with this valuable form of aquaculture, because popular media would have us believe that it is a new discovery?
Seaweeds are the most produced organisms in mariculture, but being mostly cultivated in Asia, are not so well known in the West
According to Thierry Chopin, Professor of marine biology at the University of New Brunswick, and a global expert on seaweed cultivation and integrated multi-trophic aquaculture (IMTA), seaweeds account for 51.3 percent of global mariculture production, but 99.5 percent of seaweed farming is concentrated in just nine east and southeast Asian countries.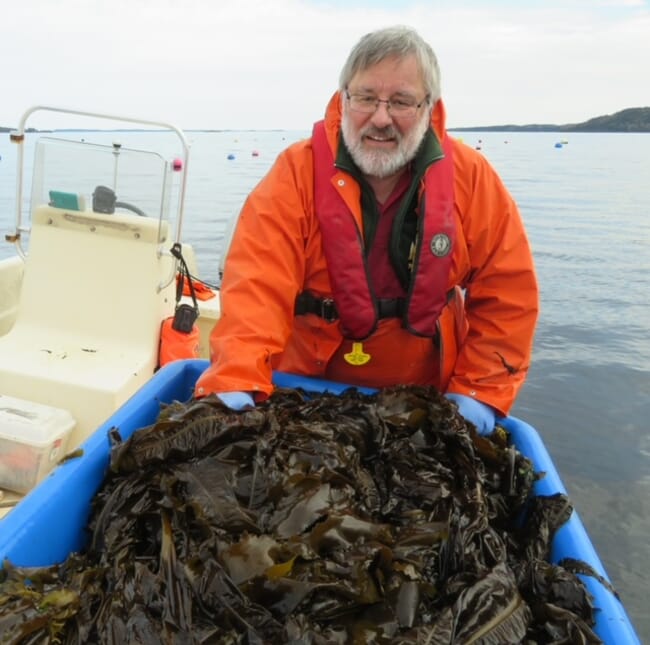 Food and Agriculture Organisation (FAO) figures show that, in 2000, the total world seaweed mariculture production amounted to 10.6 million tonnes. By 2018, this had increased to 32.4 million tonnes, accounting for 97.1 percent of global seaweed production (the remaining 2.9 percent came from wild seaweed harvesting) and has currently settled at around 34.7 million tonnes. This figure is expected to increase as interest in the importance of seaweed farming grows.
Eight seaweed genera provide 96.4 percent of the world production: Saccharina (kombu), which makes up 35.4 percent of the total, Eucheuma/Kappaphycus, accounting for 33.6 percent, Gracilaria for 10.5 percent, Porphyra and Pyropia (nori) for 8.6 percent, Undaria (wakame) for 7.4 percent and Sargassum for 0.9 percent.
All seaweeds fall into one of three main groups; brown seaweeds, some of which are referred to as kelps and are a good source of phycocolloids called alginates, as well as being the most popular for direct human consumption; red seaweeds, which provide phycocolloids such as agars and carrageenans, plus nori for sushi rolls; and green seaweeds, which include the edible sea lettuce and sea grapes.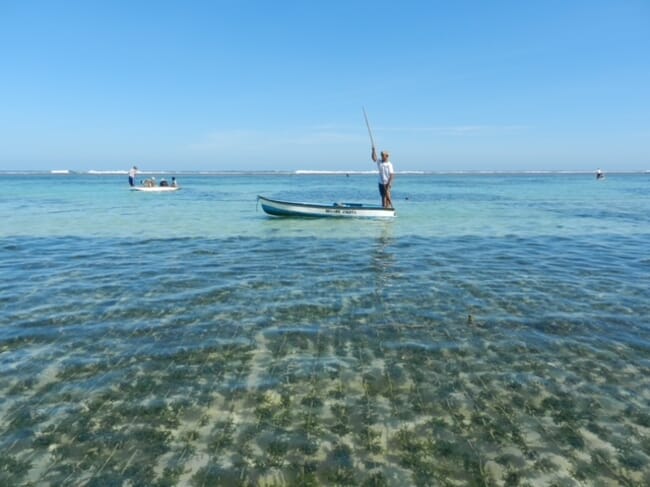 Chopin argues that "For too long, seaweeds, like other fishery and aquaculture products, have been processed according to a simple scheme: one species — one process — one product." He says that seaweeds have huge potential in integrated sequential biorefinery (ISBR) processing, where one species would undergo several processes and produce a number of products within a circular economy framework.
With sequential processing, one can produce on one hand a range of bio-based, high-value compounds, such as food and feed products, ingredients and supplements, protein substitutes for aquaculture feed, phycocolloids, fertilisers, biostimulants, pharmaceuticals, cosmetics, nutraceuticals, botanicals, pigments and biomaterials. And on the other hand produce lower-value commodity energy compounds such as biofuels, biodiesels, gasoline, waxes, olefins, biogases and bioalcohols.
The role of seaweeds in carbon sequestration is regularly touted in the media, but seaweeds' role in recovering nitrogen and phosphorus needs wider acknowledgement and to be accounted for in the form of nutrient trading credits (NTC). Chopin points out that more money can be made through NTC – he estimates that the global seaweed sector's NTCs could be worth between $1.216 - 3.647 billion for nitrogen and $55.57 million for phosphorus, while carbon trading credits would be worth around $31.26 million.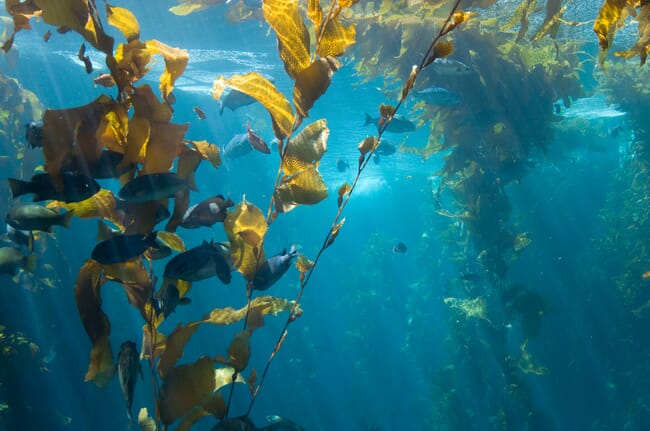 Together, these ecosystem services for nutrient biomitigation from worldwide seaweed aquaculture production amount to between $1.302 and 3.733 billion, or as much as 25.2 percent of their present commercial value. It is time to recognise the value of this type of ecosystem services and the many others provided by seaweeds, to monetise them, and use them as financial and regulatory incentive tools. Such a move could provide the impetus for changing aquaculture practices, particularly for development of integrated multi-trophic aquaculture systems, and the boost that seaweed aquaculture needs to develop its full potential in the West.
Prime position at COP26
At the 2021 United Nations Climate Change conference (COP26), seaweeds were moved to the forefront of the conversation and positioned as a multifaceted ocean-based solution for tackling climate change and bridging nutrition needs.
In the first ever session dedicated to seaweeds, high profile speakers, including Peter Thomson, the United Nations' Secretary-General's Special Envoy for the Ocean, and Carlos Duarte, Professor of Marine Science at King Abdullah University of Science and Technology (KAUST), spoke about the importance of seaweeds as a nature-based climate solution that acts as a blue carbon sink, while also regenerating marine life and providing sustainable economic opportunities for coastal communities.
These three tenets are core principles of the Safe Seaweed Coalition a global partnership that aims to support the sector to safely scale up and unlock its full potential for climate change mitigation. They are also central to the Seaweed Manifesto, a visionary document which outlines how seaweeds can contribute to delivering on the United Nations' sustainable development goals (SDGs). The manifesto was set up by the Lloyd's Register Foundation and supported by the Sustainable Ocean Business Action Platform of the United Nations Global Compact.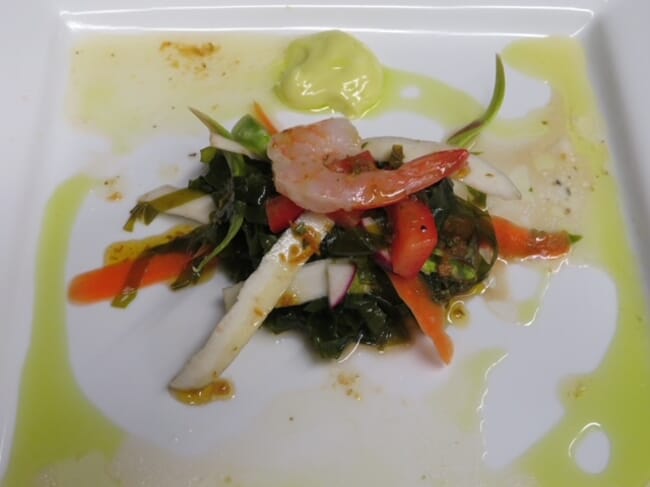 Investment in seaweed farming is growing
At COP26, Daniel Crockett of the Blue Marine Foundation pointed out that only 1 percent of global finance is dedicated to SDG14 and protecting underwater biodiversity, and that the role kelp forests play in preserving life is generally overlooked.
However, a look at the investment arena in seaweeds shows that while interest is growing in the sector, investments remain minimal when compared to those in finfish or shrimp aquaculture.
Over the past two years, Phyconomy, a project that tracks the emerging economy of seaweeds, identified 58 new investments and noted that the number of deals doubled in 2021, from 17 to 34, with the total amount invested growing by 36 percent to USD 168 million. Investments included pre-seed, seed, seed II and series A and B.

The average deal size was $2.3 million. Deals of notes included €2 million raised by Swedish foodtech company Nordic Seafarm, to enable it to scale up its farms to become the largest seaweed company in Europe for plant-based foods from the ocean, and $3.1 million by Atlantic Sea Farms, the first and largest commercial seaweed farming co-operative in the United States, to build a new state-of-the-art seaweed processing and innovation facility to process kelps into consumer products and ingredients.
The largest deal in 2021 was for $33 million of blended finance for marine biotech company Alginor, to develop, produce, market and sell a variety of Laminaria hyperborea-based ingredients to global markets for use in pharmaceutical and nutraceutical applications.
While corporate investments featured highly, a significant number of family offices, non-profits, government funds and impact investors were also apparent in the investment analysis. Phyconomy noted that surprisingly few traditional venture capital funds appeared, perhaps indicating that fund managers currently find the risk-reward balance unappetising compared to other options in the market.

In 2021, Europe led with the number of startups, the number of deals and the amount of money invested, although North American startups were seen to have an easier time attracting capital.
According to Phyconomy: "North American companies raised more than half the rounds of their European counterparts and 40 percent of the money, with only a quarter of the startups. Not that this is surprising: the greater risk appetite and looser purse strings of American investors are well documented across all industries."
Seaweedclimatesolution has been mapping ongoing projects in this field and lists a myriad of organisations involved in activities as diverse as quantifying the sequestration by farmed macroalgae of carbon in sediment, the development of a verified carbon methodology to allow seaweed farmers to monetise their carbon impact, building a sensitivity model that estimates net CO2 removal, and emission reductions associated with marine macroalgae cultivation and utilisation.
Other projects ‍include the development and marketing of seaweed extracts to the agricultural industry as organic fertilisers and bio-stimulants, and the economic feasibility of commercial-scale seaweed cultivation in an offshore environment, which might be a tough one to prove!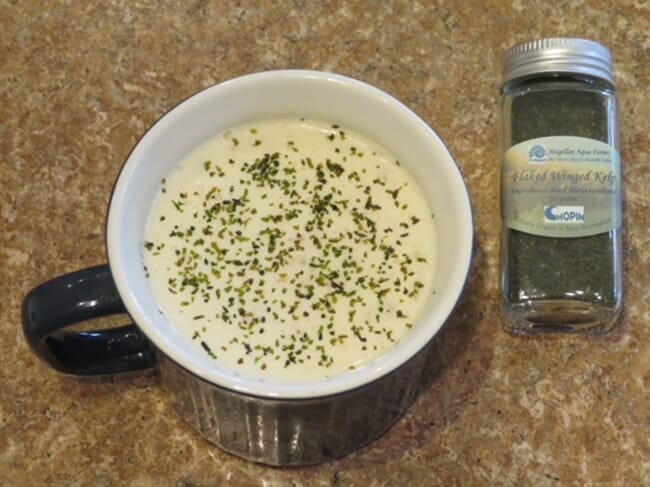 How long is a long-time in carbon capture terms?
‍Many of the projects promote the industrial farming of kelps as a carbon capture mechanism, before sinking it to the ocean floor, where the CO2 will remain trapped. However, most of the carbon fixed by seaweeds is only stored transiently as biomass before being eaten or decomposed, at which point, according to Troell et al. 2022, carbon is again moved through the fast carbon cycle, which does not result in long-term sequestration.
Seaweed carbon can only enter the slow carbon cycle through natural sedimentation of particulate or dissolved organic material (POM and DOM) from wild and farmed seaweeds. There are large uncertainties related to both the fate and cycling of POM and DOM, especially with respect to pathways and time scales relevant for carbon removal and storage. Active sinking of seaweed biomass to the deep sea has additional uncertainties related to feasibility, economics, ecosystem impacts and ethics.
Looking to the future
Seaweeds will once again be on the agenda at the UN Ocean Conference in Lisbon in June 2022 and those involved in the industry intend to use the opportunity to build on the momentum gained at COP26 and to crystallise seaweeds' role as a solution to our planetary crisis. The aim is to accelerate and grow collaborations with investors, policy-makers, and other stakeholders so the seaweed sector can play its full part in the fight against climate change.

The last words go to Thierry Chopin, who gave his thoughts to The Fish Site.
"I have been studying seaweeds for 41 years and after promoting them for so long, explaining the key roles, applications and services they provide - when it was pretty lonely and not in fashion - I have found myself in a paradoxical situation over the last two years. I have had to try to slow down those who have an urge to hug seaweeds as the planetary saviours and charismatic carbon underwater superheroes, always showing a picture of the giant kelp Macrocystis, as if it was the only climate warrior that we will be able to magically grow everywhere!
"Yes, seaweeds are amazing organisms with amazing properties, so instead of sinking them to the abysses, a more realistic approach is to use them as substitutes in many food and non-food applications.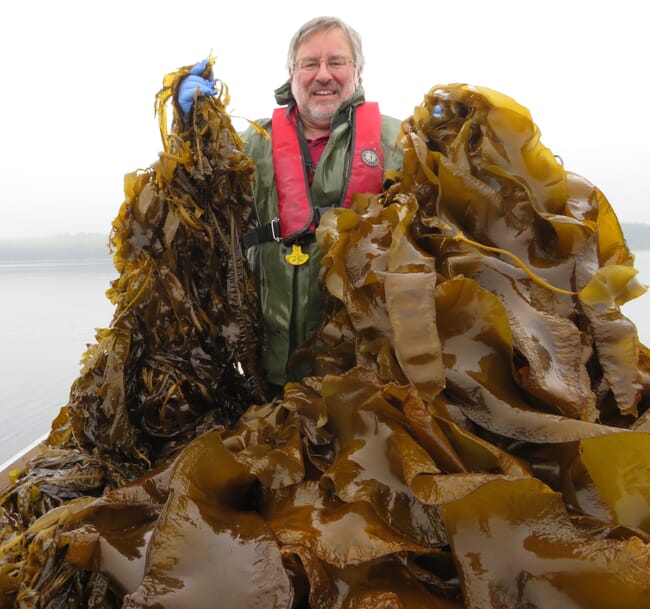 "There is still a need to establish how diverse seaweed farming systems capture carbon, can transiently sequester it, and if they could potentially permanently sequester it at a meaningful geological time scale. While seaweeds can play a role in reducing the carbon released from food systems and other activities, they will not provide a quick fix to climate change!
"We are told that after Covid-19, it will be a 'new normal', but I am afraid that what I see is people searching for quick fixes in order to be able to return to the 'old normal', without solving the problems at their roots. For example, the dead zone in the Gulf of Mexico is terrible, but the idea of developing massive seaweed farms so that everything will be solved, without changing agriculture practices and other activities along the tributaries of the Mississippi River (50.5 percent of the area of the USA), would just mean that the fundamental cause of the problem is perpetuated.

"We do not need to promise the moon, like algal biofuel in the 70s-80s, of which we still have not seen one commercial drop, followed by 35-40 years of 'seaweeds are no good' rhetoric. We need to stick to the science so that the momentum for seaweeds is maintained and we do not witness another fleeting moment of interest.
"We need a greener Blue Economy, which is what I call the Turquoise Revolution, within a circular economy approach," he said.