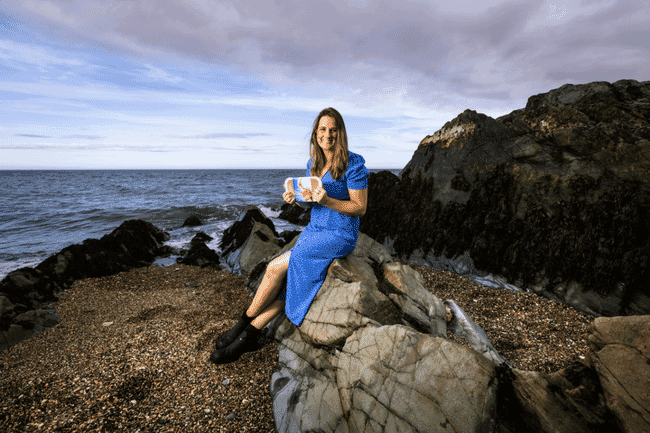 "Growing up in Ireland, I suffered from asthma and started taking seaweed baths in Enniscrone in Sligo – where I spent the summers – and experienced incredible relief from my symptoms," she explains.
"I knew then that there was something special about Irish seaweed. I didn't know it at the time, but seaweed contains properties which are antiviral and anti-inflammatory. It ignited a passion and, during an MBA programme at Trinity College Dublin, I started studying seaweed's impact and how to bring it into a trendy product," she adds.
After several years working in financial services, and finishing her MBA in 2020, she decided to focus on seaweed and set up her own company.

"The plant-based food movement was exploding at the time, but there were no fish substitutes out there – it dawned on me that plant-based seafoods were a way we could entice the consumer into eating more algae and getting those nutrients. After receiving some feedback from a competition at Trinity and securing a local regional grant it gave me confidence to transition into the entrepreneurial world," O'Brien reflects.
The startup was initially called Plantruption and its first two products were seaweed burgers and seaweed goujons. As sales of these started to increase, so did interest in the business and she was accepted onto a series of accelerator programmes and workshops, including Enterprise Ireland's New Frontiers and Hatch's* Irish Innovation Studio.
"Prior to that I had impostor syndrome, transiting from the financial world to food tech was difficult but meeting Wayne [Murphy, the co-founder of Hatch] and his encouraging words while participating on several accelerators helped me to gain the necessary experience to accelerate the business," O'Brien explains.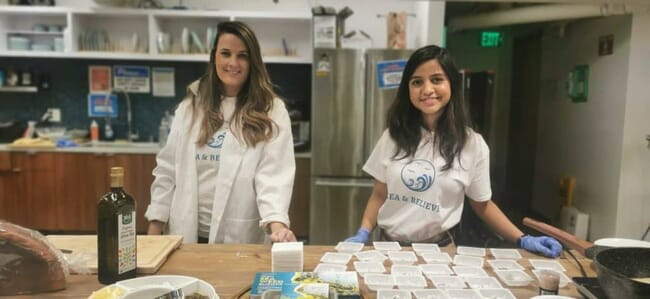 "The studio also helped me connect with a range of people from the aquaculture sector – an industry which was somewhat new to me. One of them was Paul O'Connor, founder of This is Seaweed," she adds.
Learning more about aquaculture also gave her a new goal – to farm seaweed.
"Seaweed farms absorb nutrients and carbon dioxide to grow. The farms can help improve water quality and buffer the effects of ocean acidification in surrounding areas – positive impacts seaweed farming can have on the environment while creating a secure supply chain for our products," she explains.
It also taught her about the challenges and the risks of aquaculture, providing "invaluable group learnings and connections".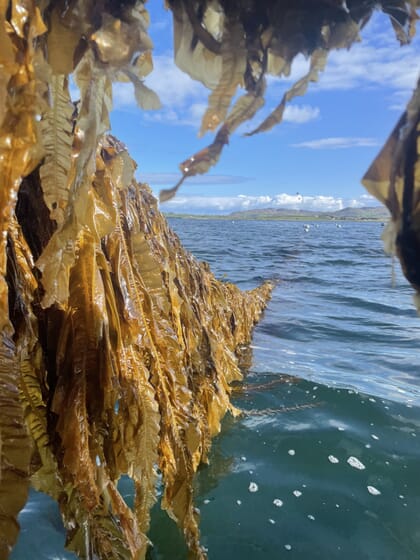 As the company has developed, so has interest from investors and O'Brien notes that they are currently well on the way to raising a €3 million round – with interest from SOSV, Enterprise Ireland and a number of other investors – and she is aiming to close in the coming months.
The funds raised will be used to build an experienced team and of R&D scientists, operations, sales and marketing.
Following the innovation studio, O'Brien was offered a place on SOSV's IndieBio programme. While taking part she decided to investigate diversifying her product range and explore the opportunities offered by micro-algae, in order to develop plant-based cod. She's currently working with Limerick Institute of Technology to grow a white microalgae, that can form the basis of the product.
"Since switching to a plant-based diet I've not had to use any medication for my asthma, but there are one or two things I've been missing. Fish and chips in particular," she explains.

"We want to get something very similar, that flakes like a real cod fillet. That falls off your fork. We've been working with a University in the Netherlands. We were able to achieve the flakiness of the fish using novel ingredients and algae. We're now in the final stages of perfecting that prototype and working with various flavour houses to get that product to the market. In about eight months," she explains.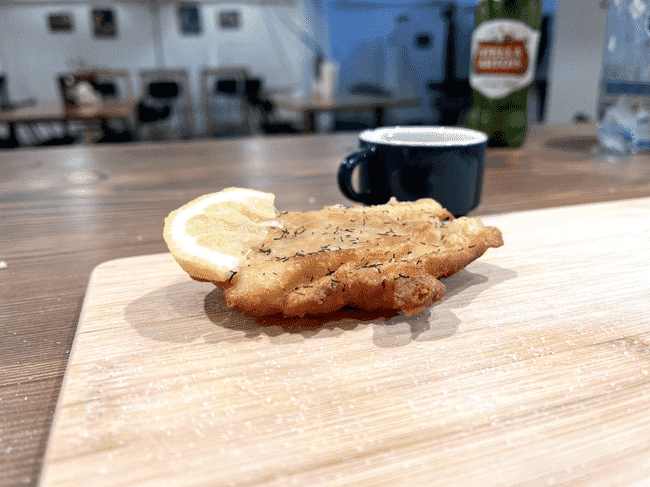 The end product will be high in protein (20g per pack), low in salt and – most likely – be frozen.
"We're being as clean as we possibly can and not using any additives or preservatives," says O'Brien.
"We're planning on manufacturing in Germany and launching across Europe – with our plant-based fish and chips as our signature product – and launching across food service in the States too," she adds.

Current sales
Sea and Believe (as Plantruption became) currently has two products – Irish seaweed burgers and Irish seaweed goujons – on the market.

"We didn't expect much from the consumer, but sales have gone really well. We initially thought we'd supply 10 stores, but because of demand we now supply over 50. We're planning to really go to market now that we've rebranded and launch those two products across Europe," O'Brien explains.
After the alt-cod fish and chips have been launched O'Brien sees scope to use it in a diverse range of products, including fish nuggets and fish pies.
Looking ahead
O'Brien is well aware that there are plenty of challenges still to overcome – be they in distribution, manufacturing or packaging. However – having solved many already – she's confident of success.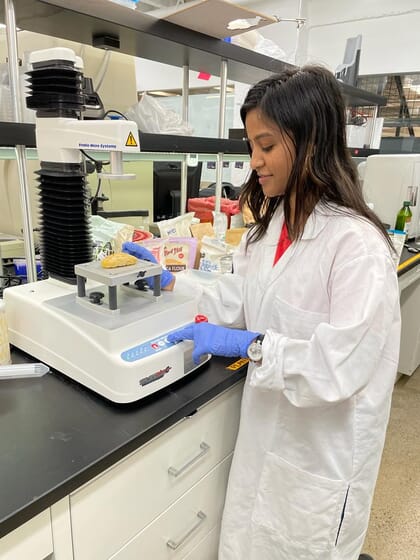 "It's about finding it, fixing it, identifying a solution and I enjoy that process," she reflects.
Sea and Believe currently employs five people and O'Brien is looking forward to growing the team and building on the good work done by Piyali Chakraborty, her CTO, who brings a PhD from the University of Queensland and experience in 3-D printing from Wageningen University.
"We're aiming to become one of the market leaders in plant-based seafood. We have a real passion for sustainability, for the climate and we want Irish seaweed to be a part of that while working with Udaras na Ghaeltacht, Enterprise Ireland and BIM. How can we scale up the Irish seaweed sector? Having a seaweed farm can draw down three times more carbon that the same size of forest. We can only improve the local ecosystem and provide a marine habitat, while continuing to scale and use seaweed in our products. That's our ideal situation," she explains.
They are also committed to providing jobs in rural Ireland, by retraining fishermen as seaweed farmers – a concept that Atlantic Sea Farms has succeed with in New England.

"There's currently no seaweed farmed in Ireland, largely due to licensing issues, but there's now a huge opportunity for the first time ever in Ireland to gain a licence. We plan to apply for a licence and will likely be successful, even if it might take two years, and I've already discussed potential leasing options on the west coast," O'Brien explains.
"In the meantime we might be able to work with people who have already obtained a licence but don't have the infrastructure, capital or investment behind them," she adds.
For the time being Sea and Believe can rely on sustainably harvested wild Irish seaweed and microalgae while developing their product range and their market reach.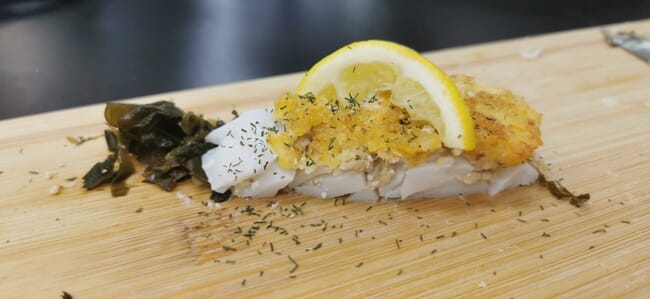 "There's potential for one company to become that unicorn. One company I always look to for inspiration is Notco. They're a Chile-based company who – back in 2017 – came through IndieBio with plant-based milk and burgers and have now raised $235 million and expanded across the Americas.
"I've chatting to them and learning from them. Ideally we aim to go that big. We want to grab that market share and make a difference sustainably in the world. It's not so much about making money as it is make a real difference – to get more people eating plant-based food and to allow the oceans to repair and restore," she concludes.
*The Fish Site is part of Hatch's investment portfolio, but the site retains editorial independence