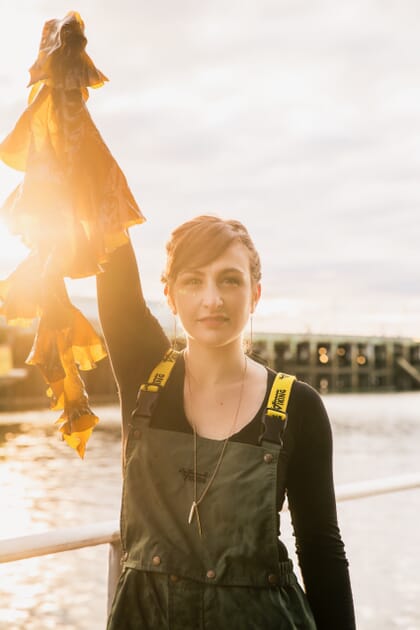 Under the guidance of Briana Warner, Maine-based Atlantic Sea Farms has grown annual yield by 3000 percent over the course of three seasons, and is now the largest producer of rope-grown kelp in the US. Based around a unique vertically integrated business model - in which the company provides lobster fishermen with free kelp seed, which they develop in their own cultivation centre, and guarantees purchase of every pound of kelp that they grow - it now accounts for 80 percent of the country's line-grown kelp production.
A former US diplomat who served in the Middle East, Africa and Europe, Warner moved to Maine in 2018 and – armed with her international experience – began to look at the state through "an economic development lens".
"I came to Maine after several tours in the foreign service and saw how dependent the coastal communities were on natural resources – it's essentially a lobster monoculture," she reflects.
"In Maine there are over 4,000 lobster licence holders and it's an owner-operated fishery. They all own large boats and have little to fish for in the winter – there used to be several species, but most of those fisheries are no longer viable," she adds.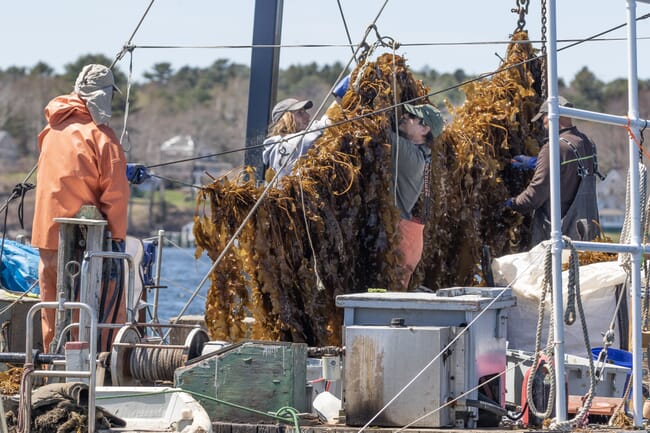 Economic realities
She started her work with the lobster industry by helping fishermen get into mussel, seaweed and oyster aquaculture, but Warner realised that it wasn't economically viable for small seaweed farmers to go it alone.
"No one was aggregating seaweed farms – or selling domestic, line-grown seaweed at scale - so we decided to provide free seed, help with the tech side and guarantee the purchase of all the farmers' crops. This would allow them to grow the seaweed and make a good profit," Warner explains.
The model appealed to many in the lobster fishing community and within three years Warner had brought in 27 partner farmers to grow the kelp.
"They're mainly fishermen, who know it is dangerous to be dependent on only one natural resource," she notes.
Although Maine's lobster fishery has been healthy for most of the last 20 years, many fishermen were aware that climate change – which may have been partially responsible for the increase in lobster numbers – could also have detrimental impacts in the long term. As more fishermen get into seaweed aquaculture, thanks to the allure of earning money in the winter period when the lobster season is closed, Warner sees Maine's seaweed farming sector has the potential to grow considerably.

"It's not hard to recruit smart, thoughtful people into this, even those that don't believe in the threat posed by climate change, if you start a conversation about how we can help them make more money. And with more coastline than in California, and super clean and cold water, there's huge potential to grow the kelp sector," Warner reflects.
However, she adds that this growth can't be taken for granted.
"It's important that people understand the incredible benefits of aquaculture for creating jobs, helping to improve water quality, and helping our coast diversify in the face of climate change. It's not a sector that is well understood and, at the regulatory level, it's not as well funded as it needs to be in order to prosper. We are working with state authorities in Maine to ensure that there are adequate state resources allocated to helping this industry grow responsibly and thrive," Warner explains.
While she may not have a background in aquaculture, and may have joined the sector in an executive role, it hasn't stopped Warner from taking a hands-on role in the running of the company.
"In an average day I could be collecting kelp seed, designing our new processing building, on sales calls, or cleaning tanks," she says.
A unique approach
The company is unique in that it sells fresh kelp and value-added products that are developing and driving new markets, and Warner attributes many of the company's original approach to their varied and dynamic board and staff – more than half of whom are women, and all of whom have strong entrepreneurial track records.
"We could keep doing things the old way or bring new people to the table and think of different solutions. As a global sector, we need different solutions, which is why we shouldn't stack the boardroom with people who've always done the same thing," she argues.
Thanks in part to the volume of positive media that the seaweed sector has generated in recent years, Warner says that an increasing number of people want to come work for and with the company. However, she believes that experienced fishermen tend to be the best candidates for actually growing the seaweed – rather than the idealists who like the sound of the lifestyle and the ethics of seaweed farming.
"Fishermen already have their own boats, access to coastal infrastructure, excellent knowledge of the water and make especially good aquaculturists," Warner argues.
The CEO's enthusiasm for generating money in coastal communities has resonated with investors, as well those aspiring to hands-on roles in the sector.
"People are really excited about what we're doing. We're the only company selling fresh kelp at scale, so there's not much data available about the sector, which often puts off traditional investors, but there are plenty looking to fund a business that has a positive social and environmental impact," she notes.
The blue carbon conundrum
One subject that Warner is particularly passionate about, is the whole spectre of blue carbon and whether seaweed farming should – in time – qualify for carbon credits, due to the amount of atmospheric CO2 that seaweeds absorb during their lifetime.

"This is absolutely something that we are excited about – but the seaweed industry needs to be able to also survive in its own right – just as it has in much of Asia. We still don't have substantial data around the positive effect that seaweed farming can have. We know that it removes carbon and nitrogen while it is growing that can create a 'halo effect' – reducing ocean acidification in that halo while its growing. But we aren't clear on what methods might actually permanently sequester that carbon without doing damage to the environment," she points out.
As for plans to grow vast swathes of seaweed then sink them to the bottom of the ocean?
"Giant offshore seaweed farms won't necessarily reverse climate change and might have a damaging effects on the deep oceans – an area we, as humans, know little about. It isn't clear that sinking seaweed would actually sequester carbon in the long term and we need more data," Warner urges.
Indeed, she points to the need for results of more in-depth research to come in – such as the project currently being undertaken by Oceans 2050, which involves taking core samples from the seabed under kelp farms – before blue carbon should be given serious consideration.
"Their results are due in next year. In the meantime we need to focus on real data, not ideas that have no credible science behind them," she cautions.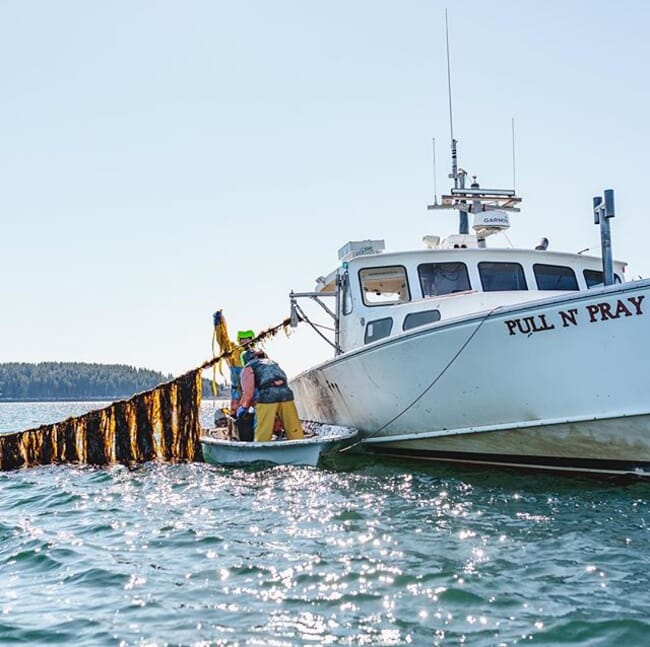 That's not to say that she doesn't see huge benefits of growing, and harvesting, seaweed – regardless of the carbon capture results.
"Seaweed aquaculture is zero input – it requires no land, no fertiliser, no fresh water. The farms also have a halo effect – improving water quality in their surrounding area. It can also be used in livestock feeds to reduce methane production in cattle; as a replacement for carbon-heavy foods; and it can provide calcium, protein and umamis. But we can't just chase the carbon [credits]. W e should first look for the business opportunities if we're going to create a new industry for fishing families facing climate change," she argues.
"It's not going to be a silver bullet for climate change, but it can make the world slightly better," she adds.
While many investors, producers and environmentalists are desperate to see the advent of lucrative blue carbon initiatives, Warner has plenty of proper business to attend to, and the immediate future looks good for the company, having secured a significant investment earlier this month.
It will allow Warner to recruit the company's first COO and CFO, as well as fill key sales and marketing positions, as the business gears up for considerable expansion.
"I'd like to have up to 60 partner farmers within three years and – if we can increase demand accordingly – be producing 5 million pounds of kelp a year, up from 1.2 million pounds this year," she explains.
She's also looking to diversify the market for the company's kelp and sees great potential in the alt protein space as well as mission statement food producers who are excited by the story and healthy properties of kelp.
It apparent that - whether seaweed farmers are ever granted carbon credits or not - Warner's drive, commitment and original approach to seaweed production will offer Maine's lobster fishers a valuable chance to diversify during the potentially challenging decades ahead.