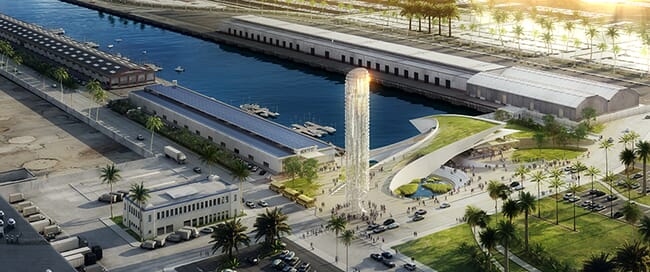 AltaSea at the Port of Los Angeles, in collaboration with Cal State Northridge's (CSUN) Institute for Sustainability, The Los Angeles Coalition for the Economy & Jobs and Santa Monica College have announced their second annual series of webinars focused on aquaculture, called "Blue + Green 2022."
The series comprises four, one-hour webinars, scheduled on the first four Thursdays of June. The webinars will feature aquaculture and sustainability experts from some of the top colleges and research institutions in the world, as well as founders from some of the most innovative startup companies.
As defined by the National Oceanic and Atmospheric Administration (NOAA), aquaculture is, "the breeding, rearing, and harvesting of fish, shellfish, algae, and other organisms in all types of water environments." One of AltaSea's tenants, Pacific6, holds the permit for the first offshore aquaculture facility in US Federal waters.

"Our goal with this series is to shine a spotlight on the emerging aquaculture sector in the blue economy – an area that is important to the sustainability of our oceans," said AltaSea CEO Terry Tamminen. "We're pleased to partner with CSUN's Institute for Sustainability and the Los Angeles Coalition for the Economy & Jobs to promote the incredible potential and importance of the aquaculture sector."
Aquaculture and the supporting technologies bring together many key ingredients, including the future growth opportunities that support coastal ecosystems, the economy, jobs and local communities. This webinar series reimagines partnerships between business, government, universities and communities through regenerative ocean research, exploration and equity-based economic development.
"This year, we are particularly excited to highlight Indigenous aquaculture practices and tribal food sovereignty initiatives," said Natale Zappia, Director of the CSUN Institute for Sustainability.

"Our planet's oceans have the answers to some of mankind's most perplexing challenges, but it will take a workforce with a 21st century skill set and the right mindset to explore and harness the unlimited resources it offers," said Michael Kelly, Executive Director at The Los Angeles Coalition. "The good news is this 'Blue Economy,' which includes aquaculture, algae fuels and robotic exploration of the unmapped depths, is growing right here in Southern California, creating not only good middle-class jobs, but opportunities for Angelenos to help drive a more sustainable future for all of us."
"Training a workforce to do the crucial jobs needed in this growing industry is exciting and fulfilling because it provides well-paying careers to those who also want to make a difference," said Ferris Kawar, SMC's Sustainability Project Manager.
Click here to register for the webinars.

Thursday 2 June: Seaweed startups: growing a crop-based business
Panellists:
Julia Marsh, Co-founder and CEO of Sway, a venture-backed materials company producing packaging made from seaweed
Pat Schnettler, Co-founder of 12 Tides, a seaweed snack brand
Ashlan Cousteau, Principal Founder of SeaWeed Naturals, a first-of-its-kind wellness lifestyle brand that is combining the benefits of cannabis with the benefits of seaweed
Moderator: Ann Carpenter, founder and CEO of Braid Theory, a vertically integrated venture advisory.
Thursday 9 June: Traditional knowledge in regenerative aquaculture
Panellists:
Matt Teutimez, Tribal Biologist, Gabrieleño Band of Mission Indians – Kizh Nation
Moderator: Nat Zappia, Institute for Sustainability, CSUN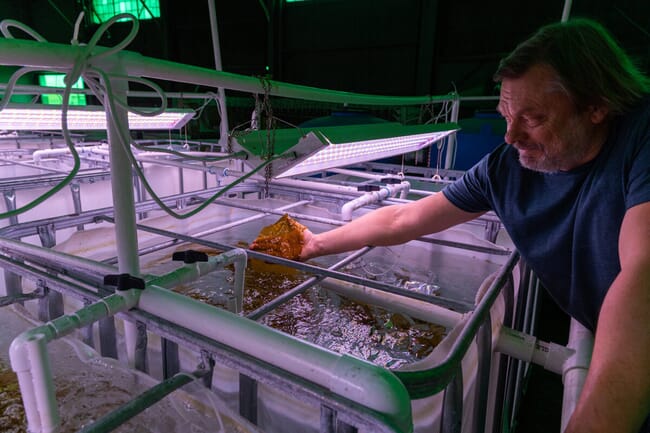 Thursday 16 June: Aquafarming jobs of the future: building a regenerative farming workforce
Panellists:
Ferris Kawar, Sustainability Project Manager, Santa Monica College
Meredith Brooks, Programme and Grants Manager Consultant, AltaSea
Kendall Barbery, Programmes Director, Greenwave
Moderator: Michael H Kelly, Executive Director, The Los Angeles Coalition for the Economy & Jobs
Thursday 23 June: Sea through the weeds: navigating the policies and politics of offshore seaweed farming in CA
Panellists:
Diane Windham, California Regional Aquaculture Coordinator, NOAA Fisheries West Coast Region
David Telling, Pacific6
Moderator: Wendy Greuel, Former Controller, City of Los Angeles.
Pre-registration for the events is required and can be found here.