Shrimp producers might be able to reduce protein content in diets if they opt for biofloc
According to the results of a new study, the microorganisms present in biofloc can compensate for reduced protein content in shrimp diets without impacting their performance.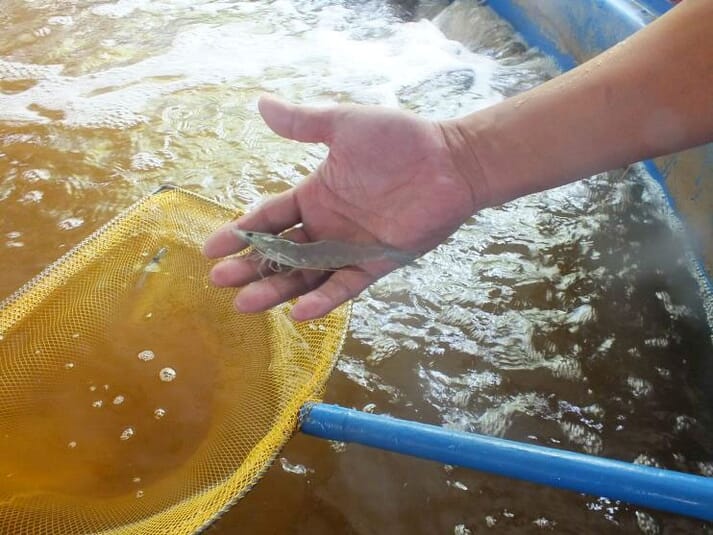 When raising shrimp in a biofloc system, the shrimp consume the protein-rich microbial flocs in the water, replacing a significant portion of external proteins in their diets. However, biofloc systems need exogenous carbon sources to maintain the optimum carbon to nitrogen ratio that lets the microbial flocs proliferate.
Various studies have evaluated the impact of using different carbon sources, variable concentrations and intakes on water quality, growth performance and feed utilisation by shrimp. Researchers have tested multiple carbon sources for biofloc systems – including starch, glucose, sugarcane bagasse, sugarcane molasses, rice bran, rice flour, wheat bran, wheat flour, cassava flour, gram flour, corn flower and agricultural residues and byproducts.
Although not all carbon sources support biofloc production with the same efficiency, some are promising substrates because of their ability to support rapid ammonia removal and higher volume production.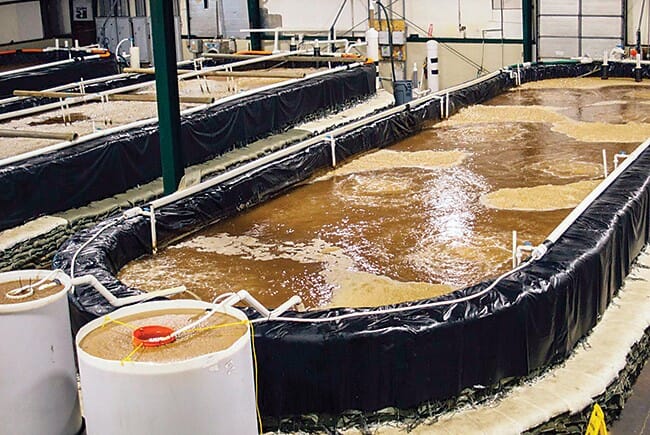 A team of researchers from King Faisal University, Alexandria University, Suez Canal University, the National Institute of Oceanography and Fisheries (NIOF) and Ain Shams University investigated the effect of dietary protein levels (250 , 300 and 350 g protein kg−1) and two different carbon sources (sugarcane bagasse (SB) and wheat flour (WF) to improve vannamei shrimp production, feed utilisation and water quality in a biofloc system.
Key findings
The nutritional composition of biofloc is heavily influenced by the carbon source. However, there is little information on the effects of dietary protein levels and the addition of carbon sources on growth performance and immunology of shrimp aquaculture.
"From the results of the present study, it can be seen that the crude protein content in the biofloc is significantly high in the SB300, WF300, SB350 and WF350 treatments, which means that the protein content of the biofloc increases with increasing dietary protein level," the researchers report.
The use of wheat flour as a carbon source significantly increased the lipids and nitrogen-free extracts in the biofloc.
In the present study, the productive performance of vannamei shrimp in biofloc treatments fed diets containing 250, 300, and 400 g protein kg-1 were markedly higher than those obtained in control groups fed diets containing 450 g protein. This could indicate that shrimp reared in biofloc systems could compensate for the reduction in protein in the diet.
Shrimp fed SB350 and WF350 g protein kg-1 had the best growth performance compared to shrimp fed control group. This means that shrimp fed the lower protein levels with biofloc could compensate for the higher protein diet (control diet).
"According to the results of the present study, the growth performance of vannamei shrimp reared in biofloc systems was not affected by the use of different levels of protein," they stress.
"The results of the present study reveal that different carbon sources and protein levels could indeed influence the nutritional value of biofloc. This suggests that when vannamei shrimp are reared in a biofloc technology system, dietary protein levels can be reduced from 450 g to 350 g protein kg-1 with improved growth performance and feed utilisation by shrimp," they report.
The researchers conclude that biofloc treatments using wheat flour as a carbon source can compensate for the reduction in protein levels of the vannamei shrimp diet and maintain high zootechnical performance.