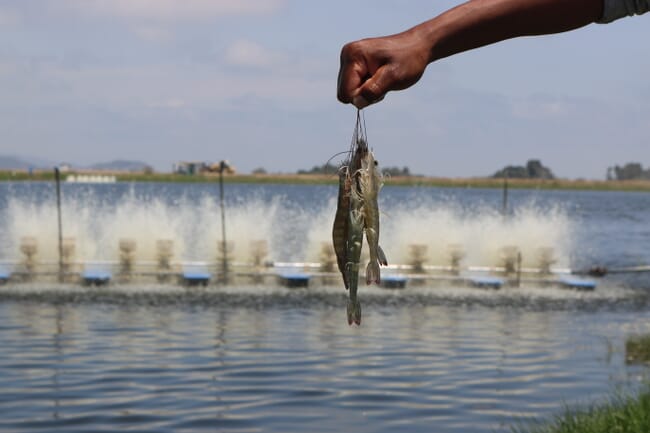 So predicts seafood analyst Gorjan Nikolik, in Rabobank's Global Aquaculture Update, which focuses on the first half of 2022, and was published today.

The report presents a very positive outlook for both farmed salmon and farmed shrimp, while fishmeal volumes are - on balance - likely to be similar to last year.
Strong outlook for shrimp
"Assuming no further cost increases, the shrimp sector is likely to continue expanding supply in H1 2022, inspired by good demand and market prices," Nikolik suggests.
This expansion will, he expects, be driven primarily by continued production increases in India and Ecuador in particular, following on from impressive growth levels in both countries during 2021. Indeed, as the report notes, Ecuador's shrimp production topped 1 million tonnes last year – making it the best year in its history.
"Driven by the US, but also by Europe and the gradual recovery in China, shrimp demand rebounded strongly in 2021. Provided the global economy continues along the path of recovery from Covid, demand growth will persist in 2022," the report states.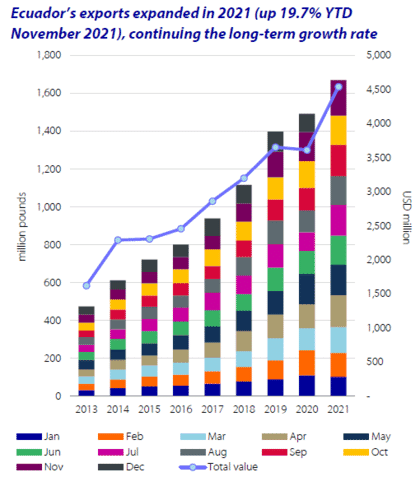 As the report highlights, shrimp imports to the US grew by 17 percent in value and 9 percent in volume in the ten months of 2021. Equally, the EU's imports of frozen tropical shrimp grew by 8.5 percent in value and 13.9 percent in volume in the first ten months of 2021. While China imported fewer frozen fewer shrimp in 2021, the report notes that imports are likely to increase in 2022. And the buoyant nature of these key markets is likely to encourage farmers to produce more shrimp this year.

"Taken together these three markets will help to consolidate the growth in demand farmed shrimp," the report reflects.
"Currently there are no new diseases that could change the sector's momentum. Despite higher costs the high prices make shrimp farming highly profitable, which is conducive to supply growth. Even if there is a slight cooling of prices during early 2022 we expect strong supply growth to persist," it adds.
A strong salmon sector
Following the contraction in last year's salmon production in Chile, the country's producers are now on the road to recovery, in terms of harvest volumes, but this will take a few years, according to the report. This is in part due to the fact that last year, encouraged by good prices, the country sold nearly all the inventory that it amassed in 2020, following a dip in sales caused by the initial Covid outbreak.
As a result of this lack of stockpiled salmon, the report suggests that Chilean supply growth in 2022 is likely to be negative, despite predictions of a 3-4 percent increase in harvest volumes. Moreover, should the algal blooms that have come to wreak havoc in the sector over recent summers and autumns recur in 2022, then growth in the first half of the year could be minimal, warns Nikolik.
Meanwhile Norway had a surprisingly strong 2021, recording an unexpected 10.9 percent growth in harvest volumes due to good biological performance.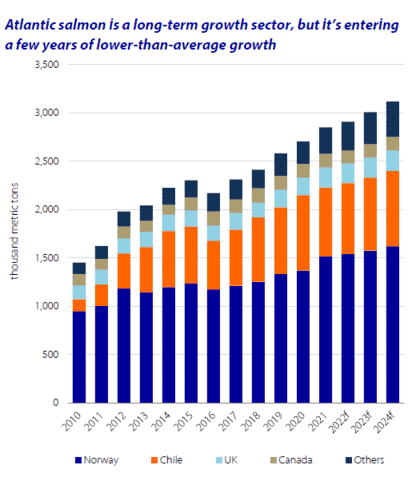 However, according to the report, this growth won't be sustained in the coming year – with fewer fish in the water, Nikolik expects a supply contraction in the first six months and growth rates of only 1 to 2 percent for the full year.
The combination of low growth in both Chile and Norway, on top of the strong demand for salmon experienced in the retail sectors of both North America and Europe, means that – unless Omicron leads to major lockdowns – "the expected low global supply growth for 2022 should support high prices, possibly he highest prices we have seen since 2016, when the industry had a supply contraction," Nikolik predicts.
Fishmeal set for minor uptick
The report also covered the global fishmeal trade and the report notes that Peru had a 37 percent growth in fish meal production during 2021 recovering after a week 2020. Europe, the USA and South Africa meanwhile had lower pelagic quotas and therefore produced less fishmeal. As a result the global supply was much the same as in 2020.
Looking ahead, as la Nina or neutral climate conditions are expected – at least in the first half of 2022 – then similar production levels are likely to be achieved in Peru. Meanwhile Nikolik expects a recovery in the European and US supply, as their respective quotas for capelin and menhaden been increased.
"This should lead to a small increase and global supply, but only if Peru maintains its high production levels," Nikolik suggests.
The report goes on to detail how, in the first ten months of last year, 83 percent of the fish meal from Peru was sold to China, up from 77 percent in 2020. China used the strong Peruvian supply to rebuild its depleted stock levels. Combined with a slowdown of the rebuilding of China's pig herd in the first half of the year is likely to dampen Chinese demand for fish meal in the first half of the year, according to Nikolik.
A combination of the limited increase in production and the relatively high commodity prices suggest fish meal prices should remain fairly stable in 2022. However, the report points out the fish meal / soymeal price ratio has increased from a record low in early 2021, suggesting fish meal will be somewhat less competitive – although still relatively cheap compared to pre-pandemic levels.
"With Chinese demand expected to cool somewhat, we expect a more balanced market in 1H 2022," the report concludes.