Sponsor message
Are you trying to break into aquaculture industry or already working in the field and looking to gain additional expertise for career development?
Rwanda's Akagera National Park boasts new fish farm
Gishanda Fish Farm, a new development initiative between Akagera National Park, FoodTechAfrica and a consortium of Dutch companies, begins operations on 18 October.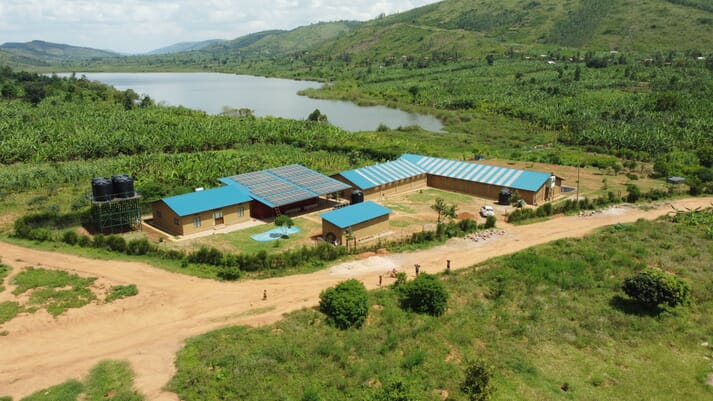 The aquaculture site, located 10 km from Akagera National Park's main gate, opened on 18 October 18 2022. A bold and catalytic project, Gishanda Fish Farm will introduce innovation and new skills to accelerate aquaculture development in Rwanda, provide employment opportunities to surrounding communities and deliver an accessible source of protein to combat local nutritional deficits.
Gishanda brings modern fish farming to the Eastern region of Rwanda. Utilising the latest recirculating aquaculture system (RAS) and solar technology to sustainably farm and harvest fish, Gishanda will serve as a source of fingerlings and education to catalyse fish farming in the region. This fish farm will be a producer of quality tilapia fingerlings, demonstrate catfish farming as an accessible protein production option for communities, as well as tilapia production for food and serve as a model of circular agriculture with the farm effluent fertilising an on-site organic vegetable farm.
Sponsor message
UMass Sustainable Aquaculture Online Courses Aquaculture is an increasingly important source of safe, nutritious, and sustainable seafood for people worldwide. Globally, aquaculture production must double by 2030 to keep pace with demand. These increases in demand for aquaculture products, food security considerations, and job creation have generated an increased need for skilled workers.
Discover how you can be part of this rapidly expanding industry.
The Rwandan Government recognises the need to invest in food security to reduce malnutrition and dependency on food imports, while also creating job opportunities and upskilling. Dr Gerardine Mukeshimana, minister of agriculture and animal resources for the Republic of Rwanda, says "Gishanda Fish Farm, and the RAS system of sustainable farming, embodies many of the principles that will enable Rwanda to achieve its long-term vision for becoming an upper-middle-income country by 2035 and a high-income country by 2050. Sustainable agriculture, and particularly aquaculture, is an area of strategic focus to simultaneously address food security and to build the sector into a key national economic contributor. Gishanda Fish Farm's role as a source of quality inputs and education positions it well within this strategy."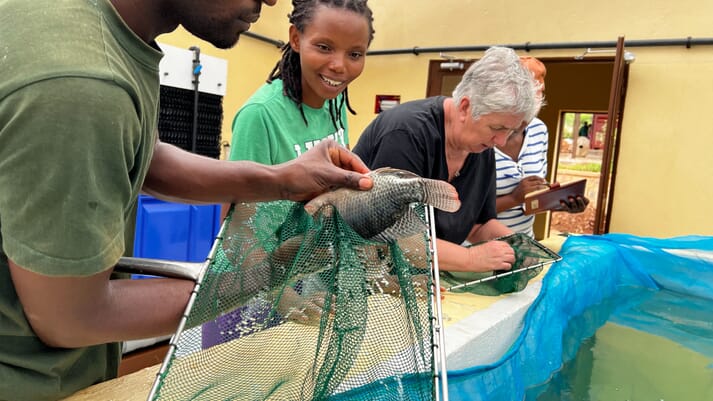 Throughout its construction, Gishanda hired from the local community, began training in fish farming, brought electricity to two villages and water to a school and provided local farmers with a low-cost nutrient rich effluent fertiliser. In the long term, Gishanda will produce up to 30 tonnes of 350-500 g tilapia annually of which at least 10 percent will be supplied locally at affordable pricing to combat local nutritional deficits. Despite Rwanda's verdant landscape, malnutrition is still an issue and can lead to bush meat poaching. Gishanda will provide a solution to this problem for the communities bordering Akagera.
Ladis Ndahiriwe, park manager of African Parks says, "it may seem an unusual move for a conservation organisation to be building and running a fish farm. However, our goal at African Parks is to leave a legacy of sustainability, for both communities and wild places. Gishanda actually makes perfect sense - sustainable land use, biodiversity conservation, and improving community lives."
In addition to the production of fully grown tilapia, Gishanda is expected to produce 1 million to 1.5 million tilapia fingerlings annually, of which 110,00 will be retained for farm production. A high-quality strain of tilapia, the commercial sale of around 1 million fingerlings will bolster the Rwandan aquaculture sector. The balance of 300,000 to 400,000 will be used for re-stocking lakes in the region, generating locally viable sources of protein and economic growth on a national scale.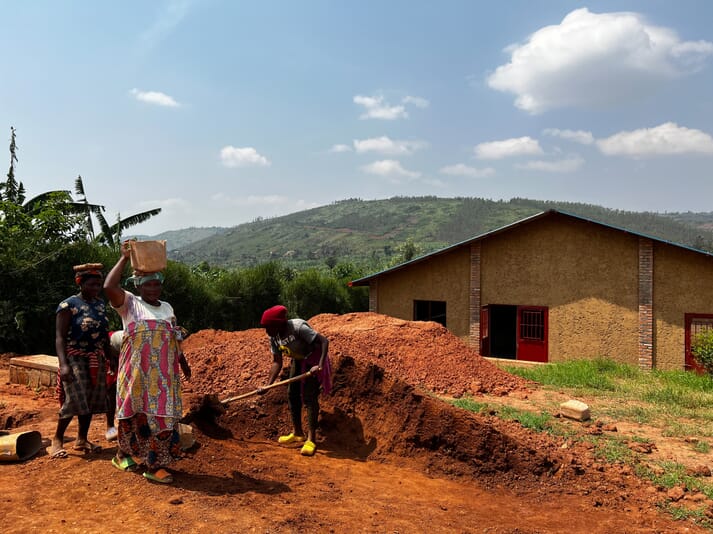 Training and upskilling are at the heart of the Gishanda project and it aspires to become a national learning hub for the aquaculture sector, partnering with educational and government institutions as well as the private sector, serving to address a skills gap as the national aquaculture industry grows. Three catfish demo ponds have been built on site to teach household level catfish farming to community members. Pond supplies (lining) and assistance will be provided to community people to develop catfish farming for nutritional and enterprise purposes. Partnering with organic farming experts in Rwanda, Gishanda will develop a demonstration farm to teach local farmers methods in sustainable agriculture. The garden will also be offered as a business to a selected community cooperative (the goal is for a women's cooperative) who will benefit from hands-on technical, sales and financial training to develop a viable and sustainable business.
This is the second fish farm of its kind in Rwanda. In 2019, FoodTechAfrica developed and opened the first Rwandan RAS farm in Bugesera, Lakeside Fish Farm. The viability of this concept, both economically and technically, was successfully tested through the establishment of a grow-out tank at Lakeside fish farm and is now being applied at scale at the Gishanda Fish Farm. The RAS permits the production of high volumes of sustainably produced fish on a small land surface. Because of the re-use of water, it uses 10 times less water than traditional pond-based fish farming systems.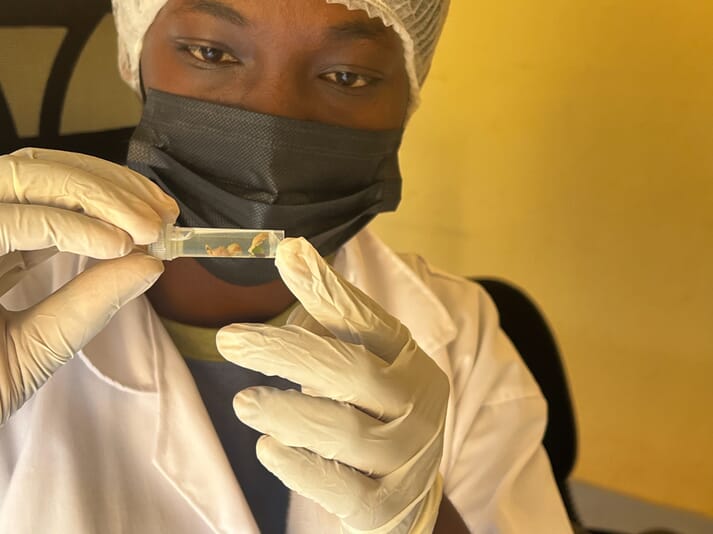 FTA's Wouter Van Vliet says, "the confluence of partnerships and technology is a powerful tool for solving some of the most critical food supply issues. At FTA, we are proud of what this partnership has delivered and the ripple impacts it will have on the aquaculture sector".
The effluent water from the system is highly concentrated in nutrients, making it very suitable as a fertiliser. The integration of solar power with this fish farming system also reduces energy costs and environmental impacts further. "The major goal was to create a system that could generate enough energy to power all of the equipment both during the day and at night. The quality of the system's components was also given top priority, as uninterrupted power supply is critical," Frank Hoogers, operational director at Independent Energy explains.
Beyond the companies' support, the project was made possible by generous co-funding from The Netherlands Enterprise Agency (RVO) and SHV. SHV subsidiary Nutreco Middle East and Africa will act as a key sponsor and feed partner for the aqua farming activities.

Matthijs Wolters, The Netherlands Ambassador to Rwanda says, "the Gishanda Fish Farm illustrates the sustainable impact of public-private partnerships and the long-term benefits for the growth of the aquaculture sector in Rwanda. The innovative circular economic model the Gishanda Fish Farm embodies will have a catalytic effect on the prosperity of Rwanda's communities."
Nutreco CEO Fulco van Lede says, "we are proud to announce today's partnership with African Parks, and in particular our close collaboration with SHV. Together, we will put Nutreco's purpose of Feeding the Future into place, in a region that requires more sustainable protein sources.''