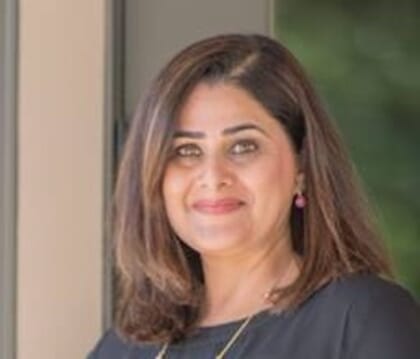 Can you briefly describe your background and career?
My background is in IT services to the US federal government. I have worked with the Department of Justice, the Department of Homeland Security, the Department of Labor and Health and Human Services. I ran help desks, databases – whatever was needed for the project.
I don't have a coding or technology background. My master's degree is in technology management and I come from the school of marketing and business. I found I didn't need the coding and tech background to be able to understand the technology and how it can be leveraged, used and adapted. OpsSmart falls nicely into this realm.
Can you give a brief overview of OpsSmart?
OpsSmart is a cloud-based, soft-coded, multi-lingual, US FDA award-winning traceability software that can capture the journey of any product from farming and production to the consumer. It utilises blockchain technology and interoperability to provide end-to-end visibility and transparency across the supply chain. My husband and I took over OpsSmart in 2015 and focused on updating the underlying tech to meet emerging standards in the food safety and compliance industry. We have a team based in Thailand and have the company headquartered in the US, where we're hoping to expand.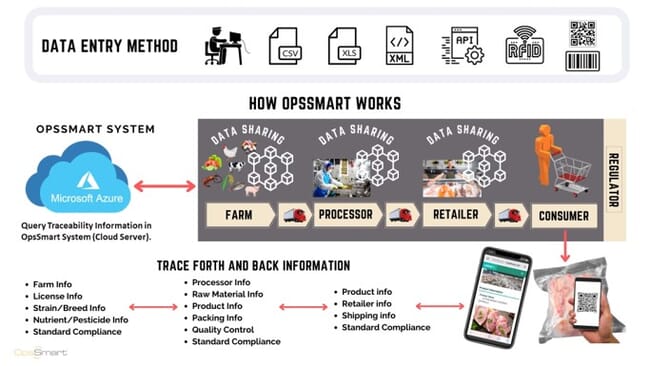 How is OpsSmart's approach to traceability different from its industry peers?
OpsSmart core is soft-coded and utilises modules to create a unique solution for its customers. Our solution is configured and defined for our client's business rather than the other way around. This allows for a custom‐fit solution provisioned at a record short period of time, thus changing the whole solution implementation and deployment paradigm. Businesses, as a result, can be operational with the OpsSmart software within a few months.
OpsSmart is a web-based software – we do not have an app. Users directly log in to the OpsSmart portal to access their data. This means that being out of internet service is never a problem for our clients. They can enter the data into downloadable forms that are than uploaded once the device is within wi-fi range or at a scheduled time.
Can you give some insights into the sort of clients you work with?
Some of our key customers are Tesco, a multinational retailer, Betagro, a Thai protein company with sales of over $3 billion, CP Foods, a vertically integrated food business including aquaculture and livestock and Haji Baba, a UK-based halal meat processor and provider to ASDA, a British supermarket chain.
OpsSmart also does periodic traceability projects for the Government of Thailand and consults with global regulatory authorities regarding traceability, food safety and supply chain optimisation.

What drove OpsSmart to look into aquaculture and the seafood?
OpsSmart has been working with CP Foods on shrimp farming since 2012 – we are not new to the industry. We have increased our focus here because consumption of seafood has increased and the aquaculture market has grown from 102 million tonnes in 1995 to 178 million tonnes in 2018. That is a compound annual growth rate (CAGR) of 4.4 percent. By 2028 it will be a $404 billion market! It only makes good business sense to pay attention to aquaculture.
How did the blockchain tracing system adapt to the seafood industry?
Here are some blockchain basics: blockchain is a shared, immutable ledger for recording transactions, tracking assets and building trust. Supply chains are just a natural fit for blockchain. It allows for document management, trade management, payments, product identity and origin of, as well as customer experience.
It is most helpful to the seafood industry because most of the seafood is not consumed where it is farmed. It's short-shelf life also makes it a good candidate. For example, 85 percent of the seafood consumed in the US is farmed somewhere else – blockchain traceability allows shoppers to be confident about the seafood they purchase and gives them detailed information about product and ingredient origins. Since OpsSmart is integrated with the internet of things (IoT) and document software, customers can scan a barcode and read all the information that suppliers give about their seafood.


Why did you decide to apply for the Aquaculture Innovation Studio Hawaii by Hatch?
OpsSmart applied for the innovation studio as a startup company. We were hoping to gain further market and industry access and explore new opportunities. Number-one with me is always gaining knowledge and insight into a sector. Interacting with experts at Hatch and the wider Hatch network that includes Yamaha and Cargill was invaluable. I also wanted to make contacts and create relationships that would open my horizons. There's so much to aquaculture and I wanted to work with individuals who are well-versed in the industry. That level of know-how was something I wanted for OpsSmart. I really appreciated the mentorship and the time I spent at the innovation studio.
Zero equity was also very attractive to start with – it let OpsSmart engage with Hatch's expertise without giving them a share of the business. The experience was amazing! Interacting with the speakers, making connections and working alongside the Hatch team were a huge boon for the business and are a stand-out part of the studio programme. I definitely benefitted from the experience. My biggest take-away from the studio programme was having confidence and belief in my product and myself.
What advice would you give to start-ups who want to venture into the aquaculture space?
Startups need to really understand what part of the aquaculture business they want to go into – not just geographically, but market-wise as well. The industry is huge and varied. Innovators need to identify their target markets, their customers and narrow their focus. It's important to educate yourself because otherwise, you'll be out there wasting time and running out of steam. Startups also need to understand their competition and how they could fit into the aquaculture ecosystem.
I'd also say that startups need to make friends within the industry and build their relationships – this will help them understand the sector and identify potential opportunities. Attend as many webinars as you can and be sure to listen – you can learn so much and people in the industry are so helpful.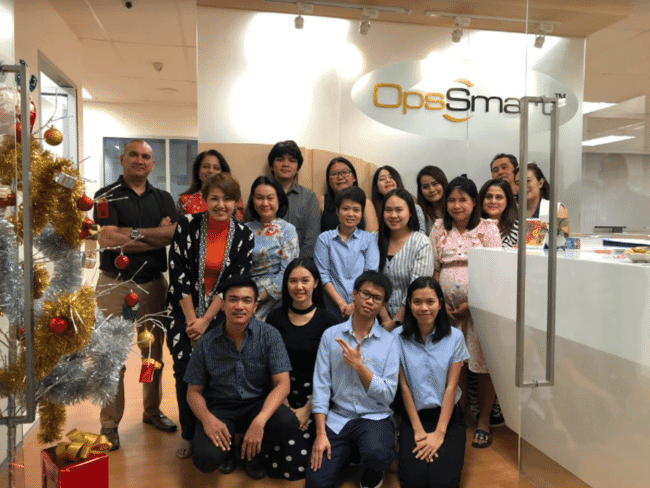 What's next for OpsSmart?
Grow, grow, grow! That's the goal. Our feet are wet, our software is fabulous and won the US FDA Traceability Challenge last year – so we're ready to go. Winning that award gave OpsSmart great credibility and verified that our offering is affordable and usable.
We know what market's we're going for in the US and the greater Mekong sub-region and we have a strategic plan to move forward. We have a great team in the US and Thailand, so I'm eager to see what happens.
Further information about the Aquaculture Innovation Studio Hawaii from Hatch
The innovation studio is aimed at researchers, innovators, startups, entrepreneurs or established SMEs in aquaculture or adjacent sectors. It promises to validate their propositions, ensure their product finds the right market, grow their global network and find potential customers and investors.
The studio will be held in-person and on-site at the Hawaii Ocean Science and Technology Park, which is administered by NELHA, from 18 April to 13 May 2022. The event is focused on developing aquaculture and alternative seafood projects and is open to a range of applicants – from teams at the conceptualisation stage, to later-stage startups seeking to explore new potential markets.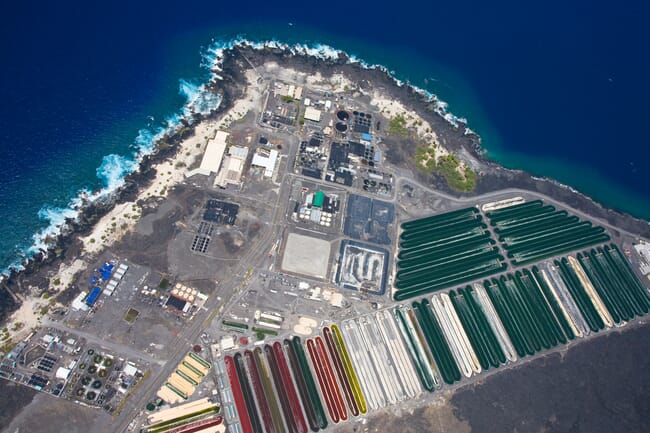 The programme will feature a mix of internal and external mentors, focused on the farmed and alternative seafood value chains. Successful applicants will have the chance to validate their ideas with aquaculture experts, develop route-to-market strategies and gain investor guidance. They will also have full access to the Hatch team, who will help them develop their business model, team, technology readiness and industry fit. Mentoring will be conducted over two to three days each week, allowing participants ample time to continue work on other projects and accommodate their needs. Overall, attendees will gain a truly global perspective of the aquaculture industry and access to a wider community.
The Hawaii Aquaculture Innovation Studio programme by Hatch will be accepting applications until 28 March. Click here to learn more and submit an application.
*The Fish Site is part of Hatch's investment portfolio, but retains editorial independence.