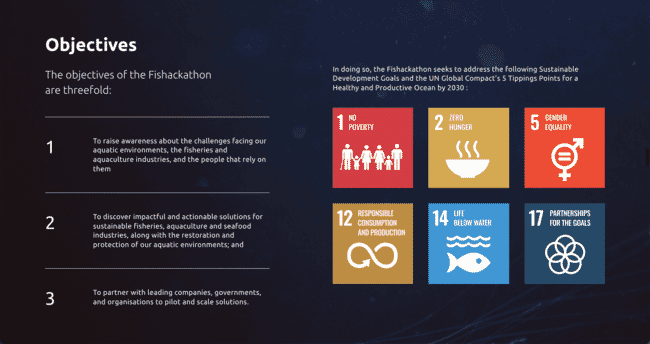 Back in 2014 then US Secretary of State John Kerry launched the inaugural Fishackathon, an innovation challenge that has grown substantially in the years since. Due to Covid-19, the challenge was halted for two years until it was recently launched by the Singapore-based innovation catalyst and community builder Padang & Co with the support of Eachmile Technologies, a technology solution provider for agriculture and seafood supply chains.
Sustainable aquaculture is a key pillar of a healthy ocean economy, and three challenge statements in Fishackathon 2022 are focused on finding solutions to solve nutrition and health issues in aquaculture.
Hatch* is the silver sponsor for this year Fishackathon 2022 to attract and develop ideas globally and drive greater development and ideation in the Southeast Asia. Wayne Murphy, co-founder and partner at Hatch states that "Hatch is always keen to create the environment in which innovation can take place. This is a key part of solving the challenges in global aquaculture. 50 percent of the founders in our investment portfolio have no prior aquaculture background. We are excited to see the range of background, skills, and expertise can applied to aquaculture. Challenges like the Fishackathon 2022 are an excellent opportunity to test and validate ideas with industry experts."
"Working in sustainability for more than 10 years and with a focus in agriculture over the last four years we have built a substantial agrifood tech community here and across the region. Aware of the challenges our oceans face and the communities who depend on its resources we wanted to bring our experience and catalyse interest in the blue economy and the opportunities to do well by doing good." says Padang & Co's Adam Lyle, "We partnered with EachMile to develop the Blue Innovation Ecosytem (BIE) and organise the Fishackathon with their support. This is just the beginning of many such initiatives to build a thriving community focused on the blue economy."
"One of the greatest challenges for the seafood industry is whole supply chain traceability," says Alastair Smart , co-founder of EachMile. "The opportunity is to utilise innovate distributed ledger technology to incentivise and gain access to the essentials first mile. Without this we cannot identify, verify and reward legal and responsible seafood production. We need this data to achieve sustainable seafood production."

This year's Fishackathon features a broad range of challenge statements from Hatch, Wittaya Aqua, the Environmental Defence Fund, Ocean Conservancy and Sunwell Technologies.
The BIE is a platform initiative to spark innovation and data sharing within the blue economy to drive more responsible and sustainable use of the world aquatic resources. Both initiatives have been actively supported by EachMile.
Eachmile is offering the opportunity for participants to build an incentivised blockchain based application at no cost subsidised by Blockchain Services Network on the Trace Protocol.
The developers of these applications will share in the nanofee commissions from Fishcoin token transactions for the use of their blockchain apps for seafood supply chains all over the globe.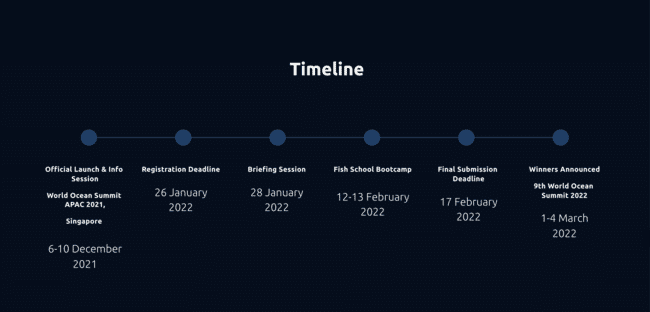 Cash prizes are available for winners and the opportunity for a winner from the aquaculture challenge statements to be fast tracked as a participant team in Hatch Innovation Studio SG 2022 Cohort. Finalists will have an opportunity to present their solutions at the Economist Intelligence Unit 9th Annual World Oceans Summit in Lisbon, March 2022 to global leaders in the space.
Interested participants are welcome to form their teams and register at the Fishackathon website by Wednesday, 26 January 2022.
*The Fish Site is part of Hatch's investment portfolio, but The Fish Site retains editorial independence