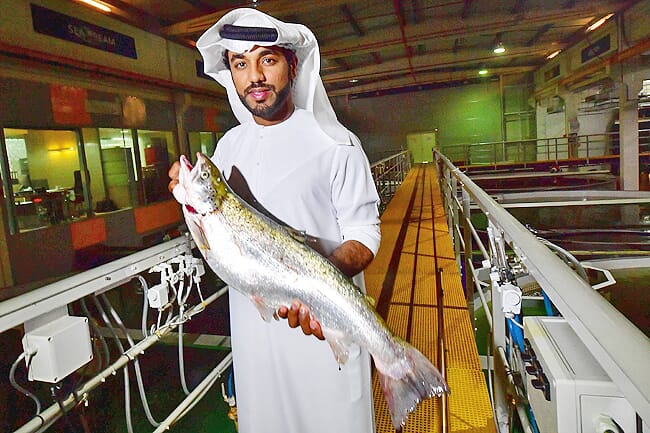 Early 2013, Sheikh Hamdan bin Mohammed, Crown Prince of Dubai, realising that there was a need for the United Arab Emirates (UAE) to become less dependent on seafood imports and to work towards self-sufficiency, brought aquaculture to the country.
By the end of the same year, Fish Farm LLC was established. Bader bin Mubarak, who had a long track record in different marine industries, became its CEO and shareholders' representative, and started working on his goal of reproducing and farming marine finfish, while building a local aquaculture industry. The company based its headquarters in Dubai and now, nine years later, operates a state-of-the-art hatchery in Umm al-Quwain, cage farms in Dibba and Dubai, and a unique recirculating aquaculture system (RAS) growout facility in Jebel Ali, Dubai. In the last year the company produced 6 million fingerlings of assorted species, and sold roughly 2,500 tonnes of farmed fish. The majority of this production was European seabream (S. aurata) grown in cages in the Gulf of Oman and Indian Ocean.
Remarkably, the company's RAS is multi-species and produces Atlantic salmon (S. salar), European seabass (D. labrax) and yellowtail kingfish (S. lalandi), all organic- and halal-certified, for sale to consumers in UAE.
The Fish Site recently spoke to Fish Farm's aquaculture manager, Nigel Lewis, to discuss the beginnings of the company, its ongoing goal of producing high quality, sustainable seafood in UAE, and its ambitious plans for the near future.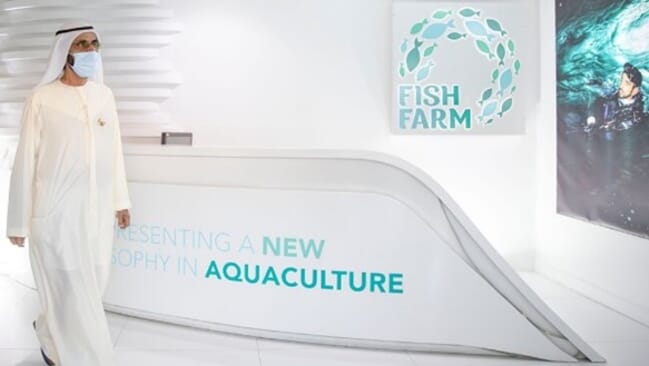 Starting out with vision for salmon
During a visit to the facilities of Fish Farm LLC, His Highness Sheikh Mohammed bin Rashid Al Maktoum, Prime Minister of the UAE and the Ruler of Dubai, explained his vision for food self-sufficiency in the country.
"Expanding domestic food production to achieve self-sufficiency is a strategic objective and one of the main pillars of the National Food Security Strategy. Food is a strategic commodity, and we look to young Emiratis to propose new ideas and projects to help further enhance food production. We have a clear strategy and sufficient resources to achieve our objectives. We are confident that we can generate practical solutions to achieve self-sufficiency," he said.
This is exactly what Fish Farm LLC set out to do. When it started out in 2013, only 8 percent of the seafood consumed across the UAE was caught (or produced) locally, and very few aquaculture activities were in existence. One of the fish that interested bin Mubarak most was Atlantic salmon. Local consumption was 11,000 tonnes annually. But, as 100 percent of this was flown in fresh from Norway, Chile, Scotland and Ireland transport costs were high, as was the ecological footprint of the product. Bin Mubarak spotted an opportunity to do things in a better way.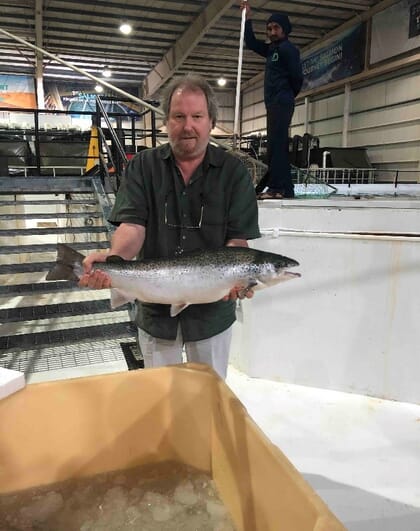 To assist him with the matter, he hired industry expert Nigel Lewis, who started his career in the 1970s with Fish Farm Development Ltd, on the west coast of Scotland. At that time industrial-scale aquaculture was still in its infancy and the company was pioneering R&D relating to marine finfish aquaculture and the use of closed cycle farming systems.
Lewis started out working on salmon but quickly moved to work with other species, including tilapia, seabream and seabass. Over a span of 10 years the company had developed, built and run projects in Chile, Cyprus, China, New Zealand, Iceland, Ivory Coast, Kashmir, Saudi Arabia, Kuwait and Greece.
In Greece, he built one of the first large-scale hatcheries for gilthead seabream and European seabass and after many years of hard work of he and his team turned it into the world's largest marine finfish hatchery of that time, with the capacity to produce 50 million fingerlings annually.
Looking for a new challenge and adventure Lewis accepted an invitation to head the Fish Farm team in 2016.
By this time, the company was in the process of constructing a 300 tonne RAS facility, designed and built by AKVA Group. As Lewis explains, it became his first task to make the system work at full capacity and produce high quality fish of the three selected species.

He began by importing salmon parr and pre-smolts (then salmon ova at a later stage), and juvenile kingfish and seabass. Then the work started on getting the temperature, water quality, feed and other production parameters right.
"After a short period of trial and error, the fish started performing very well and now we are able to produce 3.5-4.0 kilogram salmon from egg in just over 22 months," he reflects.
Lewis explains that his team worked especially hard on optimising the water quality and feed, as these have a big impact on the final quality of the product. He was nevertheless nervous to send some of their first fish to a local chef, who was very sceptical of farmed fish.
"I nervously opened the chef's email to see the statement that 'your fish is fantastic' and that the salmon 'was one of the best quality he ever tasted'," Lewis recalls.
Lewis attributes this to not only the optimal rearing conditions in the RAS, but also the fact that the fish had been harvested only hours previously.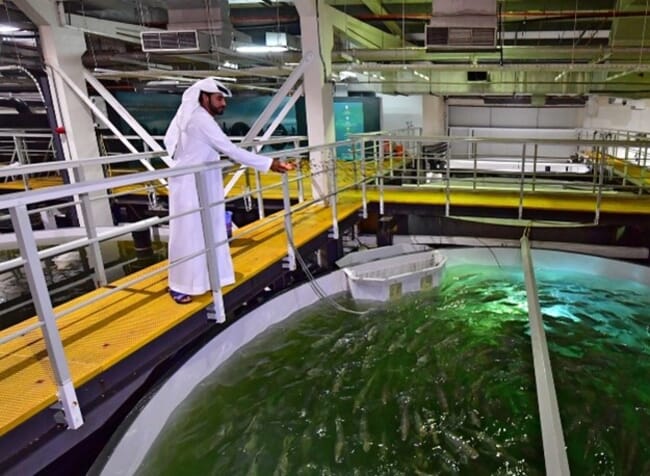 Diversification
Besides getting the salmon RAS off the ground Lewis and his team dedicated their time to expanding the company's cage farm for gilthead seabream in the Gulf of Oman.
"Our cage modules are situated 2.5 km offshore in an optimal location and do not experience the colder winter months they have in the Mediterranean. The water currents ensure excellent flow and clean water for the fish," he explains.
As the cage farm grew and more fingerlings were required, it was time to start thinking about a commercial-scale hatchery.
Coincidently, the UAE's government had been working out a plan to develop and fund the construction of a large hatchery complex in Umm al-Quwain, for the "ranching of local species into the Arabian Gulf". After a successful period, it was decided that the hatchery should be used for commercial production.
In 2021 Fish Farm LLC and the Ministry (MOCCAE) signed a public-private partnership to manage and operate the facilities and produce fingerlings of different finfish species for aquaculture producers in the UAE. Hatchery operations started 2022 with gilthead seabream and European seabass, but eventually also successfully produced yellowtail kingfish, while still working on others. The hatchery will reach full operation in a few years, depending upon local demand, up to around 25 million juveniles annually.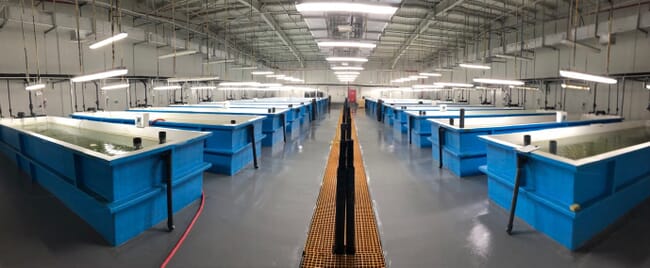 The hatchery contract was a big boost to the operations of Fish Farm LLC as they could now also diversify production in their RAS growout facility. One of the key species being eyed was yellowtail kingfish and, after importing fingerlings from hatcheries as far afield as Chile, the company is now able to produce them themselves at Umm al-Quwain.
Lewis is especially enthusiastic about their performance.
"These kingfish perform perfectly in the system, they school well with zero aggression or stress, thereby maximising growth rates. By now we are able to grow fish from 2 grams to 3 kilograms in just 13 months, with an exceptional survival rate of over 90 percent. As the capacity of the existing growout facility is limited, the company targets a production volume of 25 – 30 tonnes of kingfish annually," notes Lewis.
The company has completed three cycles of yellowtail kingfish and now aims to work on its marketing, as the species is not that well known in the Middle East.
Big plans
The team of Fish Farm LLC has worked hard to develop and prove the technical and business concepts, and has overcome the major challenges it faced. Including figuring out how to produce and farm non-endemic fish species in the harsh UAE climate and especially working at a high salinity, while also developing the local market by making the quality and price work.

The company serves as an example and a blueprint of how governments across the Middle East and North Africa (MENA) region could develop their aquaculture sectors: be sustainable, while utilising technology to achieve the highest quality product and enhance food security for their nations. This approach has made Fish Farm LLC a leader of RAS technology in the Middle East and the first to succeed in consistently producing quality organic, halal salmon, seabass and kingfish.
Now it is time to develop economies of scale to further bring down the cost of production and achieve a bigger share in the local and regional seafood market. Expect to hear more on their expansion plans early next year. Stay tuned!