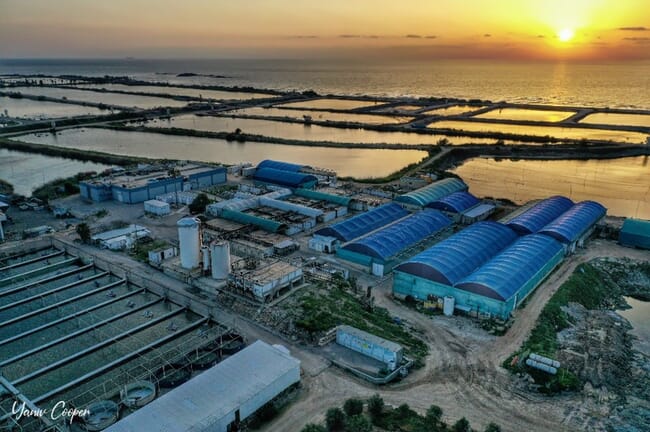 Dagón, on the Mediterranean coast of Israel, is an aquaculture company producing a variety of freshwater and marine fish. Located in coastal Kibbutz Maagan Michael, Dagón is well known internationally for producing prized koi carp. The general manager, Boaz Ginzbourg also has his hands full with the operation of highly diversified hatchery and farm units, which apply egg-to-plate pond production of tilapia, mullet and a variety of carp – as well as a saltwater RAS for sea bream, seabass and barramundi. While farm products are destined for the Israeli market, hatchery produced juveniles are sold and shipped, both nationally and internationally. We talked with Ginzbourg to discuss the company's latest progress on the production of mullet, grouper and striped bass.
Freshwater resources are limited in Israel, and sea water intakes are restricted through licensing. To overcome water shortages Dagón has – for over 60 years – progressively garnered experience for applying recirculation processes of fish pond effluent. An in-house engineering department provides solutions that are now being applied not only for their freshwater production but also for their marine fish sector. While their pond cultures are providing 2 kg of fish per m3 of water, their concrete pond-based RAS systems are working year-round at an impressive efficiency of 35 kg/m3. In total, Dagón produces and sells 2,000 tonnes of fish to the Israeli market annually.
Moti Shlomovitch is the manager of the marine fish hatchery and is responsible for operating a multi-species production of 26 million juveniles per year. As he explains, this is a highly diversified hatchery, producing a variety of species including 6 million European seabass, 5 million gilthead sea bream, 5 million barramundi, 4 million red drum and 1.5 million grey mullet. The hatchery is also a major producer of hybrid striped bass (HSB), which is a fast-growing cross between white bass (Morone chrysops) and striped bass (M. saxatilis).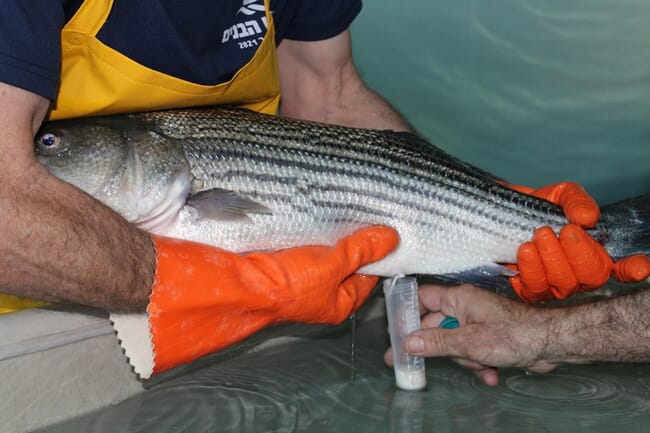 "HSB are very suitable for fresh water pond and RAS systems and tolerate a wide temperature range of 4° to 28°C," Shlomovitch explains.
He adds that the increased demand for these fish – in both Europe and the USA for the RAS and aquaponic sectors – means that the company aims to increase production from the current 5 million fish per year to meet these demands.
Ginzbourg adds that all the species are produced from eggs spawned on site. Each of these species has multiple broodstock that – through photo-temperature manipulation – provide eggs, year-round for initiating production as and when required.
He proudly explains that their nursery units contain an engineering feature unique to Dagón.
"There are four of these systems, which operate on moving bed bioreactor (MBBR) recirculation and ozone, each of which can process 2.5 million, 10-gram fish," he explains.
These units are placed within greenhouse structures and the most recent system has been designed on two floors, so that the water flows by gravity to the RAS facility and then is pumped back to the fish raceways. Until they reach 0.5 grams the fish are hand graded, but from that stage onwards the nurseries have been designed with channels that direct the fish to automated grading and counting systems before flowing back to the culture tanks.
Mullet are highly appreciated fish by Middle Eastern consumers, as we discussed in a previous article. Over the last 40 years, the species that has been targeted for hatchery production is the flathead grey mullet (Mugil cephalus). Ginzbourg explains that this is the largest of the mullet species, with females attaining a weight of up to 3 kg. In the last year, a multi-year concerted R&D effort at Dagón has yielded significant commercial rewards, with over 1.5 million healthy mullet fingerings produced in the hatchery.
This has been achieved through a stepwise genetic improvement of the spawning stock. The hatchery has now developed an impressive F4 generation broodstock, with eggs being obtained over 10 months of the year.
"All of our females mature and spawn good quality eggs, with induction being achieved using GnRH only," says Ginzbourg.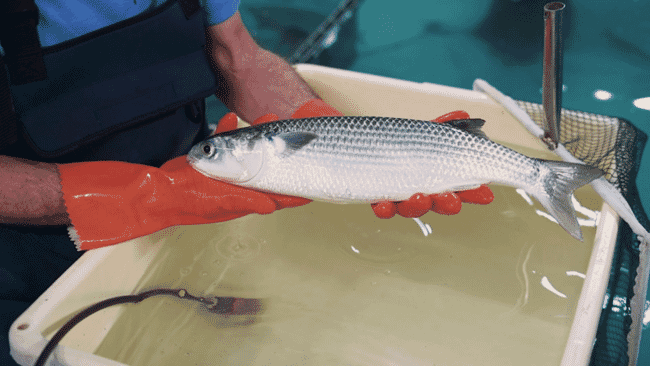 Female mullet are preferred for farming as they grow much larger than the males. To further improve the stock, Dagón has teamed up with Prof Lior David, from the Hebrew University of Jerusalem, and embarked on a pioneering project to produce all-female progeny.
At a juvenile stage fish are treated with a sex-reversal hormone, which drives most of them to develop as males, some as also their genetics dictates while others are neo-males, despite their female genetic programme. Once they have matured, genetic tools are used to identify the neo-males. These are separated and then used to provide sperm with a female genetic programme. When used for fertilising the eggs of natural females they produce all-female offspring.
This year the results of the R&D are bearing fruit with the first batch of 90,000 all-female fingerlings produced by the hatchery.

For increasing production and to expand their market, Ginzbourg is now seeking joint venture partners. The concept is to transfer their technology and eggs to hatcheries in adjacent countries, where the juvenile all-female fish are desired by local farms. One very interesting market is in Egypt, where grey mullet production has fallen by around 50 percent over the last 15 years to a current level of around 100,000 tonnes, due to the lack of wild juveniles that have traditionally been used for stocking the ponds.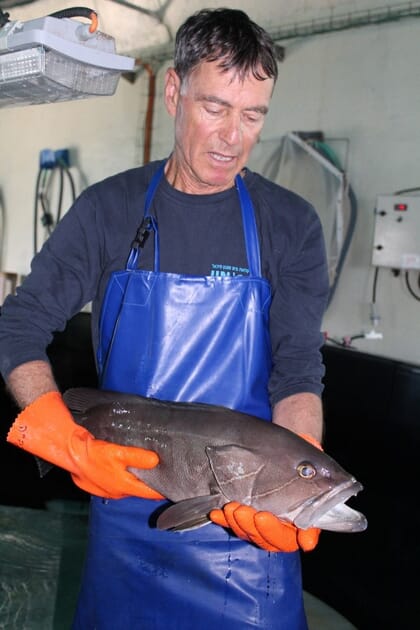 The other significant R&D focus of the hatchery is the production of the white grouper (Epinephelus aeneus), which is the highest value grouper in the Middle East North Africa (MENA) region. This project is being developed by Yoav Magnus, a highly experienced biologist, who has been central to the development of the Dagón marine fish hatchery department since its inception.
Applying results of their research, Dagón has now designed and built a dedicated broodstock system, which provides naturally spawned and fertilised eggs over six months of the year. The technology for producing juveniles has also attained commercial levels, with a capacity to produce cohorts of 100,000 fingerlings. Fish produced by the hatchery have been grown up to 1 kilogram in RAS facilities, with excellent feed conversion ratios (FCRs) of 0.9.
One of the major issues with the farming of groupers is their susceptibility to viral nervous necrosis (VNN). Dagón has overcome this problem on the one hand by incorporating stringent biosecurity measures into the broodstock system, and on the other by vaccinating the juveniles against VNN with commercially available vaccines. Having resolved this issue, Dagón sees so much potential in grouper aquaculture that it is currently embarking on developing its own dedicated RAS with an annual capacity of 400 tonnes, all destined for the Israeli market.
Such pioneering developments keep Dagón at the forefront of both hatchery production and grow-out farming in the region, and the company could serve as a blueprint for sustainable aquaculture development throughout MENA and beyond.