At the crossroads between Europe, sub-Saharan Africa and Asia, the Middle East and North Africa (MENA) region is rapidly developing itself as an aquaculture powerhouse. This year our collaborators, Jonah van Beijnen, Kyra Hoevenaars, and Gidon Minkoff from VB Consultancy and Greg Yann from Best Alternatives, will present a monthly contribution with the latest developments in the region, including country overviews, development of new species and technologies, and zooming in on specific companies.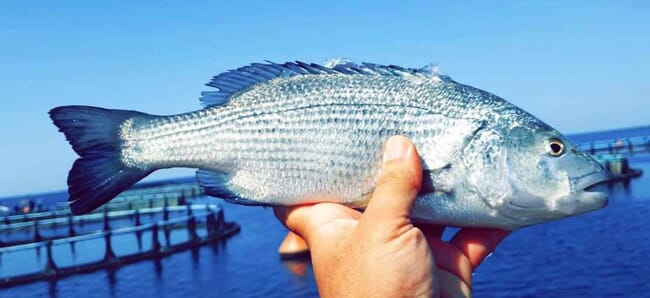 Tabuk Fisheries Company (TFC) is a fish farming company that has been operating for 14 years along the shores of the Red Sea in the northwest of Saudi Arabia, an area which is now part of the NEOM mega project. The company produces approximately 1,500 tonnes of marine finfish a year in nearshore cages. Species include gilthead seabream (Sparus aurata), European seabass (Dicentrarchus labrax), and sobaity seabream (Sparindentex hasta), using fingerlings acquired from local and overseas hatcheries.

Aquaculture in the Middle East is still largely reliant on fingerlings of Mediterranean species, but both the government and the private sector strongly believe that developing hatchery technology and grow-out technology for native species is key for building a strong local aquaculture sector.
Besides grouper and kingfish, one of the target native species is the sobaity seabream, also known as the silvery-black porgy. It is a carnivorous fish that naturally occurs in the Arabian Gulf and the Western Indian Ocean and is mainly found in shallow coastal waters. It is locally referred to as sobaity and is appreciated in markets across the Middle East. As the species is mainly available only from capture fisheries, supply is irregular and limited. Local experts therefore agree that the sustainable closed-cycle aquaculture of sobaity has considerable potential.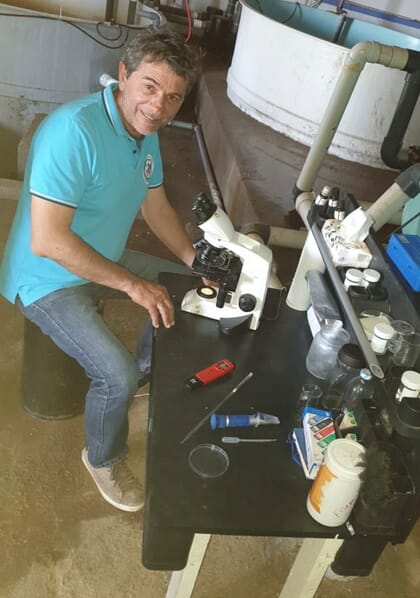 Besides operating the grow-out farm, TFC production manager Petros Thomas has set up a land-based R&D facility where the company is developing broodstock of a variety of native and non-native species. At the end of February this year, his team reported a significant breakthrough in the R&D department, where the sobaity broodstock that had been transferred to the tank 18 months earlier spawned for the first time.
The broodstock were grown from imported fry in the farm's sea cages. After the staff observed some milt floating in the cages they decided to move 40 fish to a land-based broodstock tank, so they could observe them better. At first spawning, the fish had been in the tank for 18 months and averaged 3 kilograms. They continued to spawn for 10 days straight, producing over 3 litres of eggs (>3 million eggs).
The 10 m3 tank that contains the broodstock is part of a recirculating aquaculture system (RAS) with ambient light and controlled dissolved oxygen (>5.2), pH (7.6), water turnover and temperature. The fish are fed with high quality commercial pellets at 1-2 percent bodyweight per day. The first spawning took place just before full moon at a relatively low winter temperature of 17.5°C. Eggs were collected using an egg collector, and were disinfected and inspected before stocking in a rearing tank. The fertilisation rate was over 95 percent and the hatching rate more than 90 percent.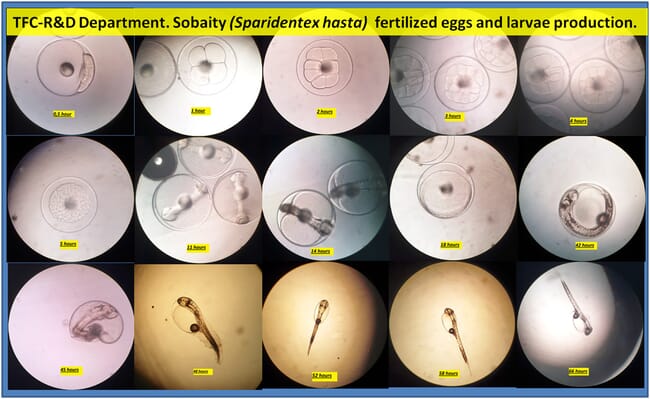 According to Petros, the event is an important milestone for their company.
"We are planning to operate a hatchery in the near future and with these broodstock ready to spawn, operations can start immediately. Local hatchery production is very important because importing fingerlings often results in considerable mortalities and fry quality can be low," he explains.
"I am very proud of the team, consisting of Sajin Kumar and two local technicians – Meqren Alfadli and Turki Binanzan. We did not have any previous experience with the species and we currently have limited facilities to do this kind of work, but still we managed to get these ground-breaking results," he adds.
"It is a great experience for the team; we learned a lot of new skills which will help the company move forward. This year we plan to increase the number of broodstock to be able to produce sobaity fry for the new hatchery, once it is ready," reflects Kumar.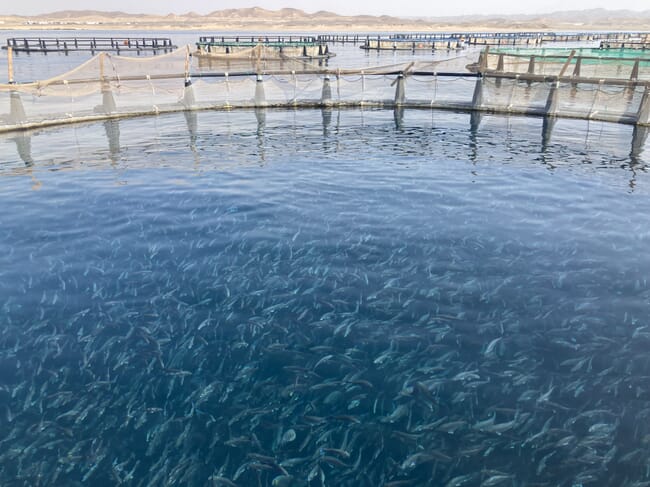 While it is still la big step from producing the first larvae to the successful commercial production of the species, these developments are undoubtedly a step forward for building a strong aquaculture industry in Saudi Arabia and NEOM that is based on local species and targets local and regional demand.
Hopefully soon the first grow-out products from closed-cycle aquaculture at TFC will hit the local shelves and restaurants so we can get a taste of sustainably produced fish from the bright and clear waters of the Red Sea.