Bringing the best out of aquaculture's emerging female founders
Hatch and Conservation International (CI) have put 10 female-led aquaculture businesses through their paces as part of their first-ever Women in Aquaculture Innovation Studio programme.
The programme, which kicked off on 1 November, spans four weeks and gives the emerging companies a crash course in business development, investing, leadership and pitching to investors the aquaculture sector. This studio cohort was selected from a highly competitive talent pool and includes female entrepreneurs from across the globe. The women, and the companies they lead, could set the new benchmark for sustainable aquaculture nutrition, aquatech and consumer food products.

"We are very excited about the quality and potential of this amazing group of female aquaculture entrepreneurs," says Wayne Murphy, partner and co-founder of Hatch. "The cohort is a wonderful blend of experienced female founders and companies who have raised significant capital married with some early stage innovators seeking to connect network and learn more about the sector. The cross pollination of ideas and cultures have led to some enlightening conversations, interactions and long term meaningful connections being made."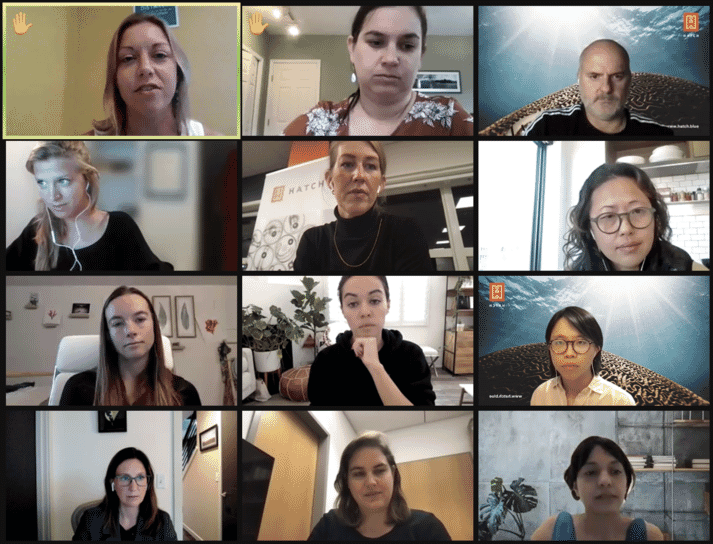 According to MicroHarvest's Katelijne Bekers, the innovation studio has given her the tools to transform her bacteria-derived alternative protein startup into a successful business.
"Being in this programme forces you to take a moment to think about topics that in the craziness of running a startup sometimes disappear in the background," she says.
Interacting with the Hatch team and other members of the studio allowed Bekers to share her expertise and learn from the entrepreneurs in her cohort.

"There were doors opened which I thought would need a long path to open, or that I didn't even know existed," she says.
For Ugandan CEO Immaculate Were, the studio gave her a platform to discuss the barriers and potential innovations that could make Women Economic Empowerment Bugiri (WEEB), a tilapia cage farming operation in Lake Victoria, more competitive. Connecting with Hatch's network and the other female-led companies is allowing Were to consider using insect-based aquafeeds and cameras to monitor fish feeding.
Valuable insights into aquaculture
Bekers told The Fish Site that connecting with other female-led companies and the Hatch team in virtual workshops has changed her perspective on the aquaculture industry and the potential of MicroHarvest's technology.
"Let's be honest, before I did this programme, I knew MicroHarvest had strong potential in the aquafeed sector, but what a fish or shrimp farm actually looked like? Not so sure. The workshops got me acquainted not only with the market and activities, but also the bigger picture of the industry pain points where we will jump in," she says.
Hatch and Conservation International launched the innovation studio to address the gender gaps in entrepreneurial business and the aquaculture sector. They set out to provide a platform for female-led companies to connect, grow their knowledge and expertise and network with other leaders in the sector. Were and Bekers both say that this dedicated space will help their businesses grow.
For Bekers, the programme gave her a springboard to dive right into the aquaculture network. "A lack of sponsorship is generally what limits women to progress in leadership. We all know women have to prove themselves more and fight harder to get the same as their male counterparts, and if there is one thing that is clear from this programme, there is absolutely no reason to justify that," Bekers says.

"I have already experienced a boon from Hatch and Conservation International's expertise," Were says. "The team at Hatch have done an exceptional job in shaping my confidence. Everyone has to start somewhere, and the programme showed me that there are well-wishers who are more than willing to walk with them."
"I am convinced there will be no backward movements," Were told The Fish Site.
Both women were confident about their companies' prospects after participating in the studio. For Were, she plans to scale her business from 1,400 female employees to 2,000 and increase her production capacity to 1,000 tonnes per year. She's also set her sights on a medium-sized tilapia hatchery and a mini processing plant. Bekers is focusing on her "go-to-market" strategy.
The Innovation Studio cohort also included Maye Walraven from InnovaFeed, Virginia Emery and Aimee Rudolph from Beta Hatch, Chelsea Groucher from Foraged and Found, Mascha Davis from Mini Fish, Caroline Slootweg from Kelp Blue, Ragnhild Belken Rud from OmniAqua Consulting, Tali Treibitz from SeaErra and Neha Jain from Zero Circle.
Hatch and CI are also hosting a Women in Aquaculture Community Day on 22 November. The event features a high-level panel discussion on the history, challenges and future of women in aquaculture and networking session for women in the aquaculture space. Click here to register and learn more about the panellists.
Hatch hopes to attract and develop inspiring female entrepreneurs and professionals for the global aquaculture industry. Learn more about their innovation services and accelerator programme here.