"We are going to be short on sockeyes by five million or so, and we're probably not going to make the chum salmon numbers either. So we'll have to go over with pinks, but at the rate things are going that is entirely possible," said Geron Bruce, deputy director of Fish and Game's Commercial Fisheries division.
As of Friday the total pink salmon catch had surged to nearly 114 million (the forecast was for 118 million pinks, 73% higher than last year) – and catches were still coming on strong.
Three regions provide the bulk of Alaska's pink pack: Southeast, Prince William Sound and Kodiak. At Southeast, where 15 million humpies were taken in a single week, the catch had reached 43 million and it's likely to exceed the 54 million forecast.
"The next two weeks are typically the peak, so if catches stay at that level, that's another 30 million pink salmon," Bruce said.
At Prince William Sound, the pink returns were so strong fishermen were put on trip limits due to a lack of tender capacity. Still, they took 10 million pinks in a matter of days and the total PWS catch was approaching 57 fish (the forecast was just over 38 million).
Kodiak's pink catch had topped 9 million out of a 17 million pink forecast with steady catches coming in. Even the Alaskas Peninsula was yielding larger catches than usual, topping 5 million pink salmon so far.
At a dock price of roughly 45 cents a pound, pinks will really boost the value of Alaska's total salmon fishery this summer.
"When you're talking about the volumes in these fisheries, that really drives up the value rapidly," Bruce said.
For the past couple of years, some salmon runs have peaked and waned early, as with Bristol Bay reds this summer. Bruce cautioned there is a chance that pinks could be following a similar trend.
"But if the catches continue to remain high over the next week, we could end up close to 200 million pinks," he said.
If so, that will break the record pink salmon catch of 161 million taken in 2005.
Halibut hate - Dominos' Pizza is getting heat from Alaskans for a new national television ad called "Powered by Pizza." The ill-advised campaign claims pizza is "the food of big ideas" – and in doing so, the ad demeans halibut.
The narration says: "At Domino's we take our job seriously because we know Americans order pizza when they are building, creating and innovating. Without pizza, school projects and music albums might go unfinished…startups unstarted…No one is coming up with a world-changing idea over halibut. No way."
At the same time, an on-screen actor takes a mouthful of halibut with a plastic fork, and then spits it with a look of disgust on his face!
Alaskans quickly let Domino's know of their displeasure. Senator Mark Begich entered the fray telling Domino's they obviously have never sampled one of Alaska's iconic fish, and urging them to stop being "a halibut hater."
Jeanne Devon of The Mudflats blog fame contacted Domino's and got a quick response from Tim McIntyre, VP of Communications.
"In no way did we intend to disparage the hard working men and women in the fishing industry… It was simply meant to be a bit of humor," he said, adding that Domino's was "sincerely sorry for any offense the ad caused."
But…. the fish offensive ad is still running nationwide! Well. Domino's is obviously oblivious to the fact that the adage "fish is brain food" is not just an old wives tale. Several studies in Europe and the US have proven, among other things, that pregnant women who eat fish promote brain development in their babies. And elderly people who eat fish at least once a week are less likely to develop dementia, including Alzheimer's disease. Now, that's brain power!
A "Team Fish" campaign is gaining steam and urging Alaskans to contact Domino's with Twitter – using the hash tag "Powered by Halibut" or via Domino's Facebook page. So far the response to the ad has reportedly been intense – and it is likely to remain so until Domino's Pizza pulls the attack ad that treats halibut as an inedible food choice.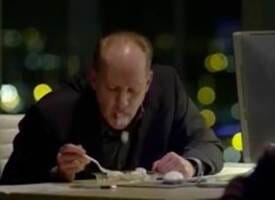 Fish watch - There will be even fewer sockeye salmon to meet strong market demand this summer. By now, British Columbia's Fraser River reds are usually filling orders as the Alaska catch tails off – but dismal returns mean it is likely there won't even be a Fraser fishery. The lack of reds will push up prices even higher. … Alaska longliners have taken 61% of the nearly 22 million pound halibut catch limit. For sablefish, the catch tally was at 68% of the 28 million pound quota. … Southeast Alaska's Dungeness crab fishery ended August 8, a week earlier than usual. That catch should top 2 million pounds and the dungy fishery will reopen October 1…. The year's first king crab fishery is underway at Norton Sound where 35 small boat crabbers have a half million pound quota. The golden king crab fishery way out along the Aleutian Islands starts August 15 – that harvest will top 6 million pounds. … Pollock boats are back out on the water in the Bering Sea; trawlers also are targeting cod, and pot cod opens September 1. In the Gulf, pollock reopens on August 25, mostly around Kodiak. Cod opens for all gears in the Gulf (except jig) on September 1.