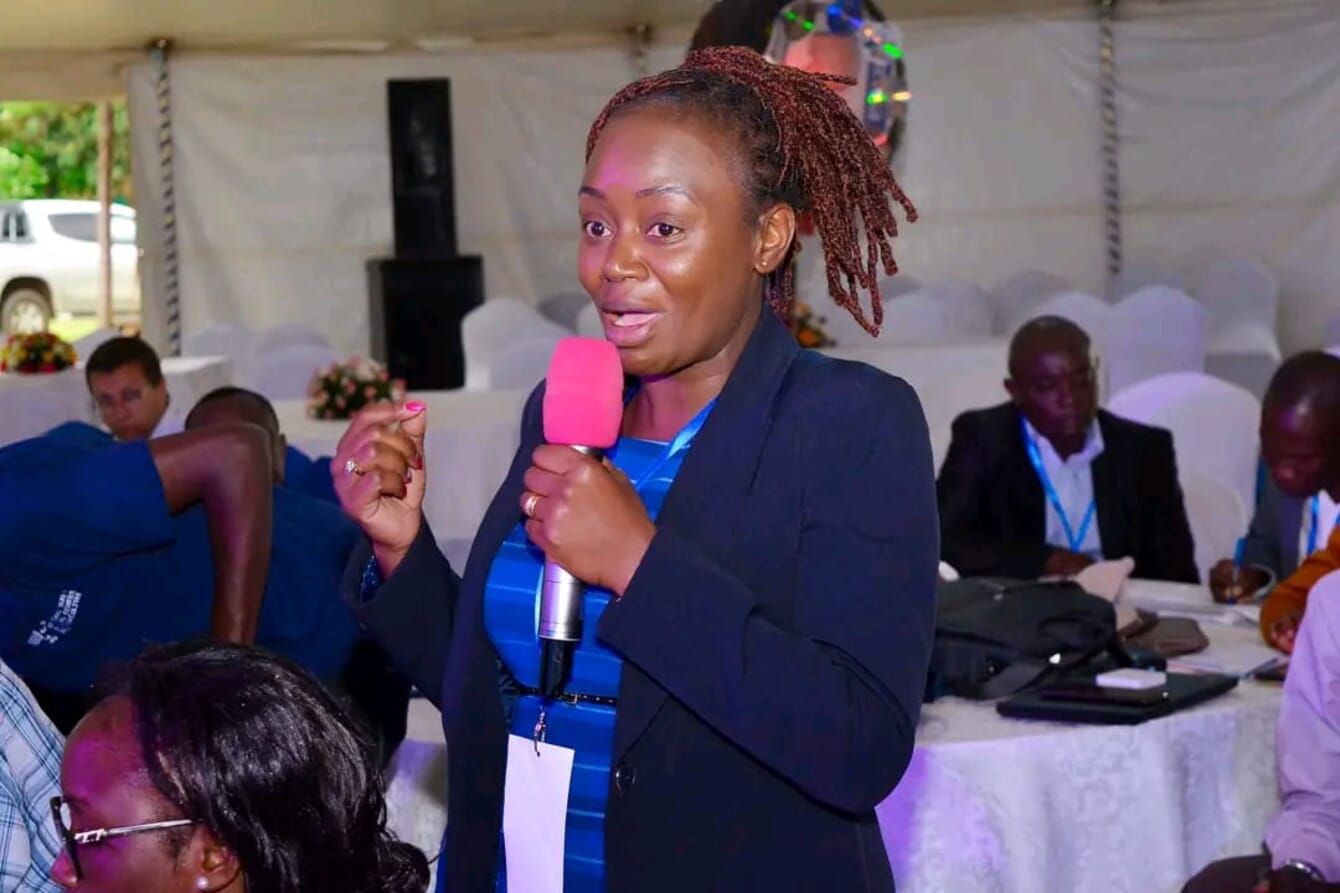 Can briefly describe your aquaculture career?
My first encounter with aquaculture was during my mum's MSc, in which she was studying the impact of sex-for-fish on the spread of HIV spread in the Lake Victoria region. I was her typist of choice. I had travelled to Uganda, where I would live for the next seven years, and be exposed to growing fish. I was taken by the idea.
My interest in aquaculture led me to my first investment in the sector in 2014, when I put together all my savings and sold the idea to my husband, who has been my greatest support system professionally and financially. He added in his savings and his expertise.
We started off with metal cages and sinking feeds. Production was slow because the quality of seed we received was not very good. The juveniles were delivered in plastic bags and had travelled overland for four hours, resulting in high mortalities by the time they arrived. The use of sinking feeds meant that the fish were not adequately fed, leading to longer than normal cycles and we also lost a lot of our fish to theft.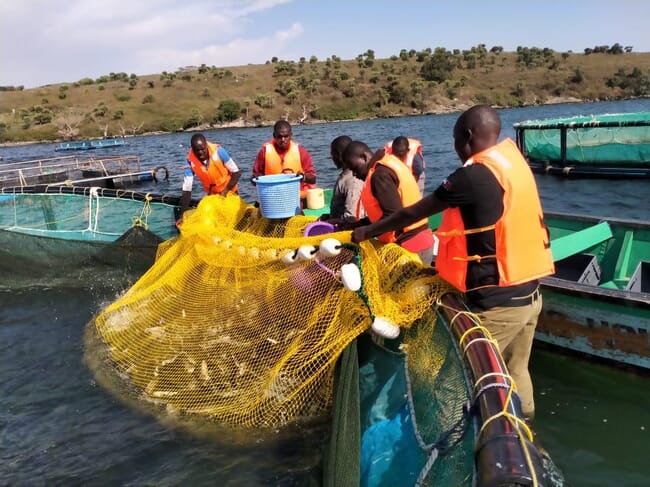 It was a very steep learning curve, but we soldiered on. After the theft, we reshuffled the staff, employed a competent farm manager and installed a CCTV surveillance system. We also stepped up our engagement with the Beach Management Units, supporting their activities and inviting members to form groups who we lent cages, gave a first batch of fingerlings and feeds (thanks to a grant donation from the Open Society Foundation) and invited them to join our site and form a part of the farm. This sense of ownership created a sense of responsibility and we could all now protect each others' cages.
We then invested more funds into the farm and bought our first HDPE cages. In 2018 we set up a spin-out company to manage our investment in aquaculture and separate the aquaculture business, which became Rio Fish, from our business consultancy services and real estate management businesses. In 2019 I had the opportunity to visit a successful cage farm in Zambia and fell in love with aquaculture all over again. I therefore resigned from full-time employment in banking dedicated it to aquaculture, which became a career, not just an investment.
Initially we were selling all our fish at the farmgate, but we quickly realised that this was not efficient, as farm gate sales were slow. Our farm is in a remote area, with no electricity and poor roads, and the consumers in the area have limited purchasing power. This resulted in the need to delay our harvests, during which time we were open to theft and also had to continue feeding fish that were already fully grown. Additionally, as we were off-grid, we did not have a cold-room or ice maker for fish preservation. This meant that daily harvest had to be sold completely. Often leftover fish went bad or had to be sold at a throw-away price.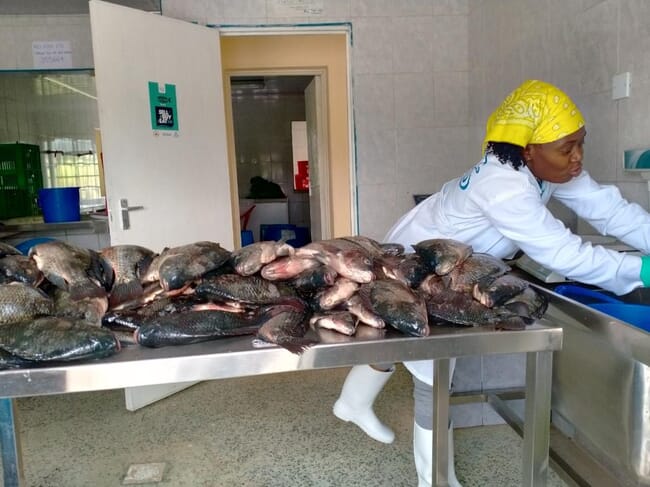 We started exploring other options and, after careful consultation, we set up an aggregation centre at the government-owned Opapo mini processing plant. Our farm output was not sufficient to meet the demand and we started aggregating fish from other farmers. Smallholder farmers benefit from our cold-chain and have ready access to market, thereby reducing post-harvest losses. We have since opened outlets in various towns along the Lake Victoria belt and recently signed a lease agreement with Kisii County for their cold room, where we buy fish from the farmers in Kisii and also sell to the women traders in Kisii and its neighbouring counties. We are looking to complete and operate a mini processing plant in Kisumu too.
What inspired you to pursue a career in aquaculture?
The fish supply in my village was dwindling, due to overfishing and climate change and this also led to the sex-for-fish trade, whereby women traders are sexually exploited by predatory fishermen. I saw an opportunity to make a difference and definitely needed to change this narrative. How could I make a sustainable change?
It needed to be self-funding; why not build a business around a common problem that is affecting almost every family in my community? A lot of chats, brainstorming, research, visits to farms, markets and the villages went into this project. I had learnt more about fish farming in Uganda and Mozambique, where we lived for a few years and decided to give it a try, make a change; empower women and youth and bring an end to this terrible exploitation of women.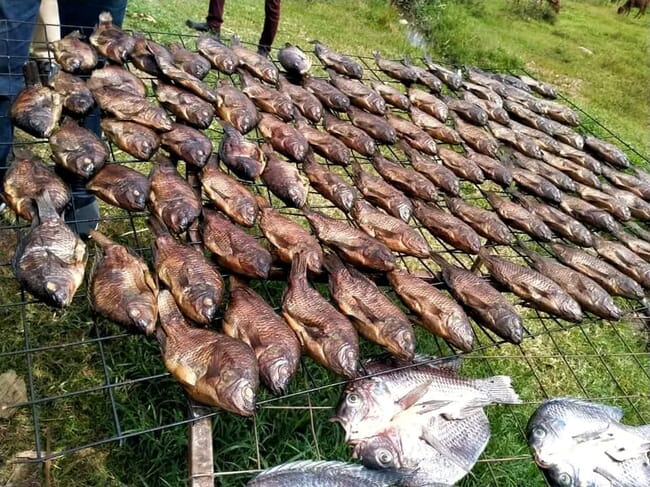 What's the role of Rio Fish and what were the biggest challenges of setting up your own aquaculture business?
Rio Fish seeks to promote an organised and adequate fish supply system in Kenya. The ultimate goal is a system where all Kenyan women are able to access fish without sexual exploitation - by linking the fish value chain stakeholders and organising the value chain to enable farmers to access inputs and markets for their fish, so women traders can access an adequate, convenient and affordable fish supply.
We promote smallholder farming through capacity building to ensure that they produce fish that are of market quality and at the lowest possible cost. We also aggregate fish from the farmers, therefore creating markets for their fish. We then distribute the fish to outlets near the women traders, ensuring that they can access quality affordable fish. We also have our farm, which can supplement the supply at the aggregation hub. We promote the use of IT for smart farming as well as e-commerce.
The greatest challenge has been accessing capital, as financial institutions were not willing to give us loans due to the fact that this industry is viewed as risky. For the last seven years, we have had to finance the business using personal savings and personal loans as well as our revenues.

Can you summarise the solution you developed with the Rio Fish App?
Our App has three platforms. The procurement platform allows the farmers to access quality, affordable inputs. The smart farming platform has a tool where data can be added and reports produced for data-led smart farming. The procurement platform allows the women traders to access more consumers online, rather than solely relying on conventional roadside selling.
How will this solution help the aquaculture sector?
We will revolutionise the sector by linking the stakeholders in the fish value chain, creating an organised market like that of the coffee, tea and dairy sectors in Kenya. Data-led smart farming, coupled with access to quality feeds and fingerlings, will lower production costs. Access to the market for the smallholder farmers will be greatly improved, thus reducing post-harvest losses and increasing profitability.
How have you found the experience of starting and running your own company?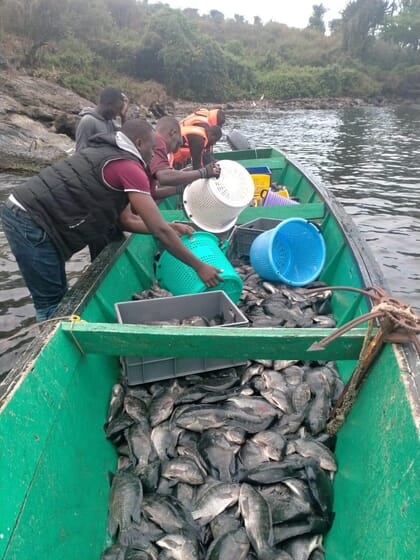 Entrepreneurship has been a very interesting journey. Securing finance has been a continuous challenge that has led me to learn patience, resilience and diplomacy. I previously saw myself as a farmer and finance manager but never saw myself as a motivator; a title I have been given over and over again. I enjoy working with women the most. The majority of the women I work with are vulnerable and have been exploited for so long that they did not see their own self- worth. I am happy that I am serving my community.
Employment offered a guaranteed monthly salary, while entrepreneurship does not. Working for my community brings me joy. Being a startup, I am involved in almost everything, which can be very tiring, but I get to have a personal touch to the business as well as understand all aspects of it and have learnt a great deal in the process and become a better person through continuous daily improvement.

How have you funded the business to date and are you looking for further funding or partnerships?
Personal savings got us started and we have been able to get the odd grant here and there, as well as a loan from a local commercial bank. We are actively fundraising at the moment and are open to partnerships that align with our mission and vision.
You mentioned that by 2030, Rio Fish aims to aggregate 15,000 tonnes of fish from 10,000 smallholder fish farmers, while in 2021, the company aggregated 300 tonnes of fish from 250 farmers. This is quite an ambitious increase – do you believe it is realistic to achieve?
2021 was the beginning of our second year of operations at the aggregation hub. We only had one truck for collecting and distributing fish and farmers still produced poor quality fish. We have now embarked on an aggressive capacity building and advertising campaign and have had significant traction this year. We currently have more framers bringing in fish that meets our quality standard compared to the same time last year, we have opened more outlets and our sales have grown. We have also secured funding to purchase more cold chain trucks.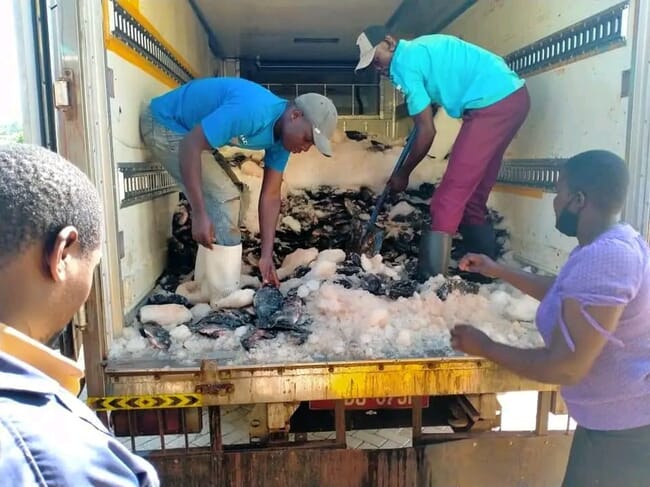 With growing fish consumption and new markets opening up, there is a huge demand with an unmatched supply, creating an annual deficit of over 300,000 tonnes annually. The market opportunity is huge, and largely unexploited.
Are there any individuals or organisations in aquaculture who you've found particularly inspirational?
I have been greatly inspired by my colleague and mentor, Enos Were of Jewlet Enterprises, who has been my long-term supplier and sounding board on aquaculture-related issues. Gatsby Africa have been working with the industry stakeholders to tackle the major barriers – (technical and business skills, dialogue and technology) to aquaculture development in Kenya.
Victory Farms, Kenya's market leader, deserves a mention for their leadership. The Commercial Aquaculture Association of Kenya for the networking opportunities that have seen improved interaction and sharing experience within the commercial producers, lobbying the government on regulation and levies that touch on aquaculture and promoting environmental conservation and biosecurity.
I have also be inspired by IFAD, which is creating endless opportunities for small-scale farmers.

Have you encountered any gender-related challenges as a woman in aquaculture?
Being a male-dominated field, we have to work twice as hard to get half the recognition and acceptance that men get in aquaculture and even harder to get financing.
What work-related achievement are you most proud of?
That we are able to provide a market for smallholder farmers, women traders with fish supply options that are affordable and do not involve the loss of dignity.
What are the key hurdles that aquaculture in Kenya need to overcome before it can realise its true potential?
Kenya needs to create an enabling environment for aquaculture to thrive, with regulations that promote sustainable aquaculture and environmental conservation.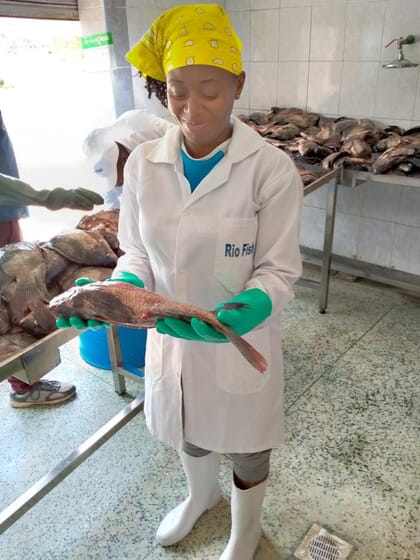 There should be a close collaboration with neighbouring Uganda to learn from their aquaculture industry, which is much more advanced than ours.

We need colleges that produce aquaculture graduates with hands-on experience.

As farmers, we need to allow interns to learn at our farms so that the industry has graduates who have hands-on experience.

There is an inadequate supply of affordable quality fish feed and fingerlings in the Kenyan market. The hatcheries need to be regulated.

County extension officers need to be equipped with the right skills.

Development partners need to come to the ground and understand stakeholder wins and challenges, and engage them as they come up with development strategies.
The aquaculture industry in Kenya is young and needs to be nurtured for efficient production and sustainability. Women and youths are the most significant players in this industry and their needs must be met for the success of the industry. As fish value chain stakeholders, we need to work together to build a resilient, robust and sustainable aquaculture system. There is no silver bullet.