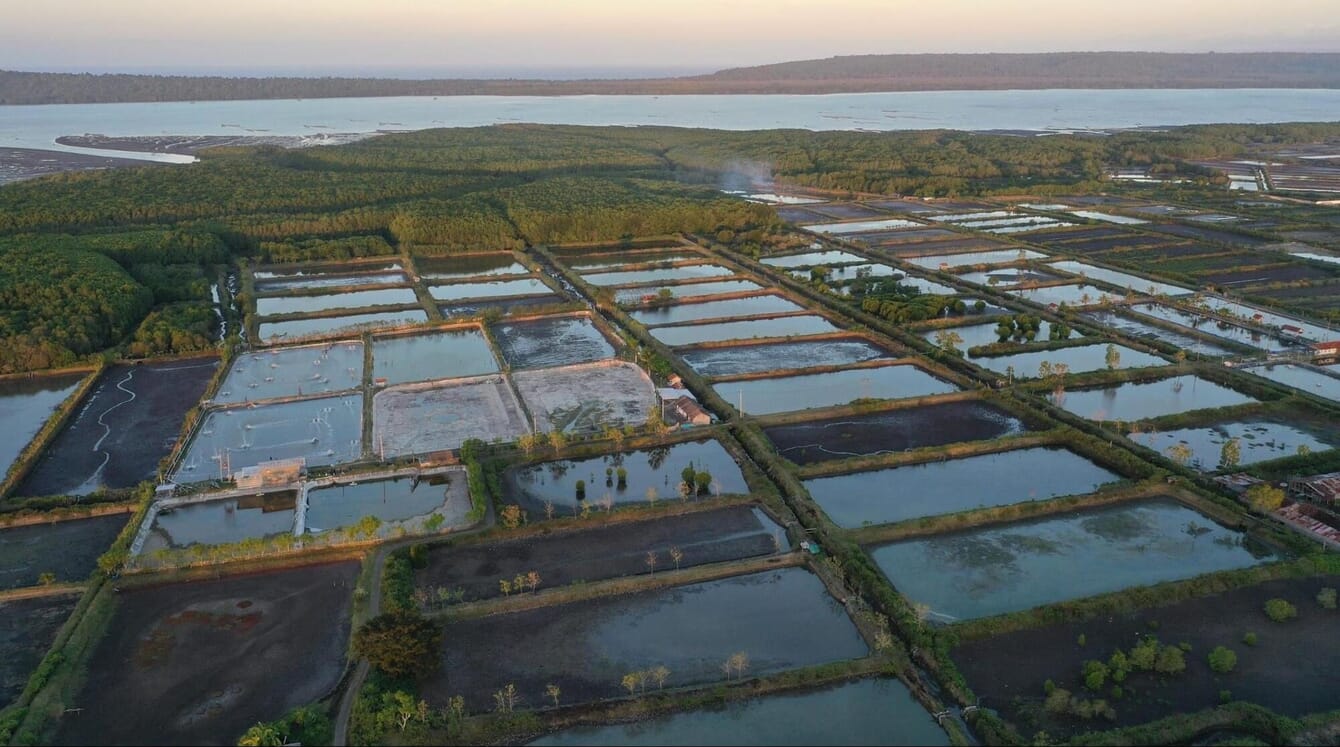 This project was funded by the 2022 Climate Change AI Innovation Grants program, hosted by Climate Change AI with the support of the Quadrature Climate Foundation, Schmidt Futures, and the Canada Hub of Future Earth.

Shrimp aquaculture has grown 100-fold over the last 40 years, from an estimated 74,000 metric tons in 1980 to 7.4 million metric tons in 2020. This rapid growth has come at the cost of critical coastal ecosystems, especially mangroves. While deforestation rates have decreased from 0.21 percent (1996-2010) to 0.04 percent (2010 to 2020), at least 35 percent of global mangroves were deforested in the late twentieth century, and the ecosystem services they provided remain lost.
Developed by Conservation International (CI), the Climate Smart Shrimp (CSS) program supports communities' livelihoods and food security while also improving coastal resilience and adaptation to climate change. The initiative provides the resources for small- and medium-sized farmers to sustainably intensify production on a portion of their farm in exchange for mangrove restoration on the remainder of the farm. This enables smaller farms to be more competitive with the global commodity market while providing sustained funding and opening available parcels for coastal mangrove restoration. But not all aquaculture farms are suitable for CSS as an approach.
In partnership with Thinking Machines, Arizona State University, and Konservasi Indonesia, this project used machine learning and earth observation data, such as openly available Planet NICFI satellite imagery and Clark Labs aquaculture pond data, to identify and classify aquaculture farms in Indonesia and the Philippines that use extensive – as opposed to high-productivity or intensive – production methods. The team then combined this information with open data on sea level rise, flood risk, infrastructure access, historical mangrove cover, and other attributes to identify viable sites for CSS. Identifying a pipeline of these optimal sites accelerates CI's ability to engage farmers, industry, and communities, and attract investment to scale CSS.
The project's main output is a web-map tool that analyses the potential suitability of aquaculture sites according to preferred site characteristics. These site characteristics are separated into filtering and scoring criteria based on defined attributes and applied to tiles identified as aquaculture areas. Each tile or tile cluster on the map must pass all the filtering criteria to be considered 'suitable' or is automatically considered 'unsuitable' if a tile or cluster fails any criterion.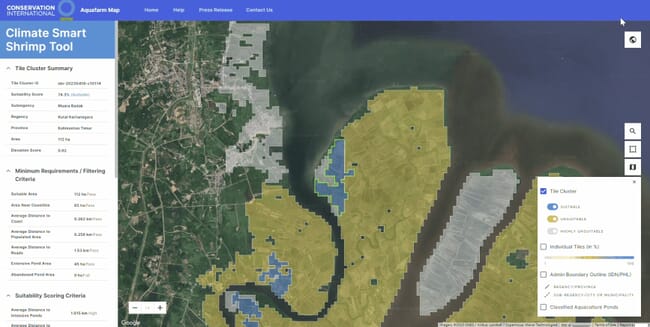 The interactive web-map tool was designed to streamline the implementation of CSS but has the benefit of helping inform and guide conservation practitioners in making decisions on where to focus other nature-based solution approaches. This tool makes it easier to identify areas that are both suitable candidates for restoring mangroves to increase forest cover and also viable for intensifying shrimp aquaculture to contribute towards food security and support local livelihoods. While the tool in its current form helps CI to rapidly evaluate the hundreds of thousands of potential hectares where CSS might be implemented and evaluate optimal locations, only slight updates or changes to the scoring criteria could make this tool applicable in a wide range of coastal and terrestrial restoration applications.
Developing this site assessment tool has rapidly accelerated the ability to identify and evaluate potential CSS sites across Indonesia and the Philippines and builds upon a larger portfolio of CSS projects. In addition to pilot projects on the ground to validate environmental, social, and economic indicators at the farm level, CI has been designing a dedicated Climate Smart Shrimp Fund as a revolving loan facility to pioneer ways of financially supporting the widespread implementation of CSS across geographies. In addition to priority sites in southeast Asia, CSS is being piloted in Ecuador, one of the top five global shrimp producers, further demonstrating its application under various production systems, management, and geographies.
The site assessment tool – developed with support from the Innovation Grants Program – enables CI and its project partners to more efficiently and effectively apply CSS in shrimp aquaculture geographies to support livelihoods and food security while providing climate adaptation and resilience benefits for coastal communities.

Last year, the CSS team wrote a blog post on their expected outcomes for this project.

Contributors: Garrett Goto, Joshua Cortez, JC Nacpil, JT Miclat, Oshean Garonita, Anica Araneta, Joseph Schmidt, Rod Braun, Jack Kittinger, Pia Faustino, and Dane Klinger.

This article was first published as a blog post on the Climate Change AI website.