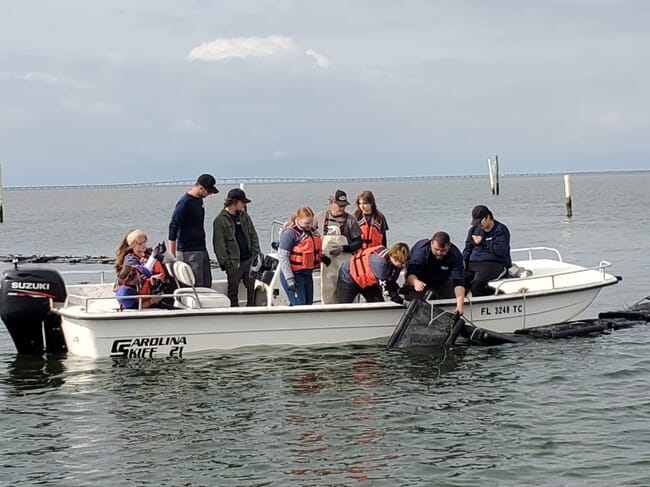 The demonstration is part of a collaboration between the Florida Reserve, OysterCorps, Rattlesnake Cove Oyster Company, the Florida Department of Agriculture and the FSU Coastal and Marine laboratory. Students have an aquaculture lease in Apalachicola Bay where they will plant, tend and harvest oysters while documenting the project and sharing their experiences with the community over the past year.
OysterCorps is a training academy based within Conservation Corps of the Forgotten and Emerald Coasts (CCFEC). The programme seeks to restore oyster habitats, strengthen coastal resilience in the face of climate change and drive economic diversification through aquaculture. OysterCorps participants are opportunity youth ages 17 through 25 (and veterans up to age 29) who reside in the Florida Panhandle. Participants who complete the programme earn a series of certifications, over 700 hours of hands-on field experience and an AmeriCorps education award.
The programme is made possible by a grant from the NOAA and the North American Association for Environmental Education (NAAEE). The eeBLUE Aquaculture Literacy grant will enable students in the OysterCorps to experience the opportunities, challenges and benefits of oyster aquaculture through direct engagement with local experts.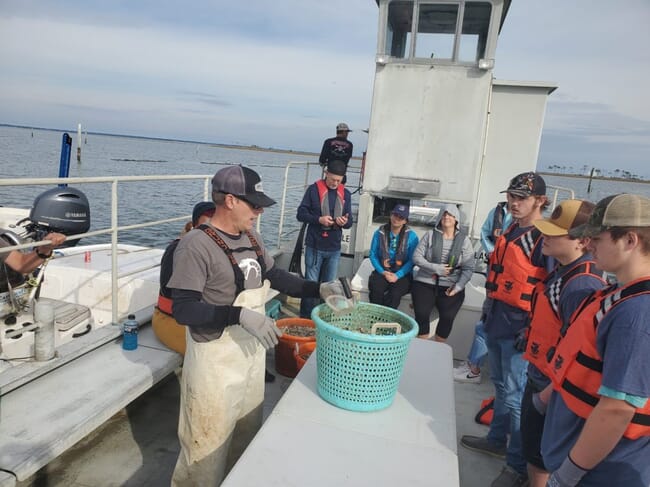 In late October Todd Bracken and Jeff Wren, owners of Rattlesnake Cove Oyster Company, showed the students how to build aquaculture cages and over the course of a few sessions, they built 60 cages (25 14 mm cages and 35 18 mm cages). The cages are constructed out off a strong plastic mesh folded into a rectangle and outfitted with floats.
In December 2021, 17 students visited their lease for the first time aboard the Reserve's research vessel the Tideline. Led by Bracken and Wren, the students divided up 21,000 juvenile oysters into the ten of the cages. These cages were secured and then deployed by the students on their lease as staff from FDACS and Reserve staff looked on. Average size of the juvenile oysters was 6-8 mm.
In late January 2022, students travelled out to the lease to tend the oysters and split them into new cages to reduce density so the oysters can grow. They transferred the oysters from 9 mm bags to 14 mm square mesh bags. The average size of the oysters had increased to 1.5 inches, with several observed at 2 inches. While tending the lease students observed a diversity of other marine organisms present on the lease – stone crabs, blue crabs, mud crabs, blennies and grass shrimp were living in or around the of the cages.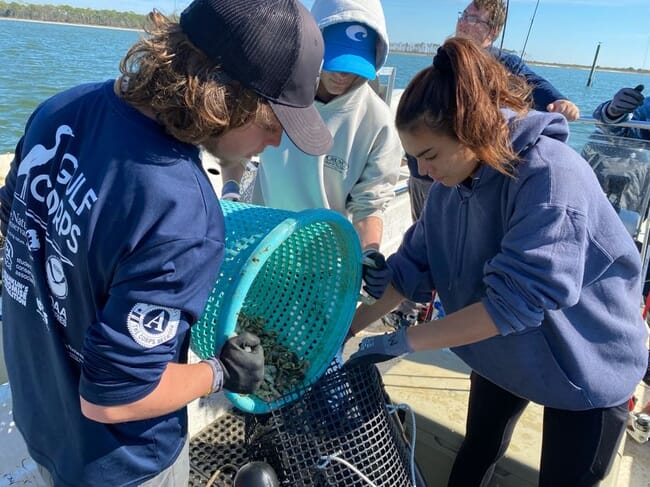 Students have been tending the lease for over the last year. They have been documenting their progress and will share what they learn with the community through presentations at community events and via social media. Franklin County High School students are planning a visit to the lease where OysterCorps students will share lessons learned with their peers.