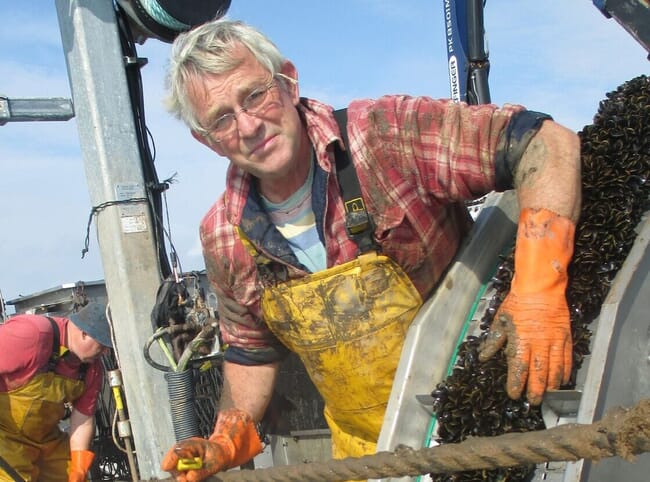 The terms of Brexit meant that UK shellfish farmers were no longer permitted to export live bivalve molluscs, such as oysters and mussels, to Europe unless they had either been grown in class-A waters or depurated in tanks between harvest and export.

While domestic depuration is comparatively easy for oyster growers, due to the biology of oysters and the comparatively low volumes of oysters that they harvest, mussel producers outwith class A waters have been hit hard by the ban.
Speaking yesterday to MPs on the DEFRA committee, Eustice said UK exporters of mussels should consider processing their mussels within the UK, rather than exporting them live because of EU restrictions imposed after Brexit. The comments have made mussel farmers question the quality of advice from Defra and the future of the mussel farming sector.
"Yesterday's statement by Eustice demonstrates the simple fact that we are too small an industry for him to care about," says John Holmyard, founder and owner of Offshore Shellfish.
The comments in question made by Eustice yesterday relate to his admission that mussel farmers should look into alternatives to depurating in the UK.

"It's important to note that depuration of mussels here in the UK is more difficult because it affects the freshness of the products, and they tended, therefore, to be depurated in the Netherlands. So, it's more of a challenge. It's possible that on mussels that what we will potentially see is a greater focus on processed mussels rather than live bivalve molluscs. That may simply be the way that particular sector needs to go," Eustice said.
The comment has been greeted with grave concern by Holmyard, whose company has ambitions to grow up to 10,000 tonnes of the bivalves a year at three sites up to 15 miles off the south coast of Devon.
As Holmyard explains, depuration prior to export is extremely problematic, increasing stress levels of the shellfish and thereby reducing both product quality and shelf life.
"If we were to put them through an additional depuration stage over here they would have to be taken off the boat in the big bags, taken out of the bags and transferred to tanks for depuration and then taken out of the tanks again, de-clumped and put back into bags before transport but they would not have the chance to be re-watered until they reached Holland, where the whole process has to be repeated. The additional stress reduces the shelf-life below an acceptable level and the consumer does not get a good product," he observes.
Holmyard also points to the economic challenges of depurating within the UK.
"There is no capacity to do it in this country. The scale of the plant needed is way beyond the level of grant aid being offered and even if we could afford to find match funding and build one, we do not have a place to do it. Even if we had a place we would then be competing with much, much bigger and better situated Dutch companies," he notes.

While most of its mussels are sold live, Offshore Shellfish currently processes a proportion of its mussels into value-added products in the Dutch town of Yerseke and notes that processing the mussels close to market makes much more sense – both logistically and financially – thereby rubbishing Eustice's calls to switch to processing them in the UK.
"Each of the five main mussel processors in Yerseke [see image] has the capacity to process up to 20,000 tonnes of mussels per year. They are all conveniently located directly on the waterside of the main mussel farming area and they are just an hour or so away from the main markets in Belgium and France, who they have been trading with for more than 100 years. I am not afraid of competition, but it makes more sense to get integrated with these big players rather than try and compete when we have such a weak position. This is why our business and the other large players in the UK have designed their businesses around supplying the Dutch processors. It is also where the demand lies, where quality is recognised and where the price is best," explains Holmyard.
"Building a similar plant in the UK would require us firstly to duplicate the front end process, which requires a large scale seafront location and endless supplies of clean high quality seawater. Neither of which you can find very readily in England or Wales. A rough build estimate over here plus cost of a seawater pipeline would probably be an eight-figure sum," he adds.
Holmyard is all the more incensed by Eustice's latest comments, given that they fly in the face of the very assurances that convinced Offshore Shellfish that processing their mussels in Europe was the best option.
"Our decision to go ahead with the processing factory in Holland was partly informed by the statement sent to us repeatedly by Defra and Eustice during 2019 and 2020 that 'If the UK leaves the EU without a [Brexit] deal, UK mussel producers will still be able to export category B mussels to the EU for depuration'," he observes.