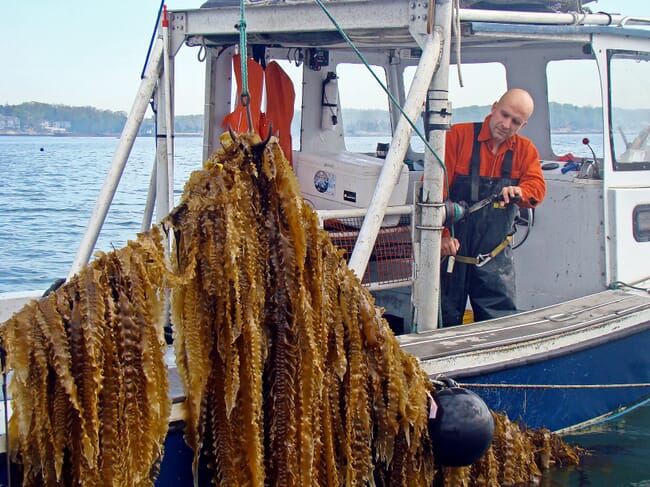 Bren Smith is undoubtedly one of North America's most tireless champions of low trophic mariculture. And, unlike many of his fellow advocates, he has always practiced what he's preached.
While increasing numbers of people – both in academia and the seafood industry – have leant their weight to the benefits of farming bivalves and seaweeds, Smith has been putting in the hard yards on the water, as well as online and in person. The man behind GreenWave – which he started to show fellow ex-fishermen that they could still make a living from the ocean – has spent two decades juggling farming with a mission to convince others to produce seafood more sustainably.
The latest fruit to be born of his advocacy is the Kelp Climate Fund. Currently in its pilot phase, the fund is offering five farmers 10 cents for every pound of projected yield, helping to de-risk production and cover some of their overheads.

"We spoke to many farmers and came up with a figure that could make their operations worthwhile – providing enough to pay for their seed supply or their labour costs for example for the season," explains Smith.
While the benefits to the farmers are obvious, the benefits to the wider seaweed sector are also significant.
"We aim to inspire and create a culture of data collection among seaweed farmers in order to help quantify the ecosystem services produced by the industry," Smith explains.
Thankfully for the farmers, data collection has been made relatively straightforward and can be done visually, through taking images of sample sections.
"There's nothing worse than trying to collect data while out on the water when you're trying to farm," reflects Smith. "But you can now learn a lot from an image when combined with image recognition software."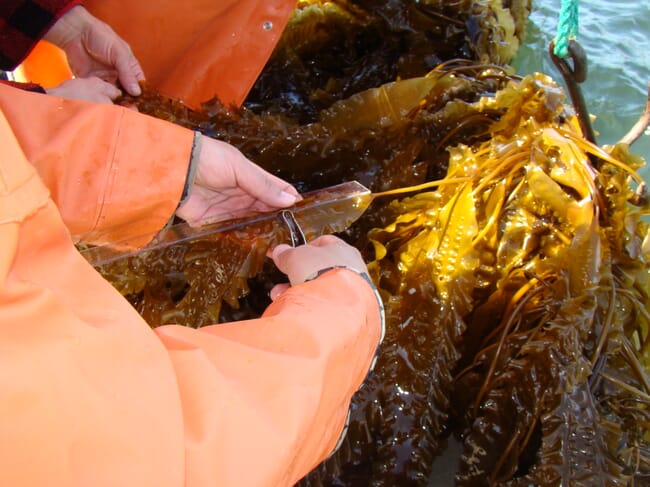 More than just carbon
While Smith is convinced that seaweed farming provides multiple benefits, he concedes that there are still plenty of information gaps to be plugged, which is why the data collection element of the Kelp Climate Fund is so important.
"Benefits of seaweed include the carbon avoided by growing it, eating it, or putting it in the soil as opposed to using more carbon intensive products. This is comparatively easy to quantify, but how much carbon is actually sequestered by farmed seaweed – for example, how stable it is when it's used as a fertiliser – is still a big question," he notes.
He also points out that, while much of the focus is on blue carbon, kelp's benefits are much more widespread, as it also absorbs significant quantities of dissolved nitrogen and phosphorous from the water.
National roll-out
With $250,000 earmarked from philanthropic sources – it means that next year applications are open to any US-based seaweed producers. Smith expects these to be dominated by farmers from Alaska, Maine, Connecticut, New York and Rhode Island.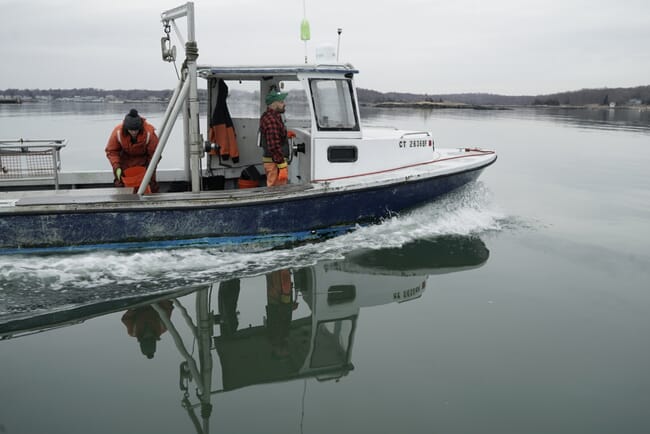 The fund would be sufficient to subsidise the production of 2.5 million pounds (1,100 tonnes) of seaweed. While Smith would love to suggest that this might be possible in 2023, he is characteristically realistic about production volumes.
"The possibility of the fund being oversubscribed next year is a problem we'd love to have, but I don't think the sector will scale that quickly," he reflects.
However, as he concedes, it's hard to put a precise figure on the amount of seaweed currently being grown in the US – another reason why Smith hopes that the fund's uptake, and the data it helps to gather, is substantial. And he thinks that it should act as a sufficient incentive to get more ropes in the water.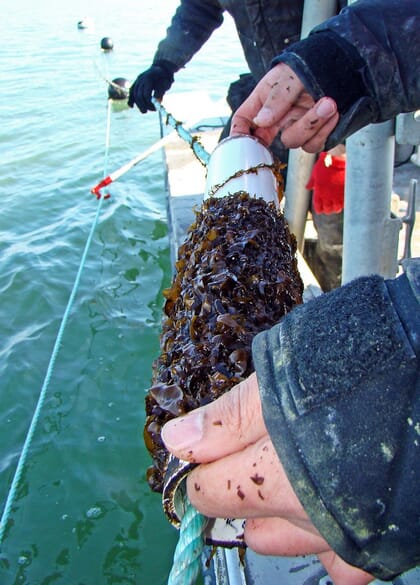 "Giving a 10-cent subsidy per pound of projected yield direct to the farmers has to help get more seaweed in the water – GreenWave aims to turn a community of passion into a community of practice, we need more farms and more hatcheries. We'd like to ensure that farmers receive at least $1-2 per pound of seaweed to make a living," Smith reflects.

Online training
In order to help Smith's goal to produce more seaweed, GreenWave is also launching its Regenerative Ocean Farming Hub – an online resource covering all aspects of seaweed farming, from seed to sale.
"We used to train five to eight farmers a year, but in the last few years there's been so much interest in the sector that there's now 8,000 people on our waiting list," notes Smith.
Given the size of the backlog there's little wonder that GreenWave is now looking into online options. While the resource is free to users, it will include input from paid farmer mentors who will help deliver advice to practicing and prospective seaweed producers.
It will also act as a marketplace for harvested seaweed and an online community where farmers and hatchery technicians can find answers to technical questions and exchange ideas.

Milestones
The Kelp Climate Fund and the Regenerative Ocean Farming Hubs are both signs of recent progress. And Smith also cites the massive increase in the number of farmers as a huge positive for the sector.
"I'm pleased to see that there are now so many farming permits – there are around 240 kelp projects operational in the US – there's also a growing number of hatcheries and an impressive number of startups," he notes.
This increased seaweed production is allowing growth along the value chain – helped also by growing demand for seaweed products.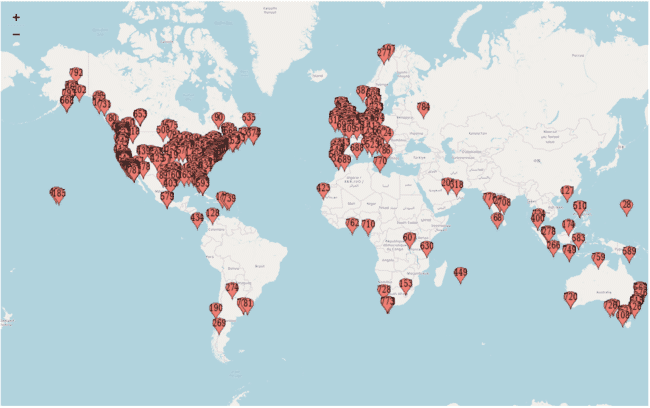 "There are enough core processors now and a growing range of markets for kelp products too. I think the plant-based food sector is a real game changer. Seaweed plastics aren't quite there yet, but also have real potential," he adds.
This is helping to attract new talent to the sector, such as Casey Emmett, whose CV includes helping to popularise chia seeds.
"Emmett's Crop Project is looking to find a market for regenerative crops, including seaweed – and can't find enough kelp. We've had to expand farmers' permits to keep up with demand," notes Smith.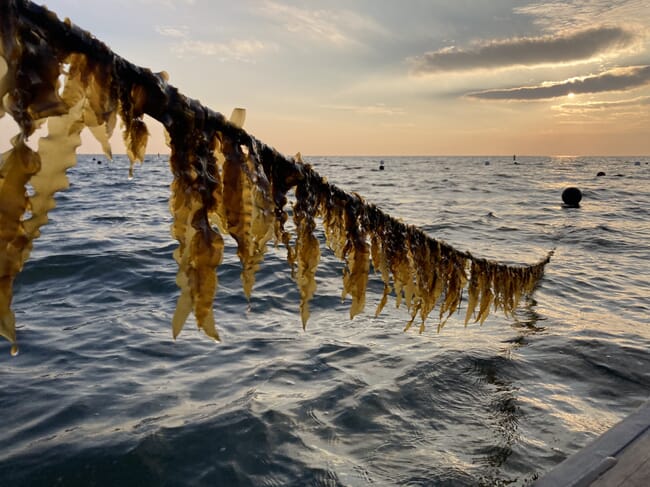 Challenges to overcome
Despite plenty of positives, Smith sees two main issues with the country's nascent seaweed sector – the first relates to the approach of many seaweed enthusiasts, many of whom he thinks need to take a more professional approach.
"There's lots of energy and excitement in the sector but we now need to get serious and granular," he reflects.
The second relates to the quality and consistency of seed supply.

"We need to stabilise hatchery production so that there's a considerable and consistent supply of good seed available. With warming water temperatures, it's becoming increasingly difficult to collect kelp sorus tissue for hatchery season. We are already working on a solution, and confident we're on the right track, but it shows the importance of the industry staying ahead of the climate curve."
Smith's own role
After two decades of promoting the production of low trophic species, Smith is increasingly keen to hand over responsibilities to this new generation of seaweed champions and feels that – subsidies or not – a corner is likely to be turned by the sector soon.
"I feel that the climate winds are at our backs; wild fisheries can't handle the increase in seafood demand; feed, fertilisers and plastics [the key ingredients for many forms of conventional agriculture and aquaculture] are becoming more expensive, while overheads for seaweed and shellfish farmers remain low," he points out.
However, he is also aware of the challenges of aquaculture.

"On the other hand, it's not like farming in soil, when you can see what you're doing, farming the ocean is likely to remain very volatile," he adds.
That's part of the reason why Smith's early focus on IMTA has shifted over time, and he now prefers to farm sequentially rather than simultaneously.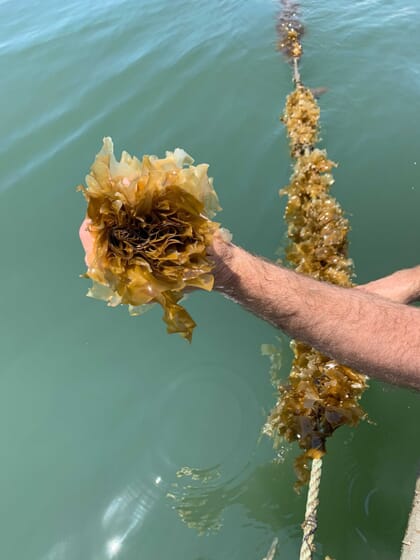 "Each species has its own business model and you need to zero in on the species that work, but at the same time have a crop for all seasons. That's why seaweed and shellfish can work well together – we grow them as a secondary crop, as they naturally aggregate on the holdfasts [the root-like structures of the kelp plants] which are left on the kelp lines after we harvest," he explains.
Despite two decades of experience of ocean farming, Smith is still making new discoveries and is still hungry for knowledge about what his fellow farmers – and researchers – are unearthing.
"I recently heard about a project that shows mussel growth increases by 20 percent if you alternate it with kelp, but I need to find out more," he exclaims.
And he argues that such discoveries are vital for the long-term success of the US shellfish and seaweed farming sectors.
"We all make the same mistakes in isolation, we now need to speed up the process – we can't solve problems individually, we need to solve them together," he concludes.
Learn more about GreenWave's regenerative ocean farming hub here.