So argued Bren Smith, co-founder of Green Wave, who spoke at this week's FAO overview of North American aquaculture. Smith told attendees that species diversification was critical in creating a durable aquaculture business model. In his experience as a shellfish and seaweed farmer, growing multiple types of seaweed and different molluscs simultaneously has allowed his farm to remain viable, despite production and economic challenges.
"If the crop fails, the farm still survives," he explained. He also told attendees that having different species to harvest means that aquaculture businesses can withstand "startle challenges" like Covid-19. If the market for shellfish evaporates, producers can fall back on other valuable commodities to make ends meet, he argued.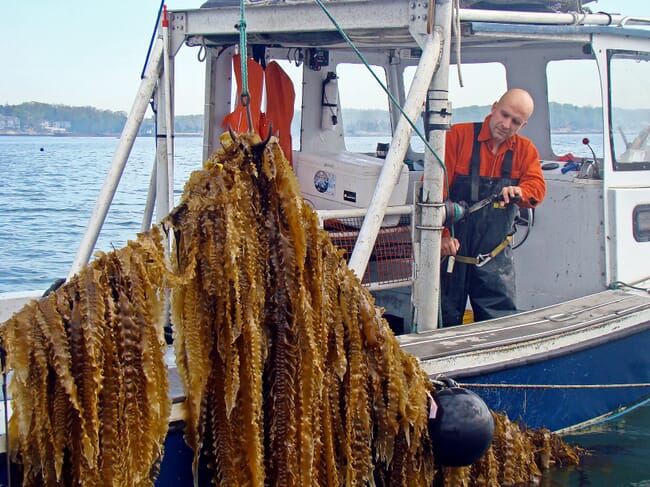 Smith went on to say that diversification is essential for building climate resiliency and reflected that introducing new species to the farm environment can enhance carbon sequestration and bioremediation. From a business perspective, producing different species of shellfish and seaweed means that output can remain steady, despite changes in ocean temperatures or shifts in water dynamics.
Creating different markets for producers
As Smith's own business transitioned from a shellfish monoculture to an integrated multi-trophic aquaculture (IMTA) system, he found that he had more opportunities to add value to what he produced. His sustainably grown kelp could be processed into flour, burger patties and bioplastics and unsold shellfish could be processed and used as fertiliser.
Shifting from sustainable to regenerative production
Though species diversification has yielded multiple benefits for Smith's IMTA operation, the central ethos of his business operation is zero-input, regenerative aquaculture – which is why he co-founded Green Wave, a non-profit organisation that trains and supports regenerative ocean farmers. The organisation's goal for the next ten years is to train 10,000 farmers in regenerative practices.
This push could change the existing narrative of "sustainable aquaculture". Instead of minimising negative outputs, ocean farmers could provide vital ecosystem services and restore the habitats they operate in.
As Smith told listeners, "[the future of North American aquaculture] should not be about achieving growth at any cost – it's about trying to make a living on a living planet."
The FAO's Regional Reviews of Aquaculture webinars are running from 26 October to 29 October. Click here for additional information.