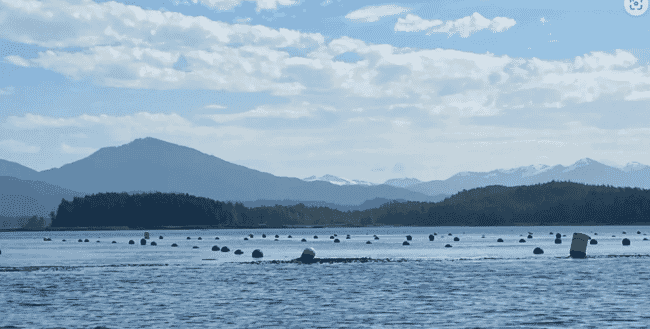 Ahead of this year's Blue Food Innovation Summit, which takes place in London on May 23-24, Gracie White, oceans investment manager at Conservation International Ventures LLC, and Mike Williamson – founding partner and CEO of Cascadia Seaweed, the largest kelp cultivator in Canada – reflect on seaweed's multitude of health and food-tech benefits, strong claims of carbon sequestration capabilities and potential to improve biodiversity.

Are restorative ventures economically viable and what is preventing their growth within existing production?
Williamson: Restorative or regenerative ventures and practices are not only economically viable, but they are essential for a robust and continuing food production system. Seaweed aquaculture, and the use of the cultivated biomass, can readily support the critical aspects of both economic viability and ecosystem and land regeneration. We cannot continue past harmful practices while meeting burgeoning food production requirements for our growing population.
Reducing the "farm to table" footprints and putting delicious and nutritious seaweed food products in the hands of the consumer is the first step to increase volume, reduce costs and ensure a sustainable industry. As well, using value-added seaweed-derived products such as soil and crop biostimulants, and bovine feed additives also contributes in a meaningful way to enhancing a regenerative agriculture sector where the best of aquaculture products contributes to the best of agriculture practices.
White: Yes – though perhaps not yet viable for the traditional venture capital financing model. Restorative ventures may require a blended capital stack, even at an early stage. I'd encourage founders to actively seek out other financing options, like revenue sharing mechanisms.
What are the challenges in the production and distribution of seaweed and what innovative solutions are addressing these key bottlenecks?
White: The vast majority of seaweed is produced by smallholder farmers in Southeast Asia. From an ease-of-technological adoption and scaling perspective, this does create numerous challenges. However, it also provides millions of sustainable livelihoods for coastal communities. For impact at scale, innovative solutions looking to improve production and distribution must be designed with smallholders in mind. Companies like Coast4C and Seadling are great examples of startups designed to work with and support small-scale farmers.
Williamson: There are some challenges to be expected in a new and growing sector. This includes insufficient processing and handling infrastructure, consumer and farmer education, and more innovation and experience to reduce unit costs and attain uniform, predictable yields. The seaweed aquaculture industry wants to ensure that it maintains a regenerative, climate-positive stance, while enjoying profitable expansion. This will most likely come through increasing scale of operations, more innovation with automation and adapting best practices of adjacent industries, and attracting greater cleantech and agtech investment.

As consumers become more aware of the nutritional and sustainability benefits of seaweed, how can we harness and accelerate demand for seaweed as a blue food?
White: In my opinion, I think we need to ease people into seaweed. The majority of the US/EU population isn't ready for seaweed to be at the centre of the plate. We can accelerate demand by including seaweed in dishes and food products as one of many ingredients – sneak it in as a superfood additive, or a replacement for an ingredient with a higher environmental footprint. Additionally, we all already consume seaweed in the form of carrageenan on a regular basis, which is often left out of the conversation. How can we harness the existing global demand for tropical seaweed to support sustainable livelihoods and coastal climate resilience?
Williamson: The seaweed sector needs to delight the consumer with taste, visual appeal, and competitive pricing. Only after those principles are addressed, will the consumer seek further information on the other benefits of nutrition and sustainable practices. The sector needs to ensure that it adopts best practices of other food categories, and that it is not so novel a food product that it fits into a niche category.
White and Williamson will join the panel "Accelerating the Seaweed Revolution: Driving Innovation to Harness Seaweed's Position as Blue Food" alongside leaders from Atlantic Sea Farms and Sea6 Energy at the Blue Food Innovation Summit on May 23-24. View the full agenda and register here.