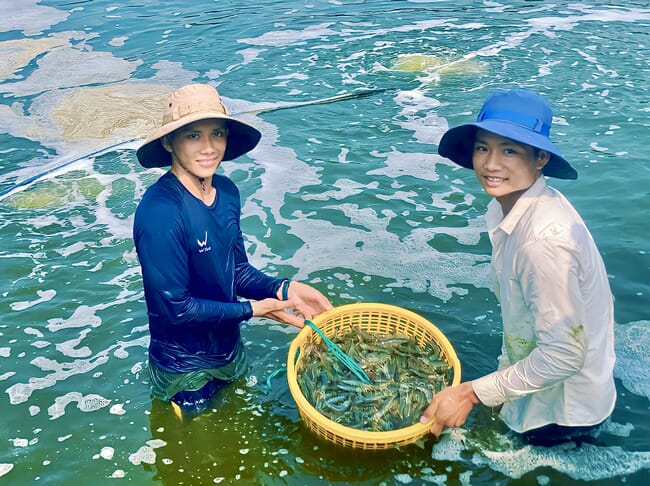 Organised by the Center for Responsible Seafood (TCRS), formerly known as the Responsible Aquaculture Foundation, the Shrimp Summit will cover pressing issues facing the shrimp sector – including production efficiency, growers' livelihoods, market demand, sustainability and climate change.

All sessions are led by expert speakers and panellists from around the globe, with the first day of sessions covering global production and markets, disease management, shrimp breeding and grow-out intensification.
Global markets
The global production and markets discussions will focus on production data from major producing countries, the forecast of expected production in 2023 and 2024, and demand from major markets, including the US, EU, China, and Japan. Issues such as unified marketing, product quality standards, and rising sustainability standards will be addressed.
Speakers will include:
Robins McIntosh, executive vice-president, Charoen Pokphand Group
Travis Larkin, president and CEO, Seafood Exchange
Sandro Coglitore, general manager, Omarsa / Panama Seafood Group
Richard Barry, director of programs, National Fisheries Institute
Sander Visch, lead analyst shrimp, Kontali
Key disease challenges
The principal and emerging shrimp diseases in Asia and the Americas will be reviewed in the disease management session. Their detection and control methods will be discussed, along with recommendations on better rationalising broodstock imports to reduce smuggling and disease transmission. The latest research on harnessing viral accommodation to confer tolerance to viral diseases will also be presented.
Speakers will include:
Loc Tran, director, Asian Pacific Aquaculture Chapter, World Aquaculture Society
Luis Fernando Aranguren, marine biologist, University of Arizona
Olivier Decamp, group technical director, Grobest
Rajeev Jha, deputy head, Central Proteina, Prima
Chengli Wang, director of sales and service, GeneReach
Eduardo Reyes, director de producción, Grupo Almar Ecuador
Breeding and genetics
One of the critical differentiators between Asian and Ecuadorian shrimp farming is breeding. Experts representing leading breeding programmes in Ecuador and Asia will discuss the advantages and disadvantages of each in the shrimp breeding session. The growing importance of genetic markers and genomic selection will be covered, and the session will also address inherent shortcomings in policies for sentinel testing and intellectual property protection. Speakers include:
Robins McIntosh
Ravi Kuman Yellanki, managing director, Vaisakhi Bio-Marine Private Limited
João Rocha, geneticist, Texcumar and AQuest
John Buchanan, CEO, Center for Aquaculture Technologies
Intensification
The first day of summit sessions finishes with a discussion on grow-out intensification, which is progressing in Asia and the Americas. Intensification generally increases the efficiency of land, water, and energy use. However, each production system has inherent carrying capacity limits due to such factors as inadequate predator control, insufficient feed in extensive systems, limited dissolved oxygen in semi-intensive systems, and sediment and water quality deterioration in intensive systems. Exceeding carrying capacity leads to shrimp stress, disease, and mortality. Thus, the challenge is how to intensify without exceeding carrying capacity.
Speakers will include:
Robert Jones, global lead, The Nature Conservancy's Aquaculture Program
Lisa van Wageningen, program manager aquaculture, IDH - The Sustainable Trade Initiative
Brian Vinci, director, Freshwater Institute
Eduardo Reyes
Nguyễn Hoàng Liêm, executive assistant to CEO, chairman of OTANICS Technology Company, Minh Phu Seafood Corporation
Sarabpeet Singh, general manager, Devi Seafoods
Pre- and post-summit events
Before and after the Summit, attendees are offered glimpses of various fascinating operations on two tours. From a high-tech super-intensive farm to extensive culture methods in mangroves and rice paddies, shrimp culture diversity will generate essential discussions. Video previews of these two experiences are available, and attendees should register early, as space on the tours is limited.
Minh Phu's super-intensive vannamei tank farm cultures shrimp year-round using a research-based model. After the EMS epidemic in 2013-14, Minh Phu redesigned their shrimp farming model, resulting in survival rates of over 90 percent, fast growth and no antibiotic use. Attendees will get an inside look at the highly efficient operations of the largest shrimp producer in Vietnam. Minh Phu's global certifications include BAP, ASC, Global Gap, ISO certifications, BSCI, WCA, EU Organic, and Canada Organic. This pre-summit tour is complimentary with registration, courtesy of Grobest Vietnam.
Following the summit, a tour of the Ca Mau region highlights organic black tiger shrimp being raised at low densities in harmony with mangroves and rice paddies. In these unfed systems, farmers stock post-larvae and wait for large harvest sizes while Mother Nature nurtures the shrimp. In-water nets are then raised for harvest, and a unique product with high demand in international markets is delivered. Attendees on this tour will also visit the Viet Uc hatchery, a processing plant, and a Vietnam Foods plant that repurposes shrimp processing byproducts into other marketable products. The shrimp-focused tour to Ca Mau is an overnight excursion that includes all transportation (charter flight, modern speedboat, and bus), hotel, meals, and entertainment, with space for 70 participants.