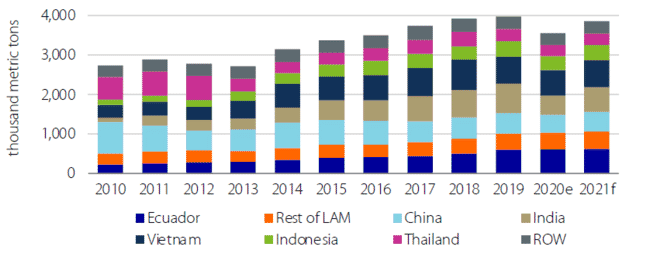 Shrimp farm prospects
"With only a 120-day production cycle, shrimp supply can change very quickly, which means it's best to start by looking at demand," Nikolik reflects.
"The two main issues for shrimp demand have been the global food service slump and the huge reduction in shrimp demand in China, where imported shrimp are still associated with outbreaks of Covid. As a result, the shrimp sector needs to see an improvement in food service sales as well as see a decline in the fear factor associated with the product," he says.
As far as the latter is concerned Nikolik has some positive news. "I've heard that it's already declining, and China should be a demand driver in 2021. This is very good news, particularly for Ecuador, which suffered the most from the decline in the Chinese market in 2020 and should now bounce back the most," he predicts.
Meanwhile he hopes that India can recover from a significant slump.
"The biggest problem the Indian shrimp sector experienced due to Covid was in processing, and this led to the most significant decline in shrimp exports globally. The survey we did with GAA [published in October] suggested that India's shrimp production could fall by as much as 27 percent in 2020. It now looks more like a 10-15 percent reduction, but that's still a pretty big drop," Nikolik notes.
However, looking ahead, he sees promise for 2021, due to the return of the food service sector in the US, which is India's largest export market, and its improved ability to limit the impact of Covid on its own processing sector.
"If this is the case then I see it recapturing the share of the US market that it lost to Ecuador and Indonesia in 2020," he says.
While India's fortunes are likely to be on the up, Nikolik is less sure about the prospects of Indonesia, whose success was something of an anomaly this year.
"Indonesia was the big success story of 2020, due to its processing capabilities and the reduction of competition from India, which combined to produce better prices than in 2019," he says.
"It's always hard to predict shrimp prices, but Indonesia will find 2021 more challenging and it's hard to see big price improvements taking place in countries other than in Ecuador," he says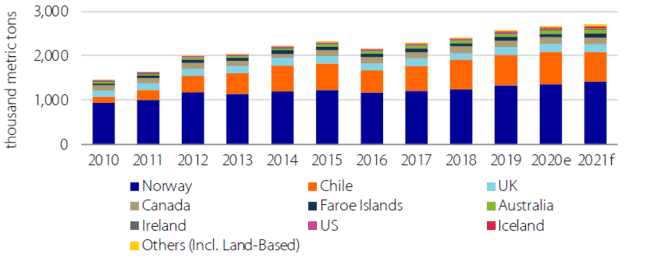 The shape of salmon aquaculture
Chile, the world's second largest salmon producer, was the country most adversely affected by the pandemic in 2020.
"One of the key issues in 2020 was the low prices being achieved by the Chilean salmon sector, which led to a reduction in the number of smolts being stocked. There's been speculation that there's been an 11-24 percent reduction in smolt stocking, but I think that it's likely to be towards the lower end of that estimate – around 13-14 percent – for Atlantic salmon," says Nikolik.
"This is going to lead to a decrease in export of around 10 percent during 2021, (factoring in stock release) leading to a tight supply, particularly in the US, which is the main market for Chilean salmon," he adds.
"In Norway production is forecast to increase by about 4 percent, but the decrease in Chilean production is likely to almost cancel this out in terms of the global production figures, meaning that global growth will be as little a 0-2 percent," he continues.
In terms of demand, Chilean salmon producers can, according to Nikolik, look forward to an improvement in prices, after a year in which they were unable to diversify their distribution to the EU
"Chile wasn't able to sell much salmon to Europe for a number of reasons. Poor contacts; the long distance; the fact that the EU doesn't favour frozen salmon; the use of ingredients such as avian protein meals in Chilean salmon feeds; and Chile's tendency to attain BAP rather than ASC certification, all make it problematic," he reflects.
"But while Chile doesn't have much market access in the EU, Norway, the Faroes and Scotland are all able to export to the US. And I think that 2021 will see European producers focus more on the North American market, because that's where the tightness [shortfall of supply] will be," he adds.
It's not just the reduction in supply that's likely to have a positive impact on prices, however.
"The arrival of the Covid-19 vaccine is likely to help ease restrictions on restaurants, which will also help to improve prices, especially in Chile where the biggest supply contraction is. Our prediction is that Chilean salmon fillets will fetch $5-6 per pound in Miami in 2021, i.e. a normalized price level. While in Norway an average of around NOK 60 per kilo will make it a good year," says Nikolik.
The improvement in prices is, he adds, very fortunate for the emerging land-based salmon farming sector – not least Atlantic Sapphire, which is due to harvest 9,000 tonnes from its Florida facility during 2021. The first really meaningful volume of land-based salmon to be harvested in history.
"Having a tight market in North America is well timed, both for Atlantic Sapphire and for other land-based salmon producers who are trying to raise funds and construct their farms as everyone is watching to see how it will perform and the prices it achieves. Another year of low salmon prices would have made it tough," Nikolik reflects.
Fishmeal and fish oil forecast
Nikolik notes the difficulty of predicting what quotas are set for the Peruvian anchovy fishery, given that they are so dependent on the climate, but suggests that they're unlikely to be higher than during 2020 and could well be lower, in particular if it's a year of El Nino.
As for fishmeal demand, Nikolik believes that the rebounding food service sector will improve demand for both shrimp and marine fish driving demand for the feed ingredient, while a decline in African swine fever in China will lead to the rebuilding of its pig herd and a further increase in demand from this sector.
"It's positive news for the fishermen, with strong demand expected, and the price may be a little higher than the $1,300 to $1,450 per tonne average achieved for 64 percent [protein] Peruvian fishmeal during 2020," he concludes.