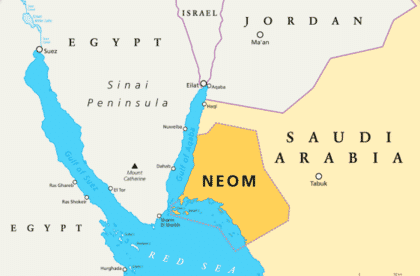 During a presentation at this week's Saudi International Marine Exhibition and Conference in Riyadh, the developers said that they aim to focus on the construction of innovative marine and land-based aquaculture production systems, reports Arab News. Species of interest include yellowtail kingfish, great amberjack, orange-spotted grouper and meagre.
The initial production is due to take place in a 22 hectare recirculating aquaculture system (RAS) facility, capable of producing 12,000 tonnes of fish. This will later be supplemented by 2,500 ha of recirculating ponds, with the capacity to produce 48,000 tonnes.
Furthermore 350 ha of the Red Sea will be set aside for farming species native to the Red Sea. According to Arab News, offshore and nearshore cages will cover 160 ha and an additional 160 ha will be used for hatcheries and nurseries, with the scope to produce 20,000 tonnes of kingfish per year. The plan also includes seaweed farms that are able to produce 17,000 tonnes (dry weight) of macroalgae per year.
The developers are also planning to implement a number of technologies to produce high-quality protein for aquafeeds. According to the presentation, this will include 7,000 tonnes of insect protein.
Both primary and secondary processing facilities are also included in the plans. Given that 71 percent of the country's seafood is currently imported, the developers see the domestic market as offering plenty of opportunities.
Neom is due to receive more than $500 billion from the Public Investment Fund of Saudi Arabia, as well as from local and international investors, in the coming years.