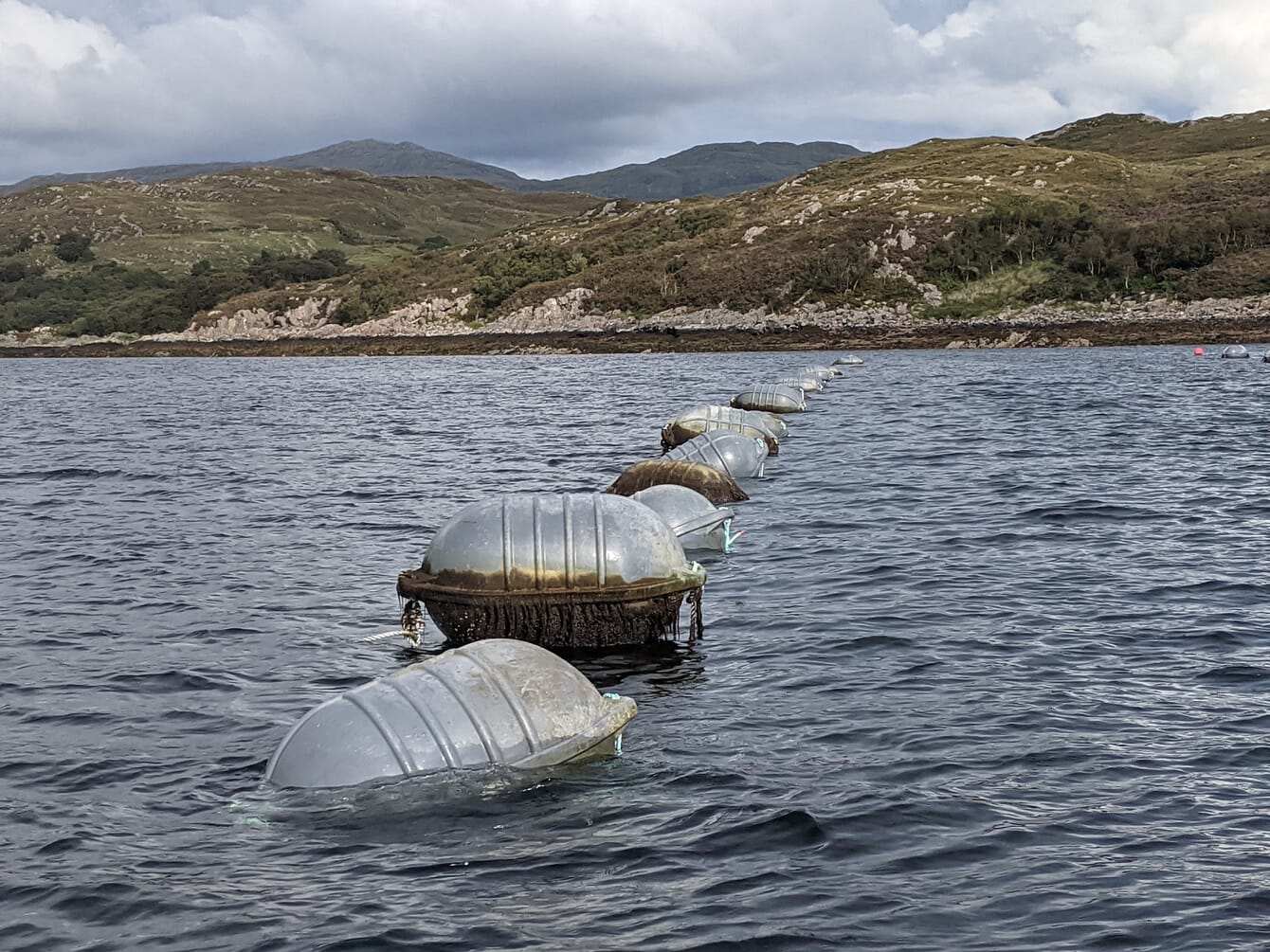 As farmers of the sea, it is well known that some of the biggest challenges that are going to be faced are natural ones. And although we are new to mussel farming, we have both worked at sea in previous roles and are used to the rough seas and cold conditions that can be regularly thrown our way.
Despite this, as spring came and the heatwave that hit the rest of the UK missed Skye, the unending rain and regular stormy days meant getting to the site was more difficult. And, unfortunately, our boat was partially sunk by the combination of a heavy June storm and a faulty bilge pump. This meant the it had to go to the local boatyard for a refit and to get its new engine fitted – part funded through a very gratefully received grant from Highlands and Islands Enterprise – which meant we were without a boat for several months.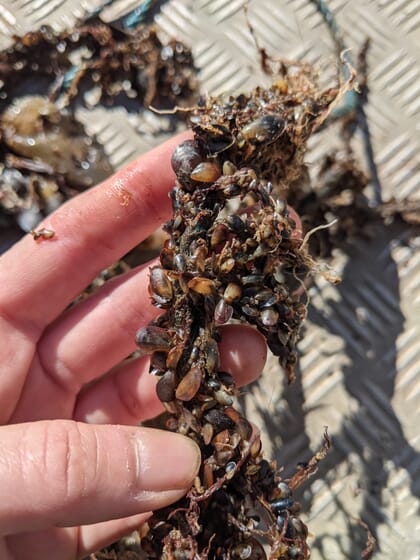 Our first lines are now over a year old and last year's heavy spatfall had settled well, though the mussels grew very little over the winter. On a stunning calm day when the boat was relaunched we took it around the Sleat peninsula to our farm, to find half the floats were well below the surface: the mussels had had plentiful feed over the summer and had suddenly grown very rapidly, weighing down the lines.
It was a good sign for the number of mussels and the rate of growth, but it also meant we needed to get the lines back to the surface quickly, so they didn't touch the bottom where large spiny starfish would eat them. A very long weekend attaching lines to the sunken header rope, then hand winching it to the surface – finances are a challenge, so a hydraulic winch will have to wait till our first harvest – and attaching more floats. It was incredibly satisfying and with big relief that we added another 20 floats to each line and saw the header rope lying back on the surface as it should be.
But the weather isn't the only natural – and changing – challenge. Juvenile starfish had been abundant in our first year, settling on the lines not long after the spat fall. It took a few months before they were large enough to easily see, but it was enjoyable to spend many hours swimming the lines and dropping the starfish onto the seabed, as it meant I could also observe the wealth of other marine life that thrives around the ropes. It was particularly exciting to see a huge red lumpfish which was so bright and large that even the surface crew on the boat could see it. This year the spatfall was a little later and not quite as thick as the first year, though still in good numbers – highlighting how every year is different. However, the later spat settlement meant sea squirts had competed for places on the ropes – we will see as the mussels grow how the battle for space works out and how good the resulting mussel crop will be.

Perhaps the greatest challenge this year though has been one we hadn't foreseen – housing in rural locations is scarce. Competition for those houses that are affordable is high, with many going as second homes or holiday lets. While we were fortunate enough to find a croft – meaning plenty of space to store our mussel equipment and hopefully one day have room for a small value-added product processing unit, it has meant caravan life while we self-build. This in itself has had no end of delays and challenges and has also meant competition for time with mussel farming. The race is now on to complete the house before our first mussel harvest is ready next year. The bootroom is specifically designed for when we come home after a hard, wet day on the boat.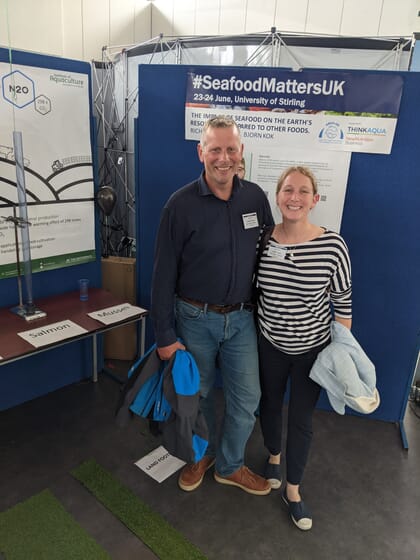 We can now see a mussel harvest as an approaching reality, so it is time to start focusing more on marketing and harvesting strategies. In June, we attended the Seafood Matters conference at Stirling University, where many experts from different backgrounds highlighted mussels as being the most sustainable protein source, although most Scottish consumers lack the confidence to buy and cook them. It was interesting to see social media influencers at the conference and we made a mental note of the need for using modern media to reach and connect with a wide market audience, in particular Millennials, who are food and sustainability conscious and might try different dishes if they are marketed correctly.
The lifting of travel and socialising restrictions also meant that other conferences went ahead. At Aviemore the Aquaculture UK event in May was a great opportunity for networking and meeting fellow farmers and suppliers. It was so good to meet those we had spoken to online and discuss how they had found the last year of spatfall and growth and any new (or old) tricks they were willing to share. We felt quite technically advanced with our sustainable bamboo business card with QR code to help promote the business.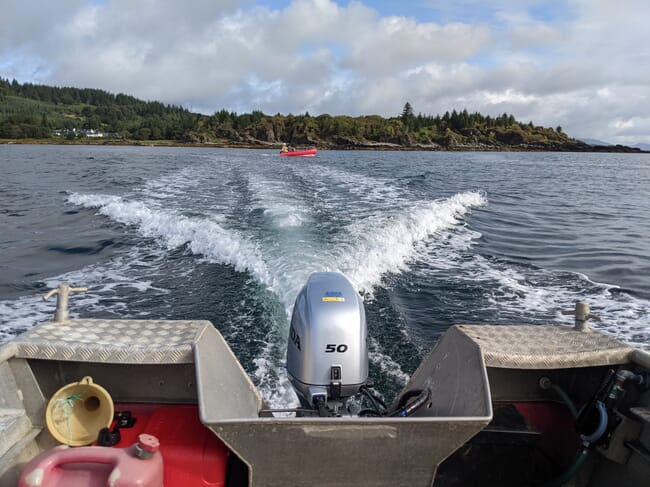 We have also just returned from the ASSG annual conference, where not just shellfish but finfish growers met and talked about the need to work together – not only to continually improve but also to ensure the public are aware of the positive environmental ethos of the aquaculture sector. It also provided another opportunity to meet with the fantastic Sarah Riddle of SAIC, her enthusiasm and passion for helping industry and academia work together to benefit and develop aquaculture has led to many great discussions on how best to trial new technologies or innovations.
Having navigated some troubled waters during this last year, we still have large mussels from the 2021 spatfall on the lines, and a settlement from this year so we finally feel like we can actually call ourselves mussel farmers.
We maybe haven't got as many lines going as initially planned but we have learnt many lessons: the best way to tie on floats, how our sites differ, what needs doing when, and the importance of not leaving adding extra floats too late.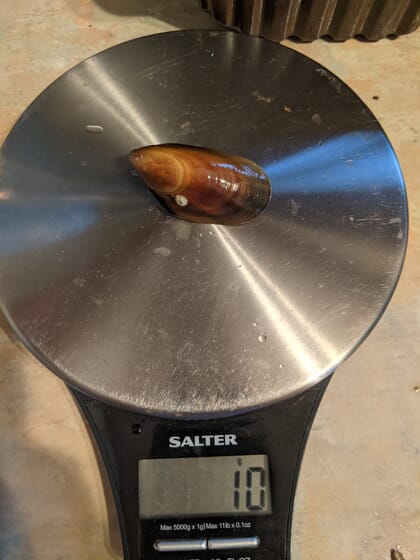 As ever, fellow mussel farmers have provided moral support, saying they are still learning after 30+ years and also a helping hand when needed. I am writing this as we finally take our first week's holiday this year but we have still been talking about what we need to get ready for harvesting.
The grader pontoon needs much renovation; we desperately need to source line haulers, as the droppers are way too heavy to lift by hand; we need to order some sampling testing kits; and we need to fully sort our marketing and sales. Skye seems a great place to sell local, as food provenance is important to tourists and the local restaurants and it also keeps with our blue ethos of low food miles. We are also considering a few bulk sales to wholesalers but, like everything else with mussel farming, a little trial and error will be needed to work out the most consistent and viable options.