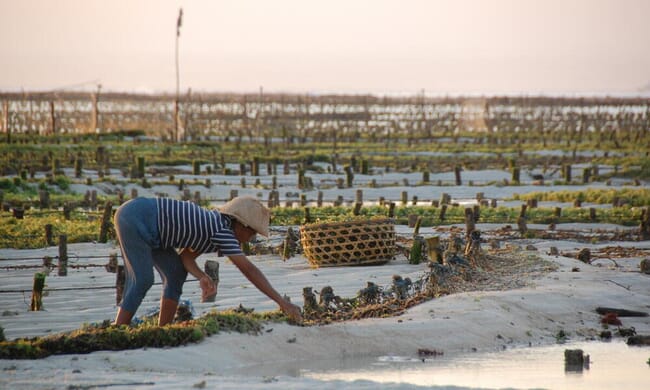 Global fish consumption has been growing at 3.1 percent annually for decades, far outpacing both the rise in the world's population (1.6 percent) and its meat consumption (1.1 percent). With so much demand for protein from the marine environment, there is no prospect of maintaining the sustainability of fisheries without shifting large amounts of fish production to aquaculture.
Accordingly, 52 percent of the seafood currently consumed around the world is produced via aquaculture. And global aquaculture production has been increasing steadily—7.5 percent per year since 1970—to keep up with the demand.
"We have now turned the corner that we have to farm the ocean to get the protein that we need," says Merrielle Macleod, a director on the WWF-US Aquaculture team. "There's a lot of evidence that the footprint of aquaculture makes it a lower impact way for people to eat."
More protein for less impact
Macleod emphasises that it's important to accept that any type of food production, including aquaculture, has an impact on the environment. But the essential goal is to use fish farming to produce protein for the world's people with less environmental impact than other forms of protein production.

"It's not as useful to think of a farmed fish versus a wild-caught fish," she says. "In the global context, it may be more useful to compare farmed fish to a farmed chicken or cow."
This lens can help consumers understand that many of the negatives associated with aquaculture, such as water pollution or sea lice, are part of the elements of this production system's footprint. The question is not whether those elements are harmful, but instead what is the relative harm of the aquaculture production footprint to other systems' footprints, such as overfishing in wild-caught seafood or methane production in cattle ranching?
Mitigating aquaculture's harms
A major impact of aquaculture is damage to coastal ecosystems, particularly by shrimp farming – where producers develop human-made ponds along coastlines to raise shrimp. This method uses deforestation and wetland conversion to turn coastal terrestrial environments into aquatic environments – a process called conversion.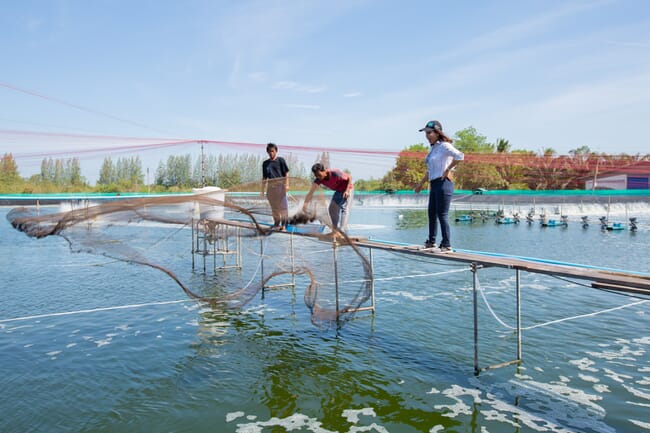 WWF works with large retailers, producers and associations to secure commitments to support conversion-free farmed seafood. The organisation's influence has been instrumental in getting Thailand's Seafood Task Force to include the issue of conversion in its 10-point action plan and in prompting Ecuador's Sustainable Shrimp Partnership to enter conversations about implementing no-conversation shrimp country-wide.

WWF also asks their corporate partners to become certified by the Aquaculture Stewardship Council (ACS), which has a robust chain of custody programme and has implemented trace element fingerprinting. The WWF has also developed a free open-source traceability software called transparenC and piloted it with several companies. The group is working to tackle conversion in the feed ingredient supply chain by developing a risk-assessment tool to provide greater transparency into sources of feed ingredients.
Supporting net-positive approaches
While WWF continues working to mitigate aquaculture's harms, they are also looking at how to support the creation of a net-positive from aquaculture via farming seaweed and appropriate bivalve culture. Farming shellfish and seaweed can improve the environment by reducing nutrients in the water and increasing biodiversity by creating a mini habitat within the ocean. Additionally, seaweed absorbs and sequesters carbon dioxide when almost half of the seaweed sloughs off during its growth phase and migrates to the deep ocean.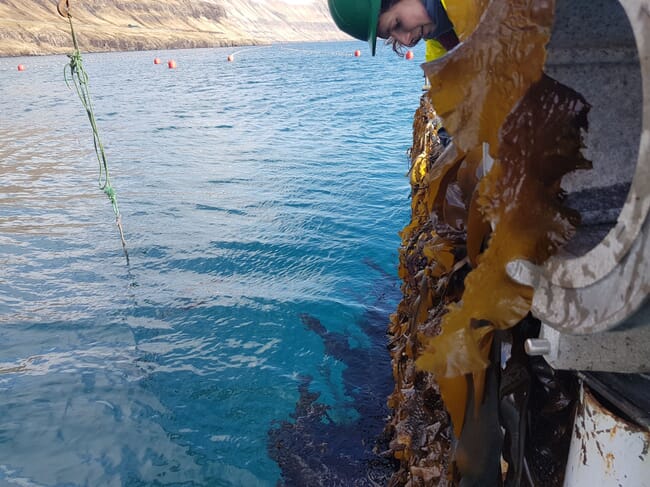 WWF has made two pioneering impact investments in seaweed, one to Ocean Rainforest, a seaweed farm on the Faroe Islands, and the other to Oceanium, a company that is creating bio-based packaging from seaweed. They've also been working with the Global Environment Facility to develop four seaweed farms in Vietnam and the Philippines to develop a business approach to seaweed production to supplant typical subsistence approaches.
"We're trying to increase seaweed aquaculture production," says Aaron McNevin, WWF's global network lead for aquaculture and the vice president of aquaculture for WWF-US.
"That's a fundamental shift in what we're doing," adds Macleod.
Such efforts are increasingly important as aquaculture accelerates and holds an ever-larger role in seafood production around the world. Consumers can do their part by looking for ASC certification on seafood that they buy, boosting net-positive bivalve and seaweed production and supporting organisations that are working to reduce the impacts of this industry.