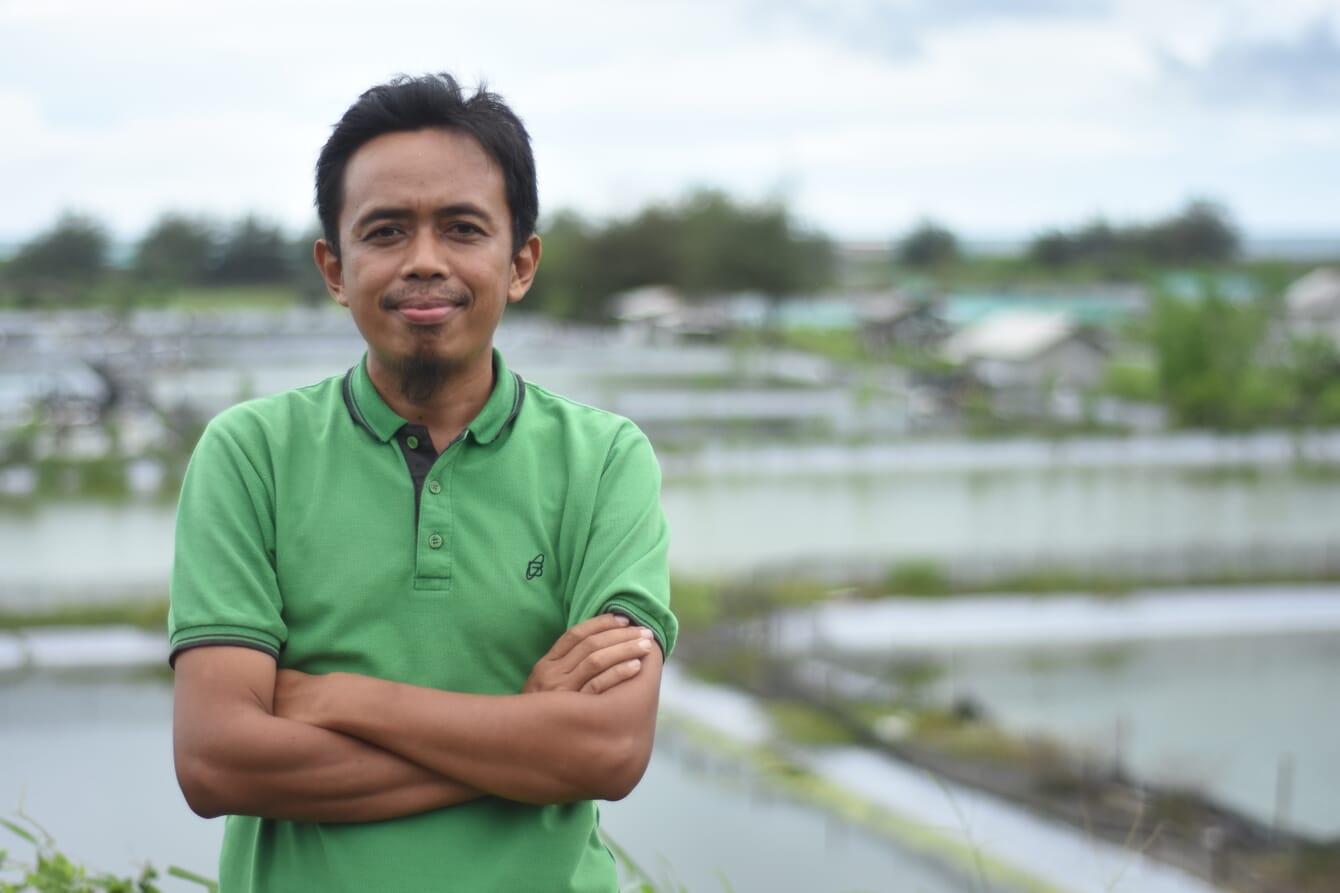 In the face of global economic struggles and a glut of shrimp on the market, the Asian shrimp farming industry is bracing itself for a challenging 2023 – in which production is expected to experience minimal growth and prices are unlikely to improve. In Purworejo, Central Java, shrimp farmers are feeling the effects of these challenges. In addition to declining prices and rising feed costs, they must also navigate various disease outbreaks and a changing climate.
Eko Winasis knows the challenges all too well. For the past seven years he has been managing a shrimp farm in Purworejo, overseeing 27 ponds that range from 1,000 to 1,800 square metres. The farm covers a total area of about five hectares, and the stocking density is typically around 70 to 80 post-larvae (PL) per m2.
According to Eko, bacterial diseases such as early mortality syndrome (EMS) and white faeces syndrome (WFS) are currently the main issues.

"There's no silver bullet for this problem," he says. "Diseases are always evolving, so we can only prevent them as best we can. But even with the best prevention measures in place, outbreaks can still happen."
Eko has been involved in shrimp farming since 2005, and has seen first-hand the impact that disease can have on a farm's production and profitability. Before the outbreak of EMS in early 2019, the survival rate for the shrimp on his farm was around 70 to 80 percent, but after disease outbreaks that number can drop to as low as 30 percent.
One of the diseases that Eko is particularly concerned about is EMS, which is also known as acute hepatopancreatic necrosis disease (AHPND), which causes mass mortality in ponds. This disease has become more widespread in recent years, and is difficult to predict and prevent. The other disease that Eko has had to deal with is WFS, which causes slow growth in shrimp. Bacterial diseases are the most common type of diseases found in the south coast of Java, where Eko's farm is located.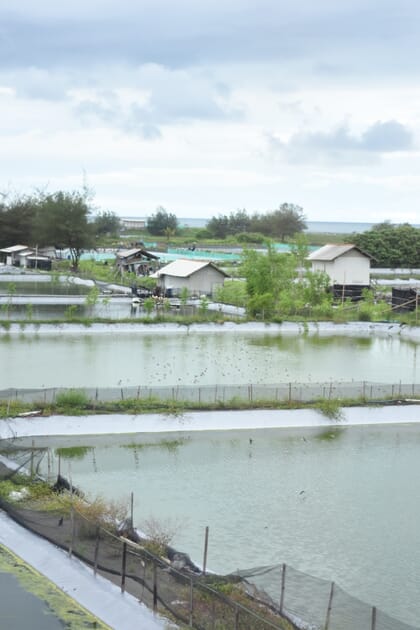 A similar challenge is being faced by Budi Harsoyo. The former horticulturalist started shrimp farming in December 2014, with just three ponds. Today, he owns 19 ponds and manages six more in a joint venture with other parties. His farm covers a total area of 2.5 hectares, with each pond ranging in size from 900 to 1,200 square metres. The stocking density on the farm is around 100 PL/m2, and the tonnage per hectare is currently between 5 and 10 tonnes. Before the outbreak of EMS/AHPND, Budi's farm was able to produce up to 20 tonnes per hectare.
According to Budi, shrimp farming today is much different than it was seven years ago. Before EMS/AHPND, Budi never suffered any losses in production, but since the disease emerged, he has seen production losses become more frequent. "Farming is not as easy as it used to be," he says.
In recent years, the effects of climate change have begun to impact the operations of both farmers. Extreme weather events have occurred more frequently and seasons are becoming more unpredictable. In addition, Budi says that "the water quality is not what it used to be and it's much harder to maintain a healthy environment for the shrimp to grow".
Eko has also seen the impact of climate change on his farm. "Before, the risk of EMS/AHPND was higher during the dry season and lower during the rainy season," he says. "But now, it can happen in any season. We need to be on constant alert."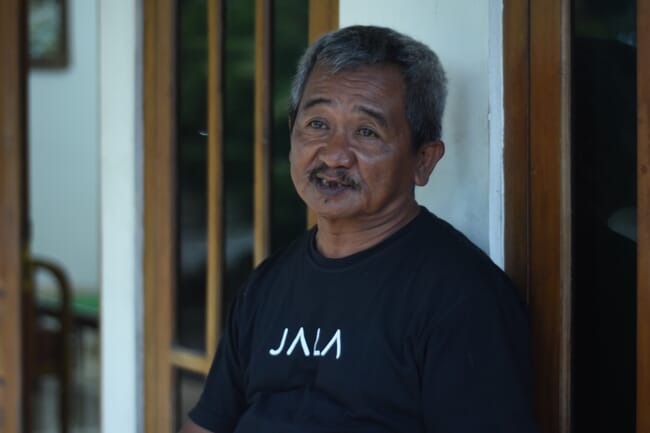 The Covid-19 pandemic added another layer of complexity for Budi, who temporarily shut down his farm.
"I was worried about my health and the financial condition of the farm. But I felt it was important to keep the farm running, so I reopened it after a short period of time," he explains.
Eko, on the other hand, says the pandemic had minimal impact on his farm.
"In terms of production, Covid did not really affect our farm," he says. "The price of shrimp did decline in the early stages of the pandemic, but our operations were not significantly impacted."
Spiralling input costs
One of the main challenges facing shrimp farmers is the rising cost of feed. Budi has been told by his feed sales agent that the higher prices are due to the rising cost of raw materials and fuel. The feed brand he uses is imported from Vietnam, making it even more expensive. He noted that the price of shrimp post-larvae has also increased recently.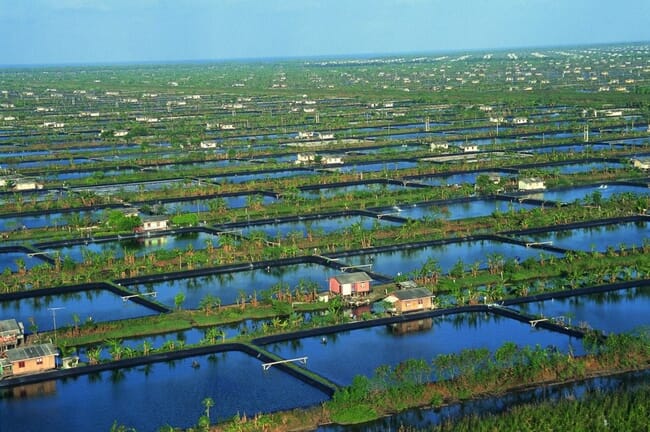 For Eko specifically, the rising cost of fuel in Indonesia adds another challenge. Because his farm is not connected to the grid, it relies on diesel for power. As fuel costs have risen, it has become more expensive to run the farm.
Economic survival strategies
To cope with the falling prices and rising costs, Eko has implemented strategies to reduce production costs, such as minimising the use of probiotics and mixing his own minerals. He is also always on the lookout for new methods to improve production and prevent disease.
Due to the falling price of larger shrimp, smaller sizes are now more attractive for many farmers. However, Eko is focusing on producing 40 count shrimp [ie 40 shrimp per kg / 25 g average size] – at a higher density to offset the potential losses due to disease.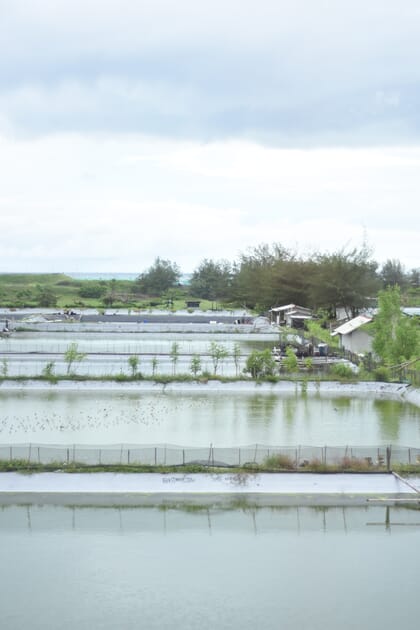 Meanwhile Budi has implemented a two-phase system using a low-tech nursery pond that he developed. The post-larvae are now stocked in the nursery pond for 20 to 25 days before being transferred to the grow-out ponds, usually at 1.5 to 2 g size. According to Budi, the shrimp that have been grown in the nursery have a higher chance of survival than the shrimp, usually PL9 to PL10 size, that are stocked directly into the grow-out ponds.
In addition, he stocks fewer shrimp in order to prevent losses from disease. This approach can lead to more stable production and less feed wasted on shrimp that then die, and has been a successful strategy for Budi. By using a nursery pond, he is stocking fewer shrimp but producing more biomass with greater efficiency.
"Before using the nursery pond, our feed conversion ratio was around 0.9 to 1.0," he says. "After using the nursery pond, it's down to 0.6 to 0.7."
Budi has also had to adjust his operations in response to the falling prices of shrimp. If prices are good for smaller shrimp, he will increase his stocking density to take advantage of the higher prices. When larger shrimp are more profitable, he will focus on growing bigger shrimp. Despite the impact on his margins, Budi believes that farmers need to be adaptable in order to survive.

"We need to find new ways to mitigate the challenges and adapt," he says.
Budi is open to using new technology on his farm, such as using water quality monitoring devices or auto-feeders, but he has not quite found the most reliable options for those yet. He admits that he is a more traditionally minded farmer, but he is always looking for new ways to improve his farm, whether through reading or discussions with other farmers and his younger team members to help him understand new technologies.
"At the end of the day, being a shrimp farmer is still more lucrative and brings better livelihoods than horticulture farming," he says.

Despite the challenges they face, both Eko and Budi remain dedicated to their work and are open to using new technology to improve their operations.
"We are always looking for new ways to improve the farm and make it more profitable," Eko says. "We need to adapt to the changing situation and be open to new technologies that can help us overcome the challenges we face."