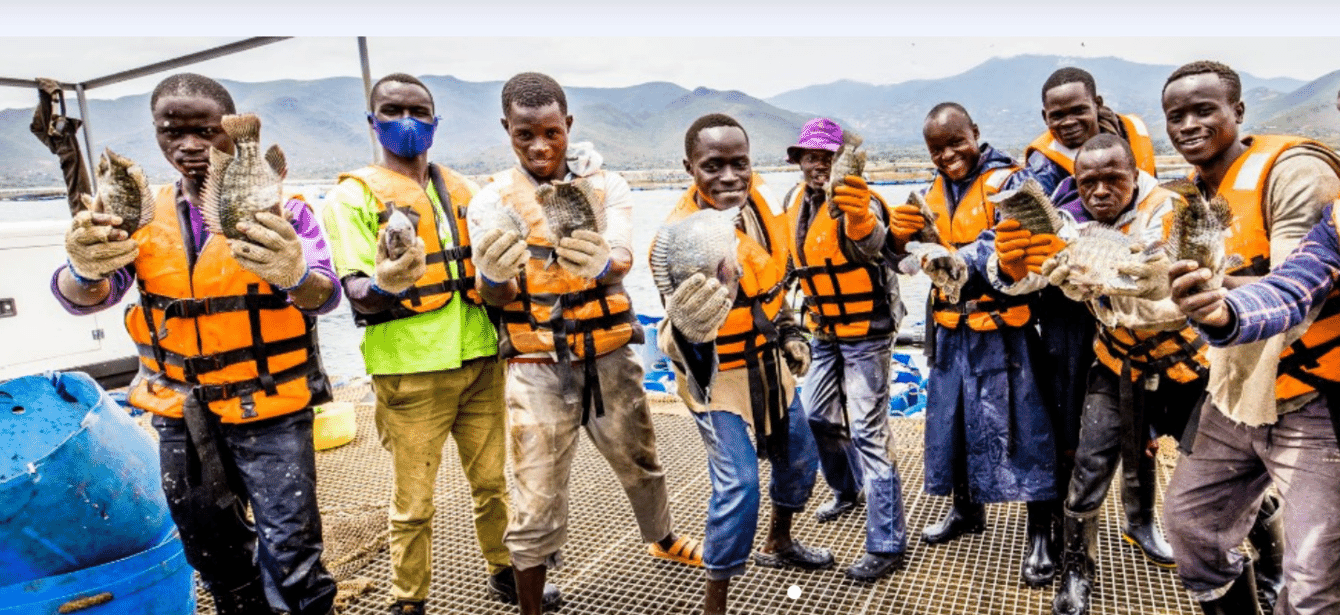 Under his guidance, Victory Farms has emerged from one of the poorest counties in Kenya to become one of the flagship tilapia producers in sub-Saharan Africa, on track to produce 10,000 tonnes in 2023.
It's an impressive achievement, especially in a country with limited aquaculture support, and in a county where unemployment is over 90 percent, malnutrition is around 40 percent and adult HIV infection is – by some estimates – at over 50 percent.
"We're in a part of the world that has no advantages of being there: everything is more expensive; logistics are challenging; professional and technical services are virtually non-existent," Rehmann reflects.
But it is also an achievement that Rehmann sees as being just the beginning and he hints at ambitions to grow substantially more in the course of the next decade – thanks to the superb growing conditions of East Africa's major lakes and the huge market potential.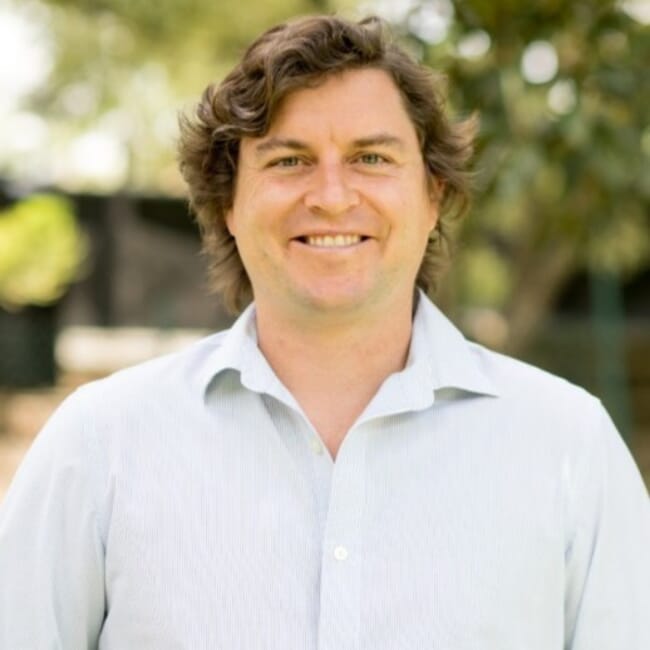 "We've had our fair share of ups and downs but – net – we've managed to grow the business in the last six years and frankly are looking to accelerate growth in the next six," he reveals.
While the details of future expansion are too early to announce, Rehmann explains that Victory's existing milestones other than the production increase include providing full-time jobs for over 700 people, with their least skilled workers earning nearly twice the minimum wage; opening 75 retail outlets; and – most recently – beginning farming operations in Rwanda and setting up a feed mill in Kenya. The latter being a significant step towards the company's ambitions to become carbon negative.
Sustainability goals
While the trajectory has been impressive, Rehmann is also keen to highlight another large part of the company's raison d'etre – to ensure that sustainability goes hand-in-hand with growth.
"Our mission is to become the most sustainable platform for the production of fish – not just tilapia – globally. That's an ambitious goal because there's some very, very good competition out there, especially in the salmon sector, that has a 20 or 30 year head start on us," he explains.

"What we want to achieve is to become carbon negative across our platform and biodiversity positive," he adds.
While achieving these goals is likely to take time, Rehmann points to some early victories.
On the land-based biodiversity side he says that the company's reforestation project is bringing back a number of animals that were becoming increasingly scarce in the area.
"A family of hippos has moved in, the birdlife is amazing, unfortunately snakelife has come back, but that's part of nature," he quips.
In terms of their biodiversity impact in the lake, Rehmann notes that their concessions around the cage sites is helping to protect wild fish from illegal fishing activities, including indiscriminately destructive chemical fishing techniques.
"Conservation International is an investor in us and believe in our thesis that we can have regenerative aquaculture. Together with KMFRI they published a report showing the biodiversity impact in Victory Farms' concessions, which is mind-blowingly positive. They found the zones around the cages that we protect together with the local communities have created safe breeding zones for fish. One species of tilapia (Oreochromis esculentus) that they thought was extinct has been found in our zone and the government has entrusted us with a repopulation plan – which we're working out how to execute – to breed from these hundred wild juveniles and restock them in other parts of the lake," explains Rehmann.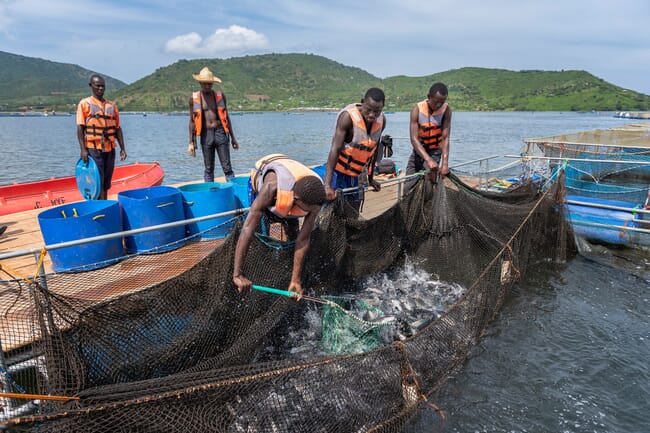 Meanwhile a major step towards carbon neutrality is currently in the process of development – namely the construction of a feed mill that's 100 percent powered by a geothermal well and is set to be operational in 2023. Called SamakGro, it is set to increase East African aquafeed production by 500 percent and aims to distribute feed across the whole region.
"Not only will we be milling locally, so it significantly reduces our global supply chain footprint, but the milling itself – 1 megawatt of power – will be renewably powered. It's a big piece of our CO2 emissions – perhaps a third, maybe even a half," Rehmann explains.
Another way of reducing their supply chain emissions involves encouraging the 15,000 stallholders who buy, cook and sell Victory tilapia to switch from daily using hundreds of tonnes of charcoal – often sourced from old-growth forests – to using 100 percent renewable fuels in their cooking process. Possible alternative fuel sources, according to Rehmann, are either biogas waste or dried waste from the local sugarcane sector, which can be burnt.
The third sustainability component that Rehmann's proud of is the move away from single use plastics in their distribution networks.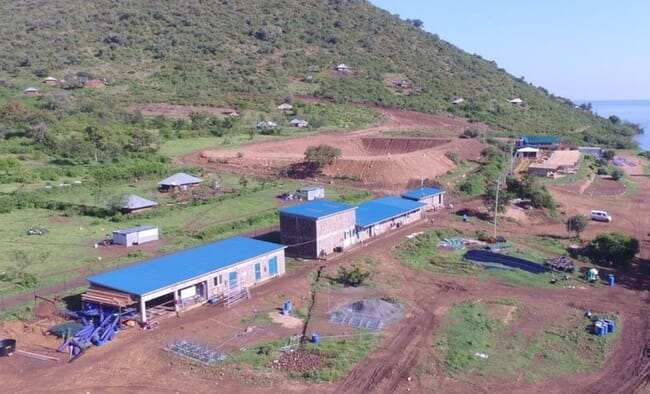 "Logistics and sales is a third of our employee count – and that model now runs on practically zero single use plastic waste. And we've just signed a deal so that 95 percent on our non-single use plastic will be bought up by Nestle and Unilever and be recycled into bottles. By the end of this year on the fish production and distribution side we will be almost completely plastic neutral," he explains.
What's more, he adds, the financial benefits of such initiatives can also be compelling – the company is paid for the plastics that they recycle while the rising electricity prices mean that the 10-year deal they signed two years ago, means that the power they are getting from the geothermal well is already 20 percent cheaper than fossil-fuel based alternatives.
"Even though these deals are the right thing to do which is why we do them, we also think long-term we'll enjoy a certain type of dividend that comes from this level of sustainability," Rehmann reflects.
Selective breeding
Kenyan tilapia producers are prohibited from using commercially successful strains of tilapia such as GIFT, which is widely used in Asia, and are stuck with a local strain that takes about twice the time to reach market size. As a result, Victory is looking to improve the local strain, and has recently signed an agreement with Wageningen University to do so. And it also plans to sell these improved fish to other interested parties.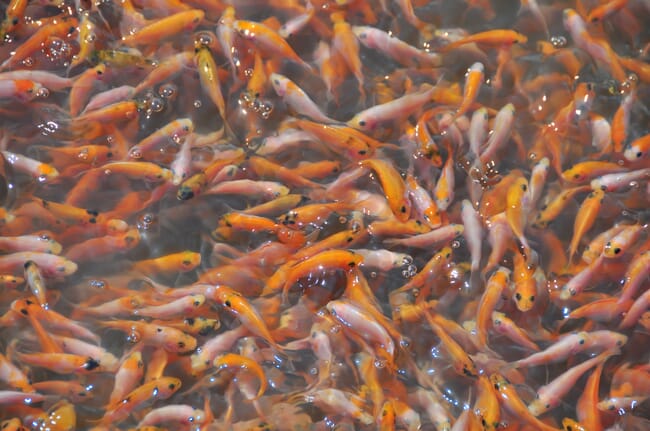 "We'll start to make fingerlings available for development programmes run by the UN and other organisations, as well smallholders who can't otherwise enter into aquaculture as the cost of feed and fingerlings is extraordinary," Rehmann explains.
While this might seem commercially uncompetitive, the CEO sees it as being a net-positive sideline.
"Although the small holders will compete with us, this region is so malnourished that we see all tilapia consumption as a win," he reflects.
Rwandan expansion
Looking further afield Victory recently secured two sites in Rwanda and now have a team on the ground and fish in the water, and expect their first harvest in February.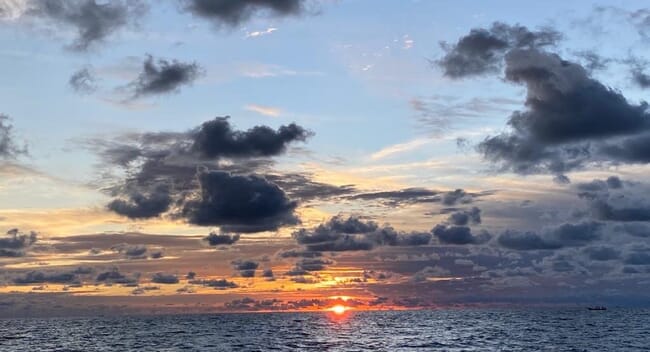 "Next year we're targeting in the range of 1,000 tonnes, which would be faster than the 200 tonnes we grew in Kenya's first year. Everything we're building today is designed for 20,000 tonnes and we expect to reach that within five years – we bought an existing facility and are also building our own, and it's nice to have both, " Rehmann notes.
It would be an impressive progression given that Rwanda's aquaculture sector is so small.
"Rwanda's in the same place today where Kenya was seven years ago," Rehmann reflects.