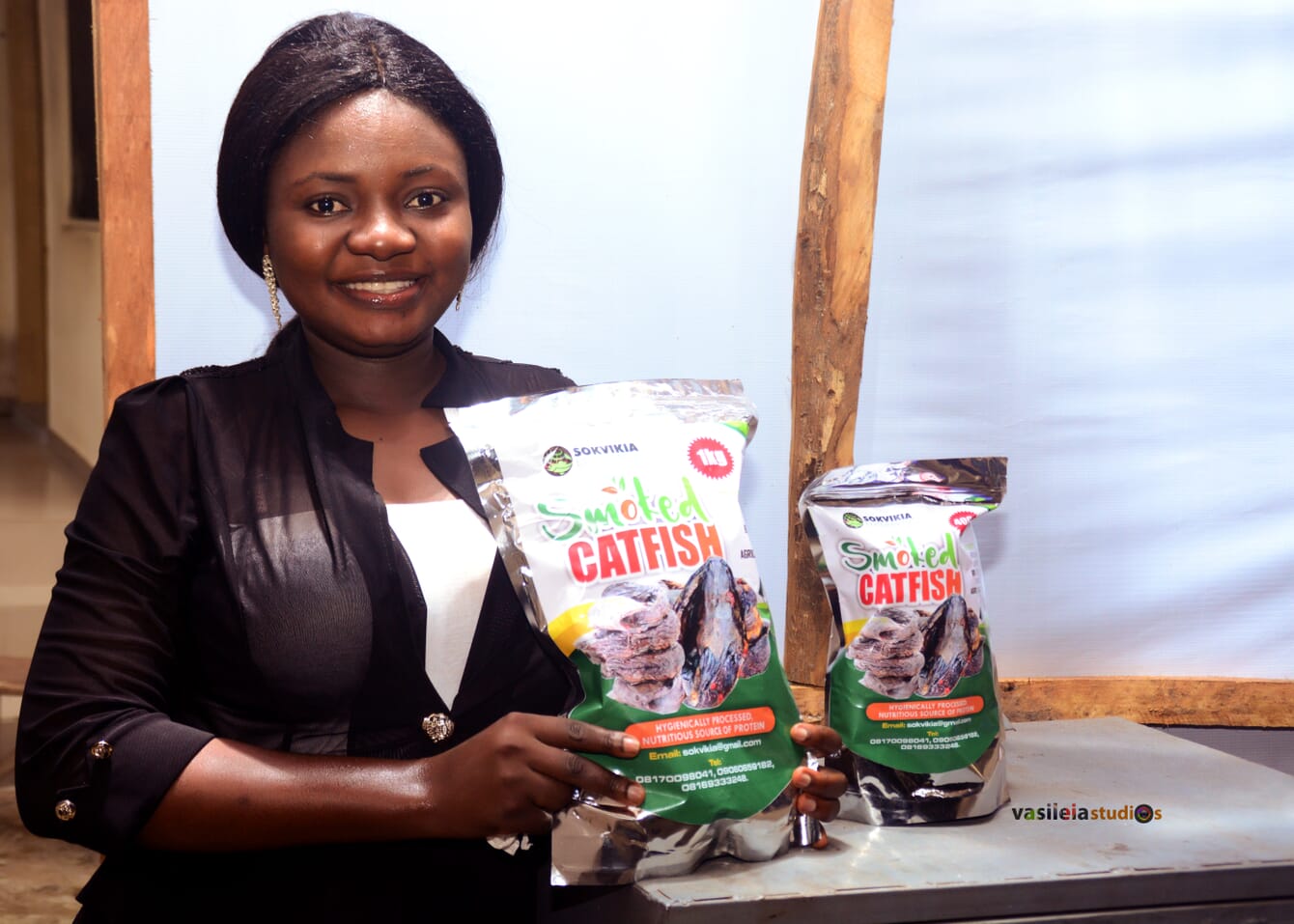 What inspired you to pursue a career in aquaculture?
I grew up in an environment where fish farming is the predominant occupation. However, in recent times, I have seen fish scarcity at its ugliest. It is the passion to offer a solution to this scarcity that ignited my passion for aquaculture, which has significantly increased fish production in Nigeria.
What does Sokvikia Enterprise specialise in, and what were the biggest challenges of setting up your own aquaculture business?
At Sokvikia Enterprise we specialise in fish production, processing and distribution. We farm the African catfish (Clarias gariepinus) species, and our production capacity is 40 kg of processed fish and about 120 kg of fresh catfish per month. The dimension of our rearing facility is 12m by 10m by 4m and we employ improved processing methods that are energy efficient and environmentally friendly.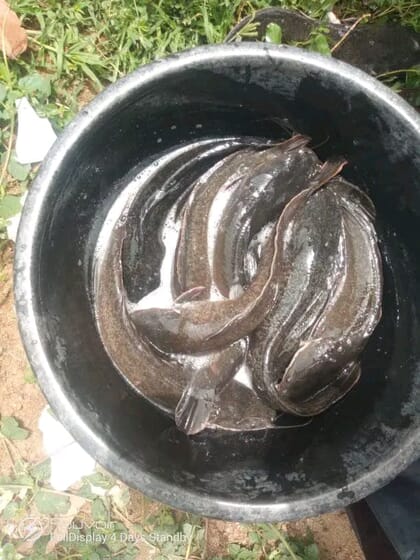 Our target market are women between the ages of 16 and 60 years who are concerned about food safety and quality products. We also offer skill and technical assistance to fish farmers through consultation and capacity building.

What challenges are you facing as an aquaculture business?
The biggest challenges we have faced as an aquaculture business include:
Market penetration: it took us time and consistent effort to compete with other fish products. With our improved processing techniques and packaging, our products come in premium prices. As we progressed, we were able to increase brand visibility to reach our target market. We have been able to build our brand with these key words: food safety, sustainability and nutrition.
Funding: since our mission is to produce on large scale, capital became a heavy burden on us. Prices of goods have been on the increase and the Covid-19 impact is still biting hard. However, we have been able to compete favourably and have won grants to help us scale up production. The grants included winning the Farmers for the Future grant Cohort 3, sponsored by the British American Tobacco Nigeria Foundation (BATNF), Fate Foundation and National Youth Service corps (NYSC) and Flourish Africa Grant 2022, Funded by Apostle Folorunso Alakija.
What common challenge do farmers bring to you as a consultant and trainer?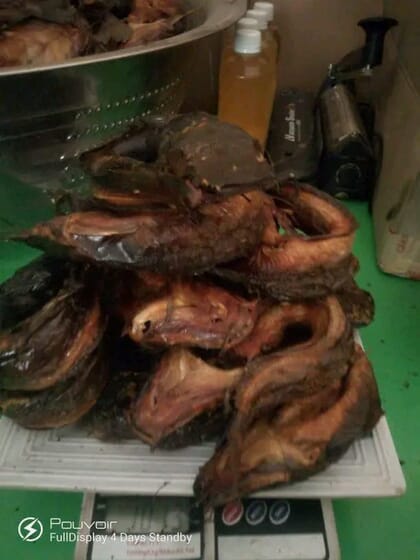 They include an inadequate supply of quality fish seeds, poor water quality and increasing prices of fish feed. To this end, we are working as a team to launch feed formulation programmes for fish farmers and water quality management techniques.
What characterises the aquaculture sector in Nigeria?
According to WorldFish, aquaculture in Nigeria is growing at the rate of 12 percent, which is higher than the 8 percent global aquaculture growth rate. But even with this growth, the ever-increasing population is widening the gap in fish demand. Fish play a vital role: as well as being a source of nutritive protein, they are a source of livelihood for millions of Nigerian and have consistently provided job opportunities.
How have you found the experience of starting and running your own company?
Adventurous and full of learning opportunities. With every challenge that comes we develop skills to manage and also mitigate risks.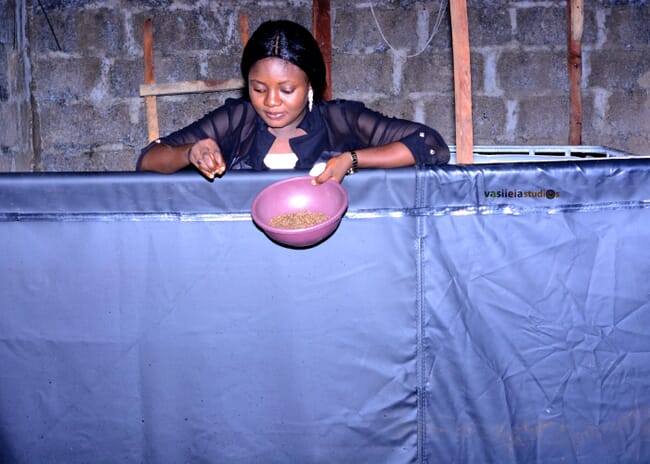 How have you funded the business to date and are you looking for further funding or partnerships?
I have been able to fund the business through personal savings, donations and grants. I am currently seeking funding and partnership opportunities to scale up our production.

What work-related achievement are you most proud of?
The breakthrough of our first hatchery attempts as a business. Although I have been involved in numerous practicals during my days as an undergraduate and an intern at the National Institute for Freshwater Fisheries Research (NIFFR), it was our first hatchery practical without the guidance of tutors and it boosted my confidence and my passion to continue.
What challenges have you encountered working in the sector?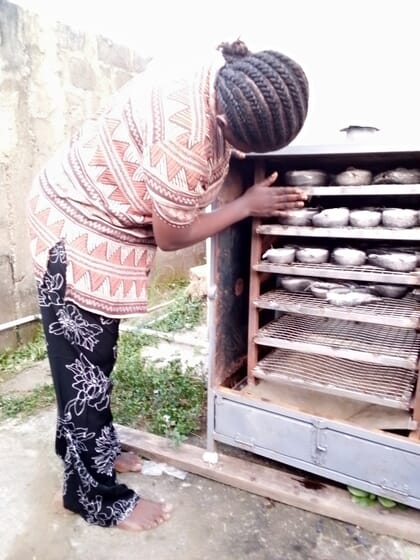 One of challenges I faced in my local community was preference for wild stocks among my target market. They preferred it for eating, their reasons being that the taste is unique compared to pond-raised fish. My team and I had to continuously educate people on the benefit of aquaculture to improving fish supply.
Have you encountered (or heard of) any gender-related challenges as a woman in aquaculture?
I have not encountered gender-related challenges thus far. I love the free atmosphere that allows me to dream and work without limitations.

What advice would you give to women looking to start a career or a company in the sector?
My advice would be to learn extensively all that there is before embarking on the business, if possible, you can start as an intern or apprentice to get the balance of experience and expertise.
How would you like the business to develop over the coming decade?
I would like to take increased technological approach to improve fish production and survival.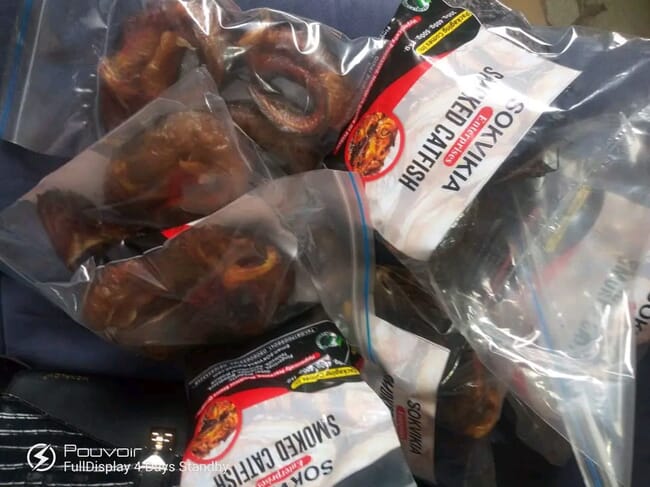 How do you think aquaculture in Nigeria should evolve in order to achieve its full potential?
Aquaculture in Nigeria can attain its full potential when favourable government policies are put in place. Active government intervention will go a long way to increase production and employment opportunities. We are blessed with water bodies that can be used for intensive cage culture which is still an untapped aspect of aquaculture in Nigeria.