Can you briefly describe your aquaculture career?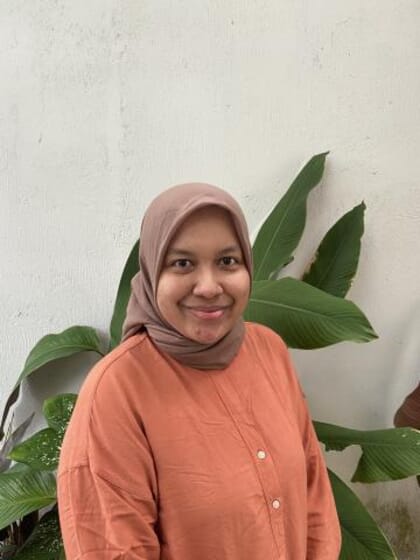 It began in the final year of my study at Wageningen University and Research (WUR), where I started my professional career as a research intern, in aquaculture science, at the WorldFish Centre. I worked on a project to assess the performance of different shrimp species in Aceh, Indonesia. This project led me to work in the shrimp industry, particularly with smallholder farmers.
After graduating, in November 2018, I was hired by RARE as a sustainable aquaculture project manager, supporting the organisation in developing an impact investment blueprint for financing smallholder farmers. This involved transitioning poorly performing extensive shrimp farms into intensive operations that adopt best management practices. Initially, this was a pilot project working with a few farmers. But, since 2020, the programme management has been run by Deliberate Capital and aims to offer finance to hundreds more farmers within the next few years. Under this scale-up phase, I am a site manager, leading strategic engagement with different partners for on-the-ground delivery.
I also work as a part-time consultant for non-profit organisations (NPOs), including Sustainable Fisheries Partnership (SFP) and Yayasan Sinergi Akuakultur Indonesia (YSAI). I support them in establishing and operating several aquaculture improvement projects (AIPs), partnering with stakeholders from the government and private sector. I also work to promote Indonesian shrimp competitiveness and drive farming operations towards more sustainable practices.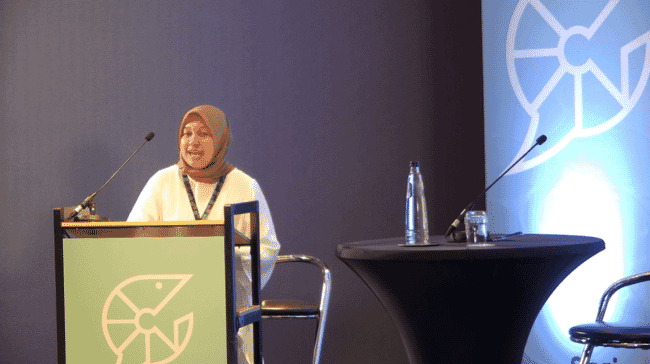 What drew you to aquaculture?
In early 2014 when I was working for a reef conservation NGO, Reef Check Indonesia, I met some smallholder shrimp farmers in the northern part of Bali. I realised that their farming practices were missing technical know-how and were full of uncertainties regarding yield and profit generation. This sparked my curiosity to get into the aquaculture world and made me decide to continue studying.
Can you briefly talk about your current role?
I aim to finance more farmers. Being a site manager has allowed me to work closely with our technical partner, travel to different potential locations and meet with farmers, planning to establish new shrimp farming clusters.
When a farmer group has been approved for assistance, I coordinate with a technical partner to create a shrimp farming business analysis that we would pitch to farmers. On that, we calculate the estimated revenue obtained within one cycle, subtract from the operational expenses and repayment for the loan, and project the net income of farmers and profit shared with the financiers. This is a fascinating process as we need to ensure that the business case is feasible and appealing for the farmer to agree to work together with us. There are usually some revisions to adjust several aspects. And, following some bargaining and adjustment when both sides reach a final agreement, I assist with the documentation/agreement development before the programme kick-off.

Besides the typical site manager work, the most exciting thing happening within the company is the move to a tech-based approach to managing financial management, data collection and monitoring. This will help was we scale up from the pilot stage, where we were managing less than ten farms, to the next phase, in which we aim to work with 300 farms within three years.
What does a typical day in your current role involve?
My days are always full of coordination with people around me. Either with colleagues at Deliberate Capital, our technical partners or farmers. For example, during the assessment process I need to ensure with our technical partner that the farmer group and the selected area are good to proceed, including the risk and mitigation aspects. Furthermore, I need to work with our investment analyst team to discuss whether the business projection pitched to the farmer is profitable for ourselves and the financiers; to talk to our ESG manager about the impact side; and talk with prospective partners to ensure that we are on the same page.
What are the main sustainability issues relating to smallholder shrimp farmers that you aim to address through your work?
Without proper SOPs [standard operating procedures], such as the use of wastewater treatment facilities and biosecurity protocols, they are vulnerable to risks, especially disease outbreaks.

Under our programme, farmers form a cluster and work as a group. A dedicated technician in each cluster supervises the technical operation. Farmers work hand-in-hand to grow shrimp and manage the overall pond operation. Biosecurity measures and SOPs are in place. The farm design is equipped with a wastewater treatment pond, which is required to have a separate inlet and outlet channel. These measures aim to minimise the risk of disease outbreaks and reduce environmental impact.
What are the key criteria for you to provide investment or financing for shrimp farm?

We believe assessing farmer commitment and selecting suitable areas are critical to determining success in shrimp farming. On the farmer side, we look for farmers' experience and their openness to learn and follow the SOPs set by our technical partner. We also look for a willingness to partially invest or co-finance some percentage of the total budget required for farm renovation and operation. We need to sit down with farmers and understand how we can help them improve their practices and what their needs are so we can support them.
We consider technical, socio-economic and specific geographic criteria in the on-site assessment.

On the technical side, we perform an analysis of five main aspects: water quality, topography, elevation, surrounding vegetation and soil characteristics. More importantly, as shrimp farms need saltwater, the location should be close to the sea, an estuary, or brackish water.
Socio-economic factors, such as good infrastructure, are also important. Electricity is vital to for water aeration and circulation. A road network allows the transfer of feed and other equipment.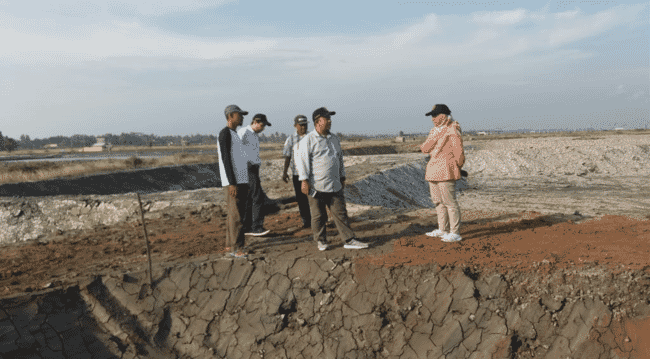 Lastly, more geographic criteria – such as political risk and possibilities of natural disasters – are crucial to assess. In several extreme cases, farm closure by the government can take place if it doesn't follow regional regulations. Reviewing local government regulations in advance is a primary consideration to avoid such incidents from taking place.
How is the aquaculture investment landscape changing?
Aquaculture was previously seen as a sector with destructive impacts on the environment and communities. Yet improvements in the social and environmental impacts and the possibility of offering a business model with a predictable revenue stream has made aquaculture become a popular investment target, particularly for impact investors.
Meanwhile, in Indonesia, a range of fast-growing aquatech startups have emerged to solve different challenges within the aquaculture industry. These bring other investment opportunities.

How is Deliberate Capital changing aquaculture today?
In Indonesia, many existing shrimp farms are using extensive/traditional practices, in which operations are less efficient in input usage, resulting in low yields. These practices are also closely related to destructive impacts on coastal ecosystems, especially to mangrove deforestation in the past.
However, those farmers who have been more open to improving farming practices for better yields and incomes have challenges accessing finance and lack technical and managerial expertise to adopt more sustainable, more intensive farming methods.
Deliberate Capital aims to bridge the gaps by providing financing and expertise to help smallholder farmers improve and is committed to aligning with our triple-bottom-line results while preserving mangrove habitats.
Are there any individuals in the sector who you've found particularly inspirational?
I would mention Anton Immink (ThinkAqua), Pamudi (YSAI and others), and Nonot Tri Waluyo.
Anton and Pamudi are my supervisors and mentors, with whom I initially connected through my work at SFP. Their passion for aquaculture development work, their experience of working with various stakeholders and insights shared during discussions have always ignited my motivation to keep up the work in this field.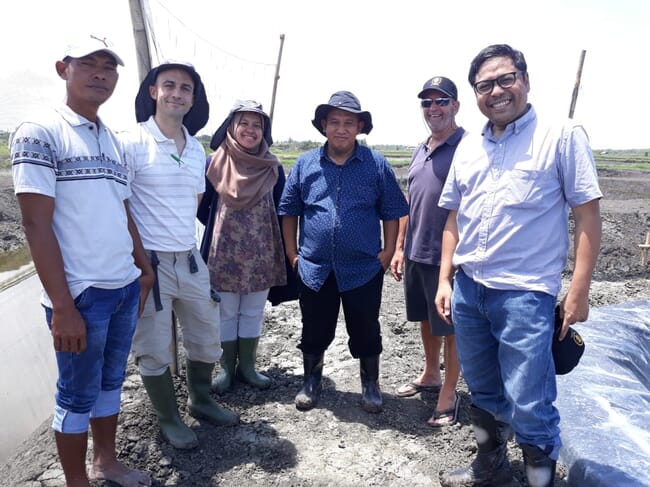 Nonot Tri Waluyo is an exceptional leader in the industry who founded the innovation of shrimp farm revitalisation (Kampung Vanname). In the last three years working with him I've seen that he never runs out of energy. His knowledge of shrimp operations and negotiation skills has taught be a lot and helped inspire my passion for smallholder development.
What's the most interesting experience you've ever had in aquaculture?
Seeing how one famer from a group of traditional farmers could improve production through a simple innovation, provided by a startup.
With support from the startup, the farmer divided the ponds into two: one used as a sedimentation pond and another used as a culture pond. A simple biosecurity system from fishing nets was installed around the pond, and a paddlewheel was made available to supply more oxygen in the evening. Within two cycles the farmer had doubled his yields.

The rest of the group has been discussing this success over and over again, for weeks, not only the yield generated, but also admiring his farm for looking so neat, and always mentioning that it is the most professional farm. They are now eager to try the system too.
It's an example that illustrates a knowledge gap and the value of reaching out to assist traditional farmers. Discussion, listening to farmers' pain points and agreeing how to work together to make improvements is what leads to changes that make smallholder farmers' practices more efficient and sustainable.
Where would you like to be in 10 years?
I hope to keep supporting Deliberate Capital, or a subsidiary company, to reach out to more smallholder farmers, expanding access to financial and technical expertise to those in need. At the moment, we are concentrating on the shrimp sector. But in the future, I imagine we will potentially expand to support farmers of other aquaculture species. That would be exciting!

If you could give one piece of advice to women considering a career in aquaculture, what would it be?
Keep your confidence and agility! Do not spend too much time worrying about gender-related challenges. Instead, let's push ourselves to focus more on learning new knowledge we are passionate about, having exposure to people in the sector and making connections. Most important is to keep believing in your values and mission.