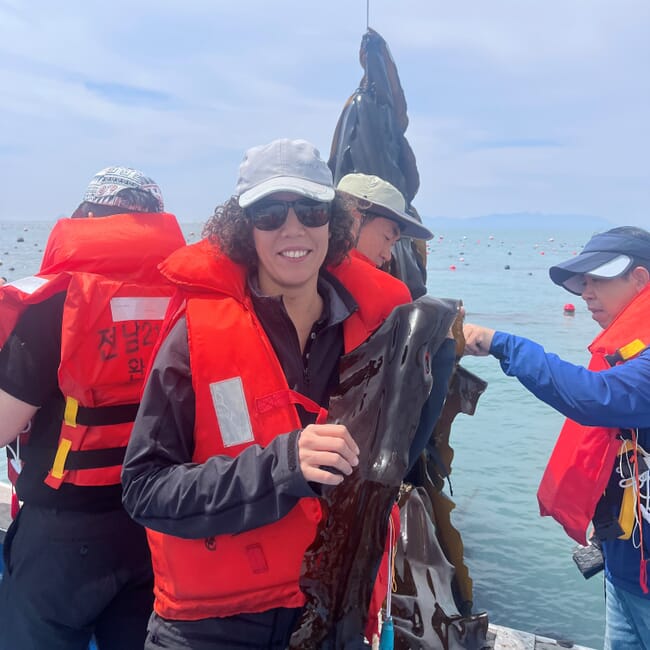 Can you briefly describe your career?
I have a strong background in environmental science. I started my career studying the effects of afforestation on soil quality in Uruguay. I worked in agriculture for a few years, analysing the impacts of different land use on soil quality. Then I proceeded to do a masters at Wageningen University, focusing on environmental policies and the effectiveness of market-based instruments in fostering best practices and delivering environmental and social outcomes.
Since then, I have been immersed in the seafood industry, where my roles have included developing environmental and social standards, working with producers on implementing best practices, and conducting capacity-building initiatives. For the past seven years, my focus has been on promoting responsible and sustainable seaweed cultivation and wild harvesting. This specialisation has allowed me to witness the incredible potential of seaweed: as a food source, for feed and for other innovative applications.
What drew you to aquaculture in the first place?
I was always passionate about ensuring sustainable food production to meet the needs of a growing population, while protecting the environment. Aquaculture, if done responsible, offers unique and promising solution to these challenges, contributing positively to food production while minimising environmental impacts.
I saw seaweed cultivation as a field where I could apply my expertise to foster responsible practices and contribute to a more sustainable future. The combination of diverse species, versatile uses, and adaptable farming techniques makes farming seaweed an important practice that contributes to food security, environmental sustainability and economic growth.
While seaweed cultivation holds great potential for food production and other novel uses, if not done correctly it can have negative impacts on the environment. Not many people realise this, but seaweed is the number one aquaculture product in terms of volume, and therefore it is so important that the culture is done right so we don't repeat the problems we encounter in agriculture, fisheries and other forms of aquaculture.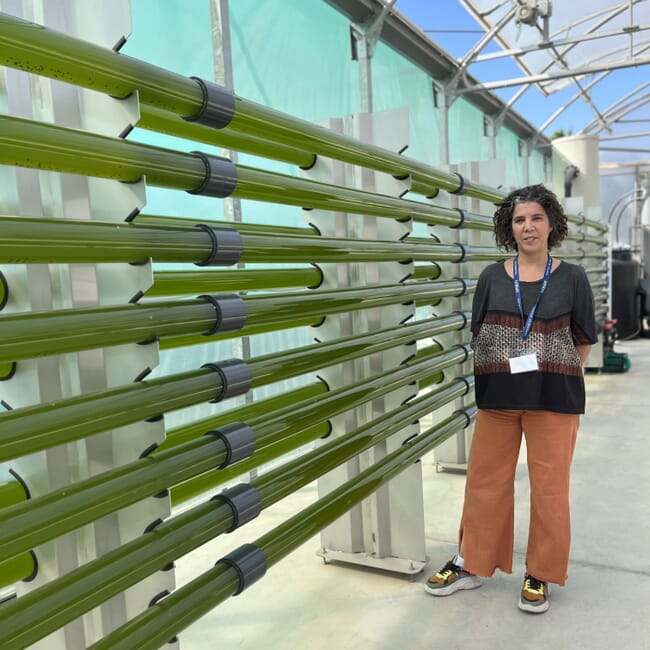 What work-related achievement are you most proud of?
One of the most gratifying achievements in my career was my contribution to the development of a seaweed standard through my work with the Marine Stewardship Council (MSC) and the Aquaculture Stewardship Council (ASC). The ASC-MSC seaweed programme not only incentivises sustainable seaweed production but also establishes a benchmark for improvement.
As producers invest and adapt their operations to meet best practices, we witness working conditions being improved, critical habitats being recovered and endangered species protected. On the other hand, producers receive recognition from consumers and the community for their ethical practices, which is a win-win situation.
Why are aquaculture certification programmes important?
With a growing demand for seafood and seaweed globally, it is crucial that these industries minimise their impact on the environment. Certification programmes recognise the importance of having a standard that rewards sustainable seafood production and provides a benchmark for improvement, in terms of environmental and social performance within the industry. Lastly, certification schemes help consumers make informed choices.
What does a typical day in your current role consist of?
As a programme manager, I actively contribute to the development, review, and implementation of ASC and MSC standards and guidelines. I engage with producers, NGOs and governments, which is critical to understand key incentives and challenges of certification. Another element of my day-to-day work is training auditors and farmers and capacity building with local partners. I also regularly travel to Korea, China and Japan for training and farm visits, as well as to conferences and summits all over the world.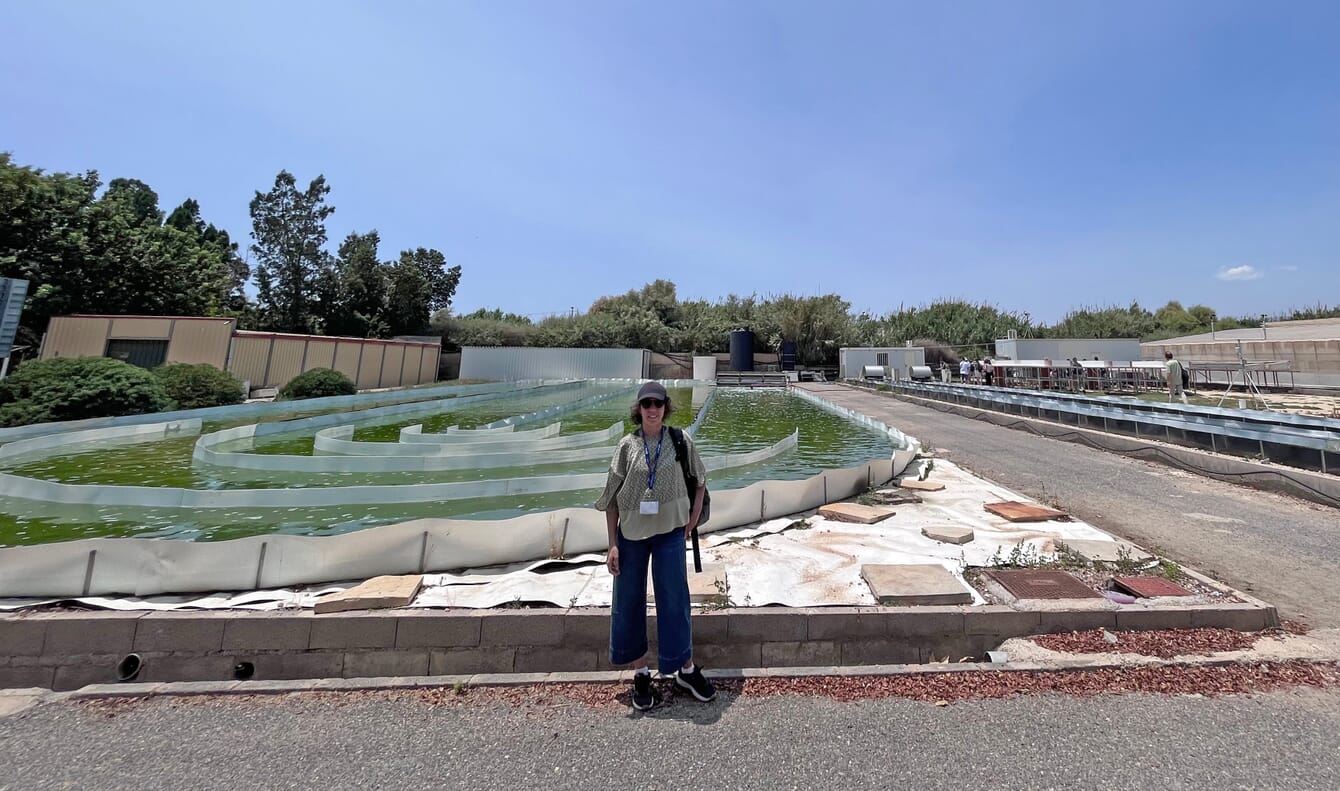 What is your favourite part of working in aquaculture?
Witnessing the impact of our efforts on the seaweed industry, the environment and food security. Knowing that our work has an impact, and directly contributes to a better future for our oceans and the well-being of communities is motivating. Additionally, I like working with passionate colleagues and stakeholders, who share a collective belief in protecting our ocean and promoting sustainable aquaculture practices.
What challenges have you encountered working in the sector?
One of the major challenges is the need to educate consumers and industries about the importance of sustainable seafood cultivation whereby awareness raising and market support for certified products are crucial.

Have you heard of any gender-related challenges in the sector?
In a lot of places, such as Africa and Indonesia, this is potentially the opposite in the case of seaweed farming. There are many initiatives that empower women involved in seaweed cultivation. Women are leading the projects and build the farms while their fishermen husbands are at sea. However, in South Korea and Japan, it is still very much a male-dominated industry. As part of my role in the seaweed sector, I am deeply committed to fostering a more inclusive and diverse sector, where the valuable contributions of women are recognised and encouraged.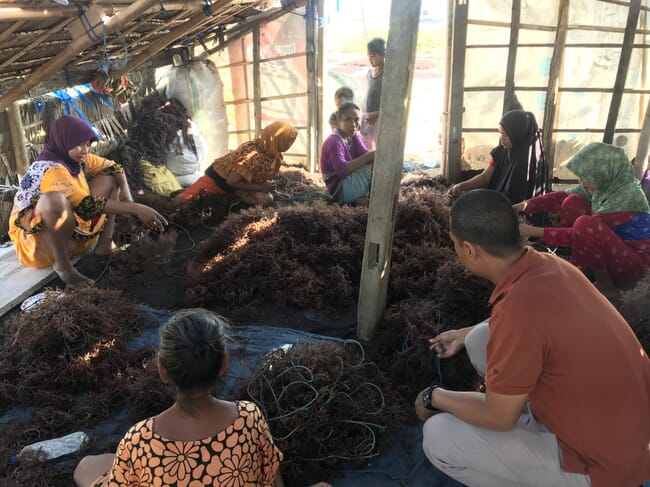 Are there any people in the sector that have inspired you?
David Agnew, former MSC Standard director, and Chris Ninnes, ASC director have both been key in shaping my career. They lead by example, are very committed, and their passion for seafood is contagious. I am happy that I am part of their team. Witnessing the positive impact of their initiatives on marine conservation and sustainable food production has been inspiring and reinforces my commitment to working in these sectors.
Can you give some advice for women who are considering a career in the aquaculture sector?
My advice is to embrace their passion and confidence. Start learning about the industry and acquire technical skills. Look for networking opportunities, which can generate opportunities. Be open to learning, proactive and never underestimate your abilities.

What problem would you most like to solve in the aquaculture sector?
I think the most critical concern is the need for an aquaculture system that ensures sustainability for both present and future generations. This includes ecological sustainability to safeguard aquatic ecosystems, economic viability to support livelihoods and social equity to ensure that benefits are shared among communities. Achieving a balance among these dimensions is crucial to building a truly sustainable aquaculture sector that can meet the demands of today while safeguarding the needs of tomorrow.
How do you see your career developing in the future?
I would like to continue working in the seafood sector as I consider this my passion. Specifically, I aim to establish strong collaborations with local communities, helping them to improve their performance to meet best practices.
Which species or technology you have worked with do you think is the most promising for aquaculture?
Identifying the single most promising species or technology for aquaculture is hard, as it is influenced by a range of factors. There is not a single answer, as there needs to be considerations of regional context, operational scale, community, etc. Nevertheless, from my perspective, I view seaweed cultivation as exceptionally promising. Seaweed grows fast, has a low environmental impact, and a diversity of applications. It also offers the flexibility to be done with minimal resources, using traditional methods, or on a large scale with advanced technology.