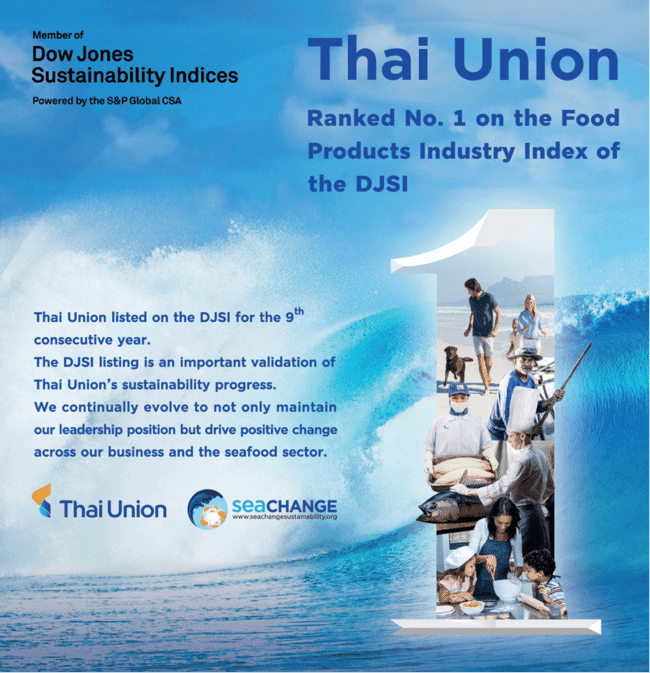 Thai Union has now been listed for nine consecutive years on the DJSI, a family of indices evaluating the sustainability performance of thousands of publicly traded companies. The company was ranked number one on the Food Products Industry Index of the DJSI, a position it previously held in 2019 and 2019.

In the dimensions of social and environmental, Thai Union achieved a 100th percentile score while it received a 97th percentile score for the governance and economic dimension. Thai Union also received a 100th percentile score in 18 areas: materiality, risk & crisis management, policy influence, supply chain management, innovation management, environmental reporting, environmental policy & management systems, operational eco-efficiency, biodiversity, sustainable agricultural practices, water related risks, social reporting, human rights, living wage, talent attraction & retention, corporate citizenship & philanthropy, occupational health & safety, and health & nutrition.
"Sustainability sits at the heart of Thai Union's business," said Thirapong Chansiri, president and CEO of Thai Union, in a press release. "We are ambitious about driving positive change not just in our own operations but across the entire global seafood industry. Through our commitment to 'healthy living, healthy oceans,' Thai Union is implementing industry-leading initiatives that are not just addressing, some of the biggest challenges facing the industry but delivering impactful change."
The top ranking on the DJSI comes after Thai Union was last year ranked number one on the Seafood Stewardship Index (SSI) for the second consecutive time for its performance delivering towards the United Nations Sustainable Development Goals (UN SDGs).
During the past year, Thai Union has continued to advance its sustainability strategy, including:
Installing an additional 7 megawatts of solar energy at the company's factory in Samut Sakhon.
In the Seychelles, 30 percent of Thai Union's fish processing plant is covered by solar panels, supplying 8 percent of its total energy consumption.
Entering a partnership with the Sustainable Fisheries Partnership to strengthen transparency in Thai Union's supply chains.
Adopting the "employer pays principle," meaning that no migrant worker pays for a job.
Conducting the company's first at-sea audits, the first of its kind conducted in the industry.
Demonstrating leadership in blue finance with sustainability-linked loans and sustainability-linked bonds, which include targets that deliver benefits to the oceans.
"At Thai Union, we're proud to be a leader and set the standard for others in the seafood industry to follow," said Adam Brennan, group director, sustainability, at Thai Union. "We are committed to continuing to demonstrate that leadership and we're excited that in early 2023 we will announce the next iteration of SeaChange [the company's global sustainability strategy], with a series of ambitious targets through to 2030, including climate change goals in line with the science-based targets initiative."