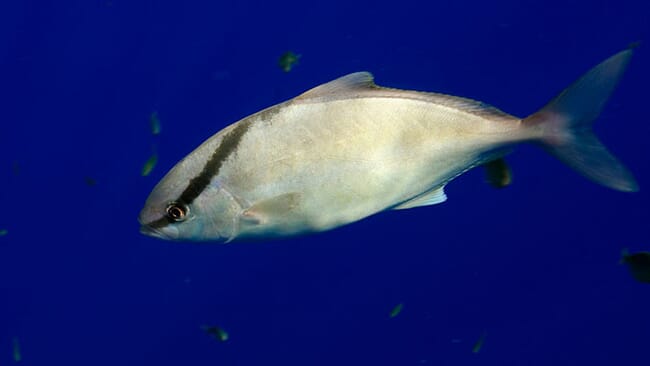 Improving the reproduction of kampachi (also known as longfin yellowtail or Almaco Jack) and Pacific white shrimp in Hawaiʻi is the focus of a University of Hawaiʻi at Mānoaʻs College of Tropical Agriculture and Human Resources (CTAHR), UH Sea Grant College Programme (Hawaiʻi Sea Grant) and Hawaiʻi Pacific University's (HPU) Oceanic Institute (OI) research partnership.
Nearly $1 million in funding from a National Oceanic and Atmospheric Administration (NOAA) Sea Grant will address the key barriers of kampachi production by focusing on improving egg quality, fecundity (ability to produce many offspring) and juvenile development. Nearly $250,000 will fund a second project that will use a genomic approach to improve the reproduction performance of shrimp, including laboratory experiments to assess and improve their genetic traits.
Kampachi are among the most valuable finfish groups for offshore aquaculture development. Yet, they are notoriously difficult to rear and harvest on a large commercial scale. At the same time, despite the shrimp industry's massive volume and the US being a leader in shrimp genetics research, programmes on genetic improvement have given little attention to shrimp egg and larvae production.

"Through an integrated collaboration among university research, extension efforts and industry partners, the results obtained through this proposed work will result in the facilitation and expansion of commercial development of these and related species," said Andre P Seale of CTAHR's Department of Human Nutrition, Food and Animal Sciences and principal investigator of the kampachi study. "By addressing production constraints, this combined HPU and UH effort will contribute to increasing commercial production in Hawaiʻi."
"This is a critical time for aquaculture, food security and our ability to feed humans sustainability around the world," added Bradley (Kai) Fox of Hawaiʻi Sea Grant. "We are very fortunate to be able to collaborate with researchers at OI to push cutting-edge technologies with global relevance forward, while at the same time recognising, appreciating and learning from our host culture here in Hawaiʻi, where aquaculture has been practiced and refined for a thousand years."