Scotland's best shellfish to be decided at Oban event
Scotland's shellfish farmers will descend on Oban this week, to vie for the crown of best oyster and best mussel producer, as part of the Association of Scottish Shellfish Growers (ASSG) annual conference.
The results of this eagerly fought competition will be announced at the annual dinner at the Fishouse Restaurant, and the winners presented with specially designed plates from Richard Bramble. The competition is judged by shellfish farmer and industry journalist Nicki Holmyard and her team – Ben Wright from Wright Brothers restaurants in London, and head of food and drink policy for HIE, Elaine Jamieson.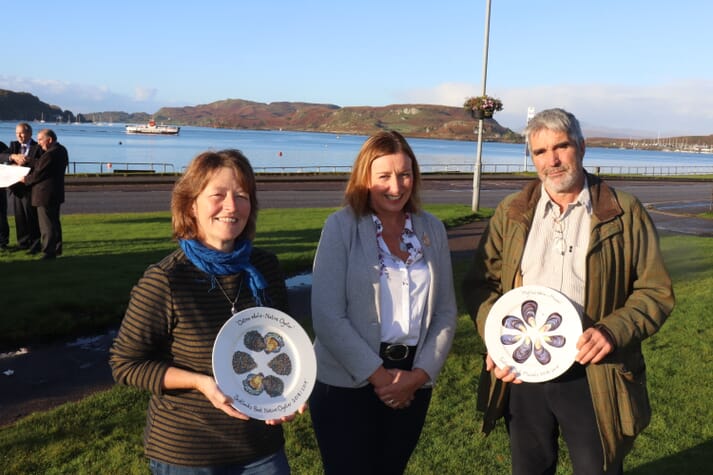 The competition kicks off a two-day conference, which will be opened by Mairi Gougeon, Scotland's Minister for Rural Affairs and the Natural Environment. The event is set to feature speakers from the UK, USA, Sweden, the Netherlands and Guernsey.
Welcomed by Nick Lake, ASSG executive director, Ms Gougeon will speak about the resilience of Scottish shellfish cultivation and the need for a growing, successful industry.
Tackling the subject of the 'big picture' Dr Sandra Shumway, a research professor of marine science from the University of Connecticut, USA, will look at resilience in action, while Dr Henrice Jansen, a research scientist from Wageningen Marine Research institute in the Netherlands, will demonstrate how shellfish production delivers environmental benefits.
Mhairi Forbes and Rosemary Wilkinson from Marks & Spencer will give a retailer's point of view on giving shelf space to mussels and oysters, and Stephen Cameron, MD of the Scottish Shellfish Marketing Group (SSMG) will look at what shellfish farmers grow, compared to what the public wants to buy, in his talk entitled 'Turning shellfish into seafood – a simple process?'
Ben Wright, fresh from judging the shellfish competition, will draw the first day to a close, speaking about his successful mission to reignite Britain's historic love affair with the oyster – his restaurants now serve more than 250 tonnes of the bivalves every year.
The second day of the conference looks at developments in the wider industry, before turning to the Scottish perspective.
Kevin Mulholland, from Neogen Europe, a producer of rapid-time diagnostic test kits for biotoxins, which can be used at farm level, will look at the work his company has been undertaking to improve their capabilities. He is followed by Dr Asa Strand, from Gothenberg University, speaking about the work of NAEMO, the mussel research support network she set up in 2018. Dr Strand is also hosting a sell-out one-day NAEMO workshop in Oban on 30 October.
'Selecting the best shellfish for production' is the title of Dr Tim Bean's talk. Dr Bean works at the Roslin Institute on bivalve biology. He is followed by John Holmyard from Offshore Shellfish Ltd and his PhD student Danielle Bridger, from the University of Plymouth, who will look at the environmental benefits created by mussel longlines.
The opportunities for demand driven industry research will be tackled by Gregg Arthur, from NAFC Marine Centre in Shetland, and Michael Tait, co-owner of Shetland Mussels and chair of SSMG, while Carter Newell from Pemaquid Mussel Farms in the USA will look at how the application of science and technology can deliver top quality shellfish.
A panel discussion on the work of bivalve hatcheries with Mark Dravers from Guernsey Seafarms and Kelsey Thompson from Morecambe Bay Oysters, chaired by Tristan Hugh-Jones from Loch Ryan Oysters, will draw the conference to a conclusion.
"Our annual conference is always well attended and brings shellfish farmers and allied industries into the heart of shellfish farming country for two days of lively dialogue, discussion and debate. This also presents the opportunity for policy makers and government to engage with what is a rural and expanding sector with proven potential to contribute to the economic success of coastal communities and safeguard the marine environment," said Nick Lake.
The conference is enhanced by a trade exhibition, with many local, national and international companies represented, and a raffle in aid of the Royal National Lifeboat Institution (RNLI), with local crew receiving the proceeds at the start of the second day. In the past few years the raffle has raised several thousand pounds.