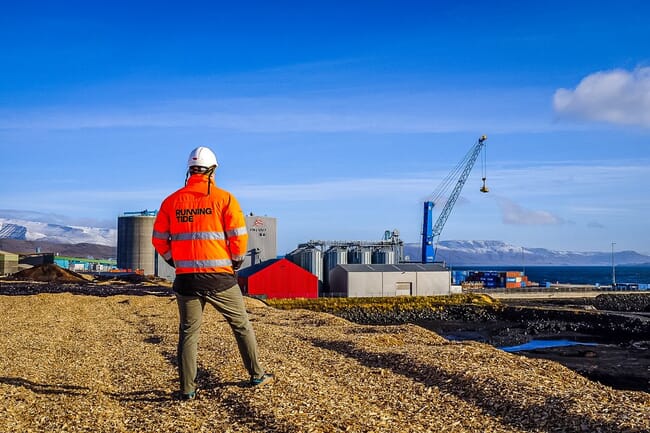 This milestone duly took place this week, when the startup delivered 100 carbon credits to their first customer, the e-commerce group Shopify, "from the world's largest carbon removal research operation, 190 miles south of Iceland in the North Atlantic".

Their carbon removal process, involves covering waste wood - such as wood chips - which would otherwise have been burnt, in limestone to help combat ocean acidification. These buoys are then sunk into deep water, in a bid to keep the carbon out of the atmosphere. in the last three months the startup has sunk a total of 1,000 metric tons of waste wood, resulting in the removal of 275 tonnes of carbon dioxide, they claim.

Running Tide is also exploring growing kelp - which takes up CO2 as it grows via photosynthesis - and sinking it, thereby sequestering the carbon on the sea floor. Their ultimate goal is to remove one billion tonnes of CO2-equivalents a year.
As a result of securing their first carbon credits, the startup has decided to release details of the Series B round, which was secured 18 months ago and led by Lowercarbon Capital - with backing from new investors Foobar, and Greenpoint Partners and returning investors Grantham, Foundry Group, and Venrock.
The startup says that it has invested its Series B funding into building a world-class team of scientists, engineers and operators – growing from a 30 person team in Portland, Maine, to a global team of 120. They say that they hired experts in chemistry, biology, oceanography, ecology, engineering, logistics, genetics, biotech, materials science, carbon accounting, software, sensors, hardware, shipping, forestry, commercialisation, policy and operations.
"Running Tide was the kind of company we were hoping we would find when we started Lowercarbon. Bonkers scale, unreasonable ambition, massive impact on the planet. During insane times. It's entrepreneurs like Marty Odlin that fire us up," said Chris Sacca, co-founder of Lowercarbon Capital.