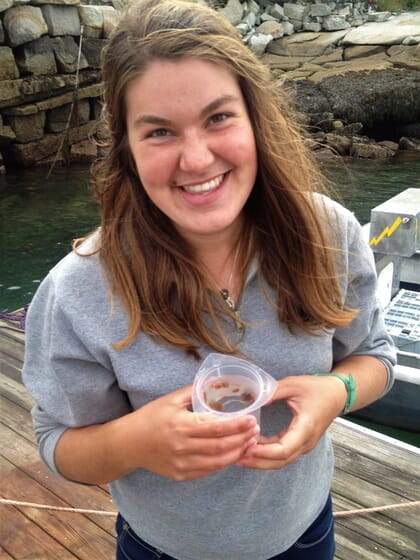 Can you tell me a little bit about your aquaculture experience?

Before joining WWF I was managing a commercial seaweed nursery in Maine, while finishing up my graduate studies in ocean food systems. While at the University of New England, I worked with a group of women seaweed farmers in Belize on product development. My current role is a great fit because I get to support an incredible group of farmers, researchers, scientists and entrepreneurs advancing the seaweed industry in a thoughtful, sustainable way. I assist in convening stakeholder workshops on topics like using seaweed for livestock feed, work with partner organisations, and – hopefully, post-Covid – will bring farmers on exchange trips to transfer knowledge between regions.
What are the main elements of seaweed aquaculture that appeal to WWF?
Seaweed aquaculture can help WWF achieve its conservation goals by reducing the impacts of food systems on land use, freshwater use and climate change. Seaweed produces nutritious food without the demand for arable land, freshwater, or fertiliser that's required of agriculture. We see seaweed as a neglected climate change solution with the potential to sequester meaningful amounts of carbon when brought to scale. It also provides a suite of ecosystem services – like soaking up excess nutrients in the water, reducing ocean acidification directly around the farm, and creating habitat for marine species.

Growing seaweed is an activity that requires many of the same skills as fishing, which means coastal communities have another opportunity for income, especially as fisheries are either fished to capacity, or as species begin to migrate in the face of warming waters. We're also excited by the untapped market potential of seaweed-based products. While there's more research to be done, with the right technology, every species of seaweed is full of valuable compounds that can serve as alternatives to fossil fuel-based products. They can be used for bioplastics, as healthy feed additives, protein alternatives and more.

Sweeping claims are being made about the widespread benefits of seaweed aquaculture, which of these have compelling science to back them up and which still need to be researched further?
As with anything, seaweed is not a silver bullet solution, but it will be an important tool to address climate change and provide low-impact food and jobs in coastal communities into the future. There's certainly compelling science behind using seaweed to reduce enteric methane emissions from cattle, which has garnered lots of media attention, but more research is needed to answer open questions like how seaweed affects methane production over longer time periods. However, there's promising evidence coming out about the health benefits of incorporating seaweed as a feed ingredient for livestock as well, which is positive – both for animal welfare and because until methane reduction is mandated, increasing an animal's productivity may be a better incentive for farmers adoption. WWF has hosted several workshops with stakeholders in the industry, hoping to accelerate collaboration and fill in research gaps.
Another current claim relates to carbon sequestration – it's clear that wild kelp forests contribute a significant amount of biomass to sequestration in the ocean, but further research is needed on the role that farming plays in the picture. We are supporting research measuring how much seaweed-derived carbon is stored on the seafloor beneath farms, so we are aiming to have a clearer understanding soon. The potential of deep-sea carbon sequestration from farmed seaweed, however, is still unknown and will require long-term studies to figure out.
Why have you chosen to focus on the social licence and market development elements of the seaweed sector and what are the major challenges to overcome for each?

The nursery and on-farm technology to grow seaweed is quite well established, and kelp is a resilient crop that grows quickly without needing much attention. After visiting seaweed farms and companies globally, and talking with people on the water, it became clear that social licence to operate farms and underdeveloped markets are the primary barriers to expansion for the industry.
Social licence issues are hyper-local and can differ between neighboring bays. WWF is helping community organisations address the specific challenges they're seeing on their coastlines – whether that's conflict between existing users like fishers, pushback from waterfront property owners, or communicating the ecosystem benefits of seaweed. As for market development, there are so many great uses for seaweed that could help advance conservation, but investment has been lacking in the sector to really see innovation take off, and we want to help change that.
Are some people still surprised that WWF actively promotes any forms of aquaculture?
At the heart of WWF's work is protecting and conserving biodiversity and landscapes from major threats. The ways we produce food are currently some of the biggest threats to that mission, so we are working to facilitate more sustainable food production systems, including aquaculture, so we can ensure a nutritious food supply and support livelihoods without degrading nature. Aquaculture already contributes over half of seafood production and while it can help alleviate the pressure that global demand for seafood puts on our oceans, its rapid growth has posed other environmental and social challenges, and a substantial proportion of the industry still relies on wild-caught fish for feed. Future growth in seafood will come from aquaculture, and WWF believes that this sector can and must accelerate efforts to reduce its environmental impacts.
Seaweed farming, however, is different from salmon and shrimp farming and comes with its own set of benefits and challenges as a growing industry. From the surface, a seaweed farm could be easily missed since it's just a string of buoys and there isn't any use of feed. Our intent remains the same, though, as it does with other food production systems: helping an industry grow in the most responsible and sustainable way possible, removing environmental impact, and creating livelihood opportunities that take pressure off our ecosystems. I hope that WWF's voice can bring awareness to all the unique benefits of farming seaweed and the fantastic people doing it.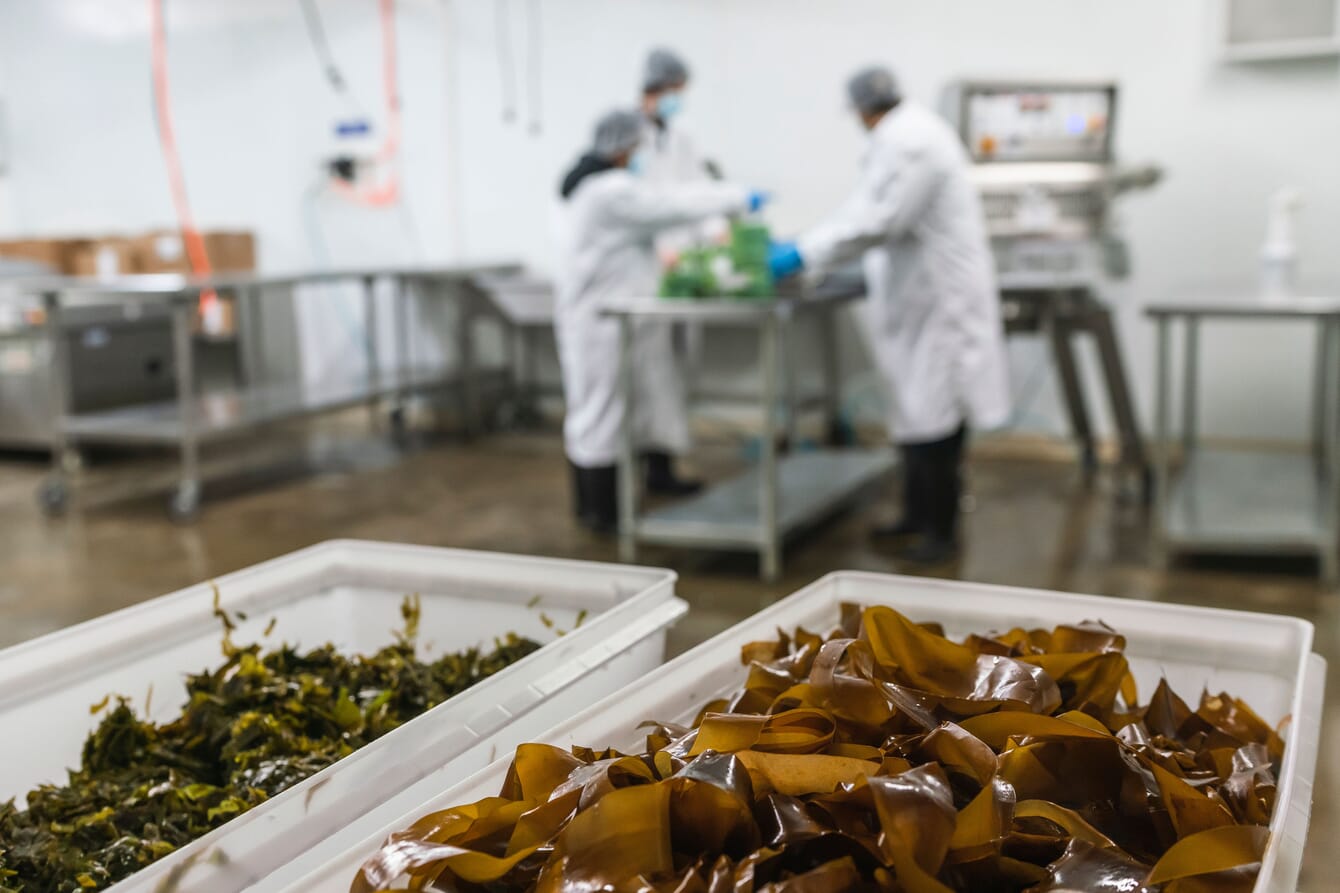 Why have you chosen to focus on projects in the North Atlantic and Northeast Pacific regions?
Asia produces 99 percent of the world's seaweed - the North Atlantic and the Northeast Pacific are undeveloped regions, and have enormous potential for growth. These northern waters are cold, nutrient-rich, and contain large offshore areas suitable for growing seaweed, particularly the kelps which farmers already know how to grow well. Countries in these regions are also located in proximity to emerging markets and existing infrastructure for getting fresh or frozen seaweed to processing facilities.
What can emerging Western seaweed producing companies learn from Asia's established seaweed sector?
Kelp farming in Asia has been so productive largely because of their selective breeding programmes. They prioritise strains of seaweed that are resilient to higher temperatures or produce greater yields, for example. Companies in North America and Europe will set themselves up for success in the long run by investing in science that brings that sort of efficiency onto the farm. Government support has also been critical for the Asian seaweed sector to expand so rapidly. Even now, the Korean government is thinking about establishing a ring of seaweed farms around the Korean Peninsula to buffer their coastal shellfish farms from ocean acidification. It would be great to see this level of government acknowledgement and support of seaweed's potential ecosystem services in the Western geographies where companies operate.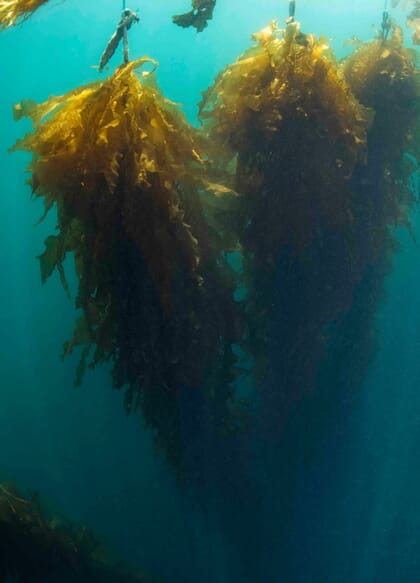 Are there any mistakes that need to be avoided?
We need to be watchful that seaweed doesn't become a monoculture globally and that economic incentives don't cause non-native species to be introduced to new regions. This shouldn't be difficult since the world's waters are rich with diverse seaweed species that are just waiting to be developed for aquaculture. As a conservation organisation, the risk of marine mammal entanglement is also front of mind. There are no known credible accounts of whale entanglements in seaweed farms, but as scale continues to grow and farms move into deeper waters, we must be vigilant and proactive at developing and deploying best management practices. We're funding several projects to improve farm design and engineer sensors that would notify a farmer immediately if a whale were to get twisted up in their lines.
What milestones would you like to see the emerging Western seaweed sector achieve in the next 10 years?
In the next decade, we would like to see the growth rate of global seaweed production reach 12 percent annually, up from the current 8 percent, and I think the Western seaweed sector will need to ramp up production for that goal to be met. We also want to see growth of offshore farms using the technology that's being tested today to a scale that will produce benefits through carbon uptake and ocean health improvements. I also expect we'll see increased investment in companies using seaweed for bioplastics, protein extracts, and livestock feed lead to these products being more widely utilised as a means to reduce greenhouse gas (GHG) emissions.
How do you envisage WWF's role in the seaweed sector developing?
WWF is working to catalyse more investment into this industry and build momentum to bring the benefits of seaweed farming for nature, people and climate to scale more quickly. We're very excited to have respected expert – Dr Charles Yarish from the University of Connecticut – on board as an advisor. With guidance from him and many others, we're ensuring our work is science-driven and meets the needs of the industry. We hope to expand the science, fill in knowledge gaps, serve as connection points across players of different size and region, build capacity for collaboration, and leverage resources for innovative projects and companies that are driving the industry forward, while putting nature first.